Lion Rock's Eye Glows Red in Hong Kong, echoing ancient lore of coming catastrophe
The enormous eye of Lion Rock in Hong Kong mysteriously turned red a few days before the new year, eyewitnesses reported.

A symbol of Hong Kong's spirit, the famous Lion Rock is a lion-shaped hill that overlooks Hong Kong's Kowloon area. At 2pm on Dec. 22, the lion's eye turned red twice, lasting 30 minutes before fading out.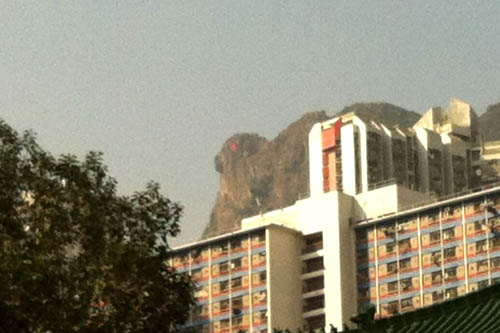 The eye of Lion Rock glows red in Hong Kong on the afternoon of Dec. 22, 2013. (anonymous)


Some citizens were alarmed by this phenomenon, taking it as a sign that Hong Kong is in trouble. They appealed to the Hong Kong people to take measures to safeguard Hong Kong.

Hong Kong citizen Ms. Xiao Hong said that she was waiting for a bus in Wong Tai Sin District when she noticed that Lion Rock looked very different from normal. She was startled to see that it showed a red eye.

The sky was very clear, she said, and so was the view. As she stared at it, the lion's eye became redder and redder, and its head looked alive, as if it was moving.

Another eyewitness named Jane took a photo with her iPhone. She described the phenomenon: "We looked up, and the 'eye' looked like a moving cloth, square in shape. The red color changed slowly from deep to pale red, and then it disappeared. It appeared twice."

She said that the eye became red a second time, then faded away again. The whole process lasted about 30 minutes.

Jane said that Lion Rock is a symbol of Hong Kong and has been guarding Hong Kong.

She said that Hong Kong has always been anti-communist (the communist mascot is the red dragon) and has been considered the good shelter, the "blessed land." Even typhoons seldom hit this island when compared to other areas along the archipelago zone, Jane said. However, citizens fear that Hong Kong has been changing ever since pro-communist Chief Executive Leung Chun-ying has been in charge.

Another eyewitness, who works as a security officer, said she heard from elderly people that when the eyes of a lion turn red, it means it is losing its temper.

"This is a bad omen. Hong Kong is in trouble," she said.

Folk legend says that Hong Kong was plagued by nine dragons, so God sent a lion to guard it. Today, eight of the subdued dragons make up the Pat Sin Leng (ridge of the Eight Immortals) mountain range, and the other one is held under the feet of the lion. That lion is the Lion Rock Mountain, and beneath it is the ninth dragon, the Kowloon (or Nine Dragons) Mountain.

After the second World War, the Civil War between the nationalist and the communist forces, and the subsequent political purges in mainland China, immigrants from the lower class settled at the southern part of Lion Rock Mountain in Kowloon. This became the most populous area, crowded with hillside huts, low rise buildings, public housing, and small-scale home factories.

Therefore the common saying "underneath the Lion Rock" refers to the Hong Kong people.

Legend of the Red-Eyed Lion

In some folklore the lion is a symbol of Buddhism, warning people to abandon evil and promote goodness. In one ancient legend called "The Red-Eyed Lion," an old woman worshipped Bodhisattva Avalokitesvara, Goddess of Compassion, and observed her teachings of virtue. One day the woman helped a beggar, who was in fact Bodhisattva Avalokitesvara testing her in disguise.



When the old woman offered food to the beggar, Bodhisattva Avalokitesvara appeared in a snow white robe in solemnity and supremacy, accompanied by dancing fairies. Bodhisattva Avalokitesvara told the old woman that a flood was coming. The calamity would occur when the eyes of the rock lion at the village entrance turned red.

The woman told the news to the villagers, but they did not believe her. Some rogues decided to play a joke, and they painted the lion's eyes red during a dark night. When the old woman saw it the next morning, she was shocked and urged the villagers to flee.

While the rogues were laughing at the drama they had created, all of a sudden thunder boomed and lightning flashed. Heavy downpours produced overwhelming flooding, and the whole village was washed out.

Those who did not flee in time were drowned. The survivors were grateful to the old woman, who was grief-stricken for those who had died. Bodhisattva Avalokitesvara reappeared, and the villagers knelt and prayed with gratitude for her kind salvation.

Translated by Y.K. Lu. Written in English by Sally Appert

Article from: theepochtimes.com