Man with ties to Boston bombing suspect shot, killed during FBI questioning
As the investigation by officials into the Boston Marathon Bombing unfolds, the revelations are becoming stranger and more suspect.

Wired.com reports: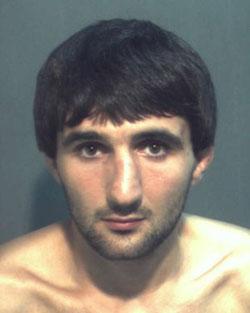 An FBI agent shot and killed an Orlando man and former mixed-martial arts fighter believed to be tied to Tamerlan Tsarnaev, the deceased Boston Marathon bombing suspect.

Early this morning, during a post-midnight interview with Ibragim Todashev at his apartment, an FBI agent shot Todashev. An interview with Todashev about his connections to Tsarnaev began peacefully, with Todashev reportedly cooperating, before taking a fatal turn for unclear reasons.

"There was some sort of aggressive movement that led the FBI agent to believe he was under threat and he opened fire," an anonymous law-enforcement official told ABC News.

An initial inquiry to the FBI about what happened in Orlando last night has yet to be answered;

[...]

Update: The FBI is currently reviewing a shooting incident involving an FBI special agent. Based on preliminary information, the incident occurred in Orlando, Florida during the early morning hours of May 22, 2013. The agent, two Massachusetts State Police troopers, and other law enforcement personnel were interviewing an individual in connection with the Boston Marathon bombing investigation when a violent confrontation was initiated by the individual. During the confrontation, the individual was killed and the agent sustained non-life threatening injuries.


Khusn Taramiv, a friend of Todashev, spoke with WESH-TV, as revealed by journalist Kurt Nimmo:

Khusn Taramiv, a friend of Todashev, said they were interrogated about the Boston bombing. "(The FBI) took me and my friend, (Ibragim Todashev). They were talking to us, both of us, right? And they said they need him for a little more, for a couple more hours, and I left, and they told me they're going to bring him back. They never brought him back."

[...]

Todashev told his friend he felt he would be shot by the FBI. "He felt inside he was going to get shot," Taramiv said. "I told him, 'Everything is going to be fine, don't worry about it.' He said, 'I have a really bad feeling."

This disturbing killing might make some question whether this was a routine interview during investigation, or whether this was a blatant assassination? Who can say what Todashev knew?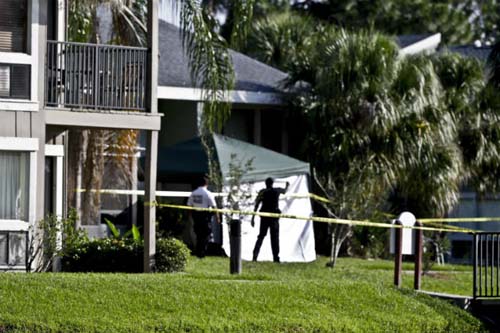 "Investigators stand outside Ibragim Todashev's apartment complex in Orlando, May 22, 2013."


The strangest part of the Todashev 'narrative' was tacked on to the end of a DangerRoom article:

According to NBC, Todashev came at the agent with a knife; and "confess[ed]" to playing an unspecified role in a 2011 triple murder in Massachusetts that involved sprinkling marijuana on the corpses of three men with slit throats. He apparently wasn't suspected of involvement in the Boston bombings.

Police have been seeking to connect Tamerlan Tsarnaev to the grisly homicides.


On April 22, investigators announced that they will probe whether or not Tamerlan Tsarnaev, one of the two accused suspects in the Boston Marathon bombing that occurred last week, was involved in a triple homicide that occurred in September 2011.

This homicide is currently unsolved and resulted in the deaths of Tsarnaev's former roommate and two others. Stephanie Guyotte, spokeswoman for the Middlesex County District Attorney, told ABC News "we are looking at a possible connection with the suspect in the marathon atrocity and this active and open homicide in Waltham."

Tsarnaev had been training in boxing with 25-year-old Brendan Mess, one of the 2011 murder victims, to make this sport a possible career for him. The three victims were discovered in Waltham, Massachusetts with their heads nearly decapitated due to slashes by their throats. Their bodies were found in an apartment in this town covered in marijuana.

An investigator in the case dubbed it "the worst bloodbath I have ever seen in a long law enforcement career." He continued to describe the murder and alluded that the killer had a propensity for violence: "There was no forced entry, it was clear that the victims had let their killer in. And their throats were slashed right out of an Al-Qaeda training video."
Source: PolicyMic


The connections are being alleged by the FBI, but can Todashev's 'confession' even be relied upon, especially in light of the suspicious unconfirmed circumstances of his death? It is unfortunate, and frustrating, that the FBI agent has killed a man who they claim to not only be an inside source of information, and a possible connection to the Tsarnaev brothers, but also a participant in multiple unsolved murders.

It's been reported that the elder Boston Bombing suspect, Tamerlan, was under FBI surveillance. It would not be a stretch to speculate that his Chechen friends in the same social circles, and within the mixed-martial arts group, might ALSO be either FBI informants or surveillance targets.
If that's the case, then perhaps Todashev knew the FBI who were questioning him better than is being said.

So far in this case we have one dead bombing suspect, another 'silenced' bombing suspect, and a third man gunned down in his home. Any evidence provided is reported 'anonymously' through mainstream press, and seems highly suspect at best.

The veracity of the evidence comes down to whether one trusts the source or not - and the FBI's track record of setting up false flag operations only to 'foil' them is well documented.

Are the truths of this case being erased as 'the investigation' juggernaut crushes a path to inevitable conclusions?

By Elizabeth Leafloor , Red Ice Creations





---
Sources:
Wired.com
PrisonPlanet.com
PolicyMic.com
TheLookout
---
Tune into Red Ice Radio:
Anthony Gucciardi - Hour 1 - Boston Bombings, Gun Control & Transhumanism
Patrick Henningsen - Hour 1 - Boston Bombings & Third Way Control Mechanism
Joseph P. Farrell - Hour 1 - Fake Terrorism, Covert Wars & ET Threat Assessment
Holland Vandennieuwenhof & James Lane - Hour 1 - A Noble Lie: Oklahoma City 1995
Peter Dale Scott - Hour 1 - Norway's Massacre, Breivik & Deep Events
Kent Daniel Bentkowski - Anatomy Of A False-Flag Terror Attack
Jim Marrs - The Underwear Bomber, Chertoff, TSA, Socialism & Centralization