Margaret Thatcher Was Correct About Why The Euro Would Be A Disaster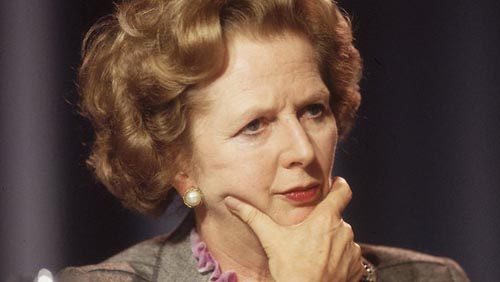 Margaret Thatcher was an incredibly polarizing figure, but everyone should be able to agree that she was absolutely spot on about why the Euro would be such a disaster.

As Peter Oborne reported in the Telegraph In 2010, Thatcher's two autobiographies, "The Downing Street Years" (1993) and "The Path To Power" (1995) discussed the tactics she would use to argue against the EMU (Economic and Monetary Union), which she wanted no part of.

Basically, she outlined the problems with the euro perfectly, that Germany would chafe at the inevitable need for greater inflation, and that the poorer countries would inevitably be uncompetitive and need bailouts that would not easily be forthcoming.

This paragraph is from "The Path To Power," where she discusses conversations with John Major (her successor) about negotiating with the rest of Europe. She just totally nails the inflation and competitiveness angles.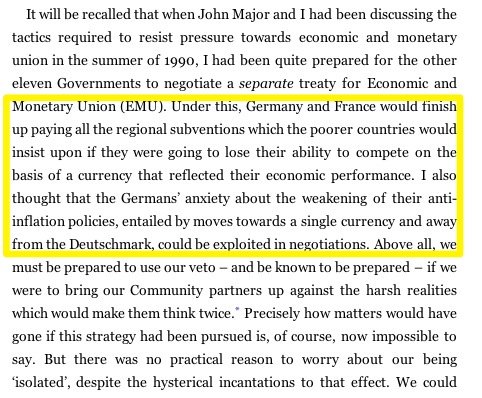 [...]

Read the full article at: businessinsider.com





---



Watch Margaret Thatcher Explain Why the Euro Is a Terrible Idea in 1990


By Jordan Weissmann | TheAtlantic

Say what you will about the rest of her legacy, but when it comes to the economic disaster today known as the euro, Margaret Thatcher was downright prophetic. In a delightfully acidic speech delivered before Britain's House of Commons in 1990, and posted below, she summed up her feelings about European integration: "No. No. No."

Specifically, Thatcher opposed to the idea of handing political power to a European parliament, giving up the pound for a single European currency, or handing over its monetary policy to a European central bank. As she put it (in the blunt way only British politicians can):


Perhaps the Labour party would give all those things up easily. Perhaps it would agree to a single currency and abolition of the pound sterling. Perhaps, being totally incompetent in monetary matters, it would be only too delighted to hand over full responsibility to a central bank, as it did to the IMF. The fact is that the Labour party has no competence on money and no competence on the economy -- so, yes, the right hon. Gentleman would be glad to hand it all over. What is the point of trying to get elected to Parliament only to hand over sterling and the powers of this House to Europe?


Ouch.



[...]

Read the full article at: theatlantic.com