Massive Louisiana sinkhole caused by oil industry just keeps on growing
A sinkhole triggered in Louisiana by the fossil fuel industry grew to 12 acres over the weekend, and it appears that hundreds of displaced nearby residents will never be able to return to their homes.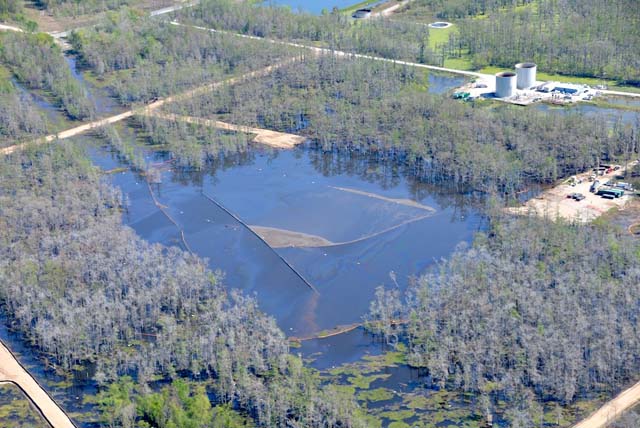 The oil-sheen-coated sinkhole, photographed over the weekend.



The sinkhole has been growing since it appeared in August. It was caused by a salt mining operation that sucked brine out from beneath the Assumption Parish marsh and piped it to nearby petrochemical facilities. Houston-based Texas Brine had apparently excavated too close to the surface, and officials are worried that a similar fate could befall another Texas Brine salt mining site nearby.

Salt is used by the oil industry to stabilize the earth around drilled wells. Emptied salt domes are also used to store oil, gas, and other petrochemicals.

Natural gas is belching out of the sinkhole and the waters that have filled it are covered with a rainbow slick of oil. Officials are burning the gas as it escapes to try to prevent an explosion.

From the Daily Comet:


About 350 people living in the area have been under an evacuation order and many of them displaced for more than seven months, with no end in sight. Texas Brine officials said they were beginning to contact residents Monday to discuss buyouts and settlement offers for the 150 homes.


[...]

Read the full article at: grist.org




---