Mind Control: DARPA works on reading brains in real time
The following article pretty much speaks for itself. DARPA is reportedly working under 'the best intentions' to perfect neuropsychiatry by wiring people's brains up to 'report' what they think and how they're feeling. This will apparently eliminate the need for "dialogue" between doctor and patient.

How can BRAIN IMPLANTS which track brain signals NOT be a major step in the path towards complete mass mind control in the future?

If tech is available, the powers-that-be will USE it.

There was a time when technology such as naked-body scanners, phones that record your fingerprints, and energy weapons existed only in the realm of dystopian science fiction. Now they're in full use around the world.

Such will be the future of brain reading/manipulation technology and science, with millions of dollars in backing and government, industry, and military support.

More about the Deep Brain Stimulation Implant from RT...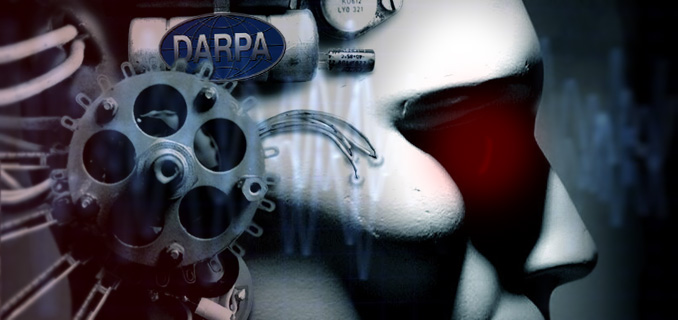 ---
Pentagon's DARPA works on reading brains in real time
From: RT

The Defense Advanced Research Projects Agency (DARPA) is investing $70 million to develop a new implant that can track, and respond to, brain signals in real time.

The goal of the new project, dubbed "Systems-Based Neurotechnology for Emerging Therapies" (SUBNETS), is to gather new information via more advanced brain implants in order to reach the next level of effective neuropsychological treatment. DARPA is hoping to have the new implant developed within five years.

Already, roughly 100,000 people worldwide live with a Deep Brain Stimulation implant, a device that helps patients cope with Parkinsons disease. While scientists are currently studying the possibility of using these devices to combat other diseases, the problem is current technology can only treat symptoms, not record the brain's signals or analyze the effectiveness of any administered treatment.

"There is no technology that can acquire signals that can tell [scientists] precisely what is going on with the brain," Justin Sanchez, DARPA's program manager, told the New York Times.

The SUBNETS program intends to change the current landscape significantly. Not only does DARPA want to map out exactly how diseases establish themselves in an individuals brain, the agency also wants its implant to be able to record the signs of illness in real time, deliver treatments, and monitor the treatment's effectiveness.

Considering the toll that mental illnesses are taking on military veterans, there's a new level of urgency surrounding the ambitious initiative. Ten percent of servicemembers receiving treatment from the Veteran's Health Administration are being treated for mental health conditions or substance abuse, and mental disorders are now the primary reason for hospital bed stays.

"If SUBNETS is successful, it will advance neuropsychiatry beyond the realm of dialogue-driven observations and resultant trial and error into the real of therapy driven by quantifiable characteristic of neural state," Sanchez said on DARPA's website. "SUBNETS is a push toward innovative, informed and precise neurotechnological therapy to produce major improvements in quality of life for servicemembers and veterans who have very few options with existing therapies."

The new project is part of President Obama's BRAIN initiative, which sets aside $100 million in its first year to develop new innovations in neuroscience. DARPA is collaborating with the National Institutes of Health and the National Science Foundation on SUBNETS, and it is currently soliciting proposals from various research teams.

Whether the agency can actually achieve its goal in five years is a question mark – one neuroscientist told the New York Times that, like nearly all DARPA projects, it's "overambitious" – but new discoveries concerning how the brain functions are expected regardless. Whether the implant itself becomes a reality or not, Sanchez said that new medical devices will be developed as a result.

"We're talking about a whole systems approach to the brain, not a disease-by-disease examination of a single process or a subset of processes," Sanchez said. "SUBNETS is going to be a cross-disciplinary, expansive team effort and the program will integrate and build upon historical DARPA research investments."

Article from: rt.com




---
READ:
Stanford neuroscientist: 'We're now able to eavesdrop on the brain in real life'
---
Tune into Red Ice Radio:
Neil Sanders - Hour 1 - The Dark Art of Mind Control
Kevin Warwick - I, Cyborg, Implants, Cybernetics, AI & The Rise of the Machines in 2020
Anthony Peake - Brain, Precognition, Time Dilation, Tulpas & Déjà vu
Joseph Atwill & Ryan Gilmore - Hour 1 - Religious Mind Control, Ancient Warfare & Modern Conflicts
George Kavassilas - The Pending Global Mind Control Event
Eldon Taylor - Subliminal Programming, Media Persuasion, Mind Control & Breaking the Spell
Stewart Swerdlow - The Montauk Project, Mind Control, The Illuminati & The Alien Agenda
Nick Begich - Hour 1 - Controlling the Human Mind
Richard Hamlin - Mind Control, Mk-Ultra & Satanic Ritual Abuse
A.j. Bruno - Mind Control
Susanne Posel - Hour 1 - Mortgage Fraud & False Memory Implant