Mob witness links Berlusconi to Mafia bombings
A jailed Mafia hitman told a court on Friday that a godfather convicted of a 1993 bombing campaign had boasted to him of his links to Italian Prime Minister Silvio Berlusconi.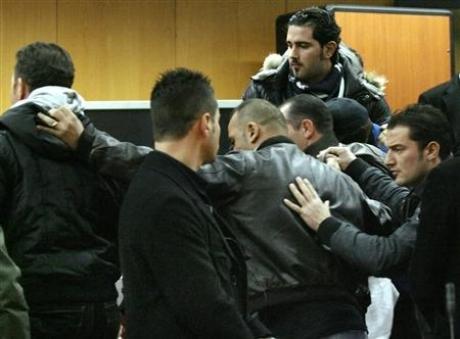 Berlusconi says biased courts are making false charges to bring down the 19-month-old government -- his third since 1994 -- and attack his Mediaset business empire.

Stripped of immunity from prosecution, the prime minister faced legal difficulties on two fronts on Friday, with an ally appealing against conviction on Mafia charges and an unrelated corruption case where he is accused of bribing a British lawyer.

Mafia "pentito", or mobster-turned-witness, Gaspare Spatuzza told a court in Turin that a Mafia clan leader later jailed for the attacks had named Berlusconi, who had not entered politics at the time, in connection with the bombings.

He recounted a meeting with clan boss Giuseppe Graviano -- later given multiple life sentences along with his brother for the bombings in Rome, Milan and Florence -- in a cafe on Rome's Via Veneto in early 1994, after the deadly bombing campaign.

"Graviano told me we had obtained everything, thanks to the seriousness of the people who'd helped with our affair ... he mentioned two names, he called Berlusconi 'the man from Channel 5'," said Spatuzza, referring to a Mediaset television channel.

He quoted Graviano as saying: "We have everything thanks to the seriousness of these people, specifically Berlusconi ... they put the country in our hands."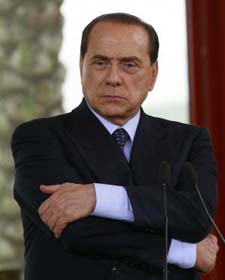 Berlusconi is not formally linked to the case, part of an appeal by a political and business associate. He has dismissed earlier evidence from Spatuzza to prosecutors as "unfounded".

His allies questioned the credibility of Spatuzza, who told the court he was convicted of six bomb attacks and 40 homicides but became religious in prison and, facing "a choice between God and the Cosa Nostra", chose to cooperate and tell the truth.

"It is completely logical the Mafia would use its members to make statements against the prime minister of a government that has acted in a determined and concrete way against organized crime," said his spokesman Paolo Bonaiuti after Spatuzza spoke.

"Our government has arrested eight Mafiosi a day. It has arrested 15 of the 30 most wanted fugitives. It has confiscated an average of 8 million euros from the mafia a day for a total of 5.6 billion euros," said Bonaiuti in a statement.

Spatuzza spoke in open court for the first time as part of an appeal by pro-Berlusconi senator Marcello Dell'Utri against his conviction for association with the Mafia. He spoke behind a screen in a maximum-security courtroom packed with reporters.

The court adjourned until December 11 when it meets in Sicily to hear evidence from the Graviano brothers, once bosses of the Brancaccio quarter of Palermo, by video conference from jail.

"NOBODY FURTHER FROM THE MAFIA"

"It's all false. And of course Berlusconi is completely calm about it too. He's more afraid of his wife than Spatuzza," joked Dell'Utri referring to Berlusconi's current divorce proceedings. The senator is fighting against a nine-year jail term.

Berlusconi has threatened to sue newspapers that reported he was being investigated and that the mob had a stake in his business. A Florence court that has reopened a probe into the bomb attacks has said that Berlusconi is not being investigated.

The prime minister said last weekend: "If there's a person who by nature, sensitivity, mentality, background, culture and political effort is very far from the Mafia, it is me."

Berlusconi's image has been hurt this year by his divorce and a relationship with a Naples teenager -- which has angered Italy's powerful Catholic church.

He still enjoys relatively high poll ratings of around 45 percent but his angry response to losing his immunity -- such as calling the top court "communists" -- caused friction with his allies and speculation that his grip on power has weakened.

Berlusconi has never been convicted in the 109 cases brought against him since beginning in politics 15 years ago and many Italians have little sympathy with the notoriously slow courts.

But the suspicion of Mafia links could damage his standing more than all the fraud and corruption cases, one of which was due to reopen on Friday in Milan, with Berlusconi accused of bribing British lawyer David Mills with $600,000.

Mills has already been sentenced to 4-1/2 years in prison, pending an appeal, for accepting the bribe in 1997 to withhold evidence about Berlusconi's business dealings.

The trial against Berlusconi was suspended while he had immunity, then the Milan court conceded on Friday that his official duties -- including a cabinet meeting -- were a legitimate reason to further postpone the first hearing.

In another trial for tax fraud and false accounting in the acquisition of media rights, prosecutors say Mediaset paid an inflated price to offshore firms controlled by Berlusconi.

The prime minister says he is confident of acquittal in both cases but would remain as head of government even if convicted. He wants to be present in court but says he cannot find time before January.

A long delay could see the charges elapse under the statute of limitations, as happened in another case where his holding company was hit with 750 million euros ($1.13 billion) in damages last month for bribing a judge, but criminal charges against him had expired.

Article from: Reuters.com

---




Berlusconi announces mob arrests.



From: UPI.com

ROME, Dec. 5 (UPI) -- Two top Mafia leaders have been arrested in Italy, Prime Minister Silvio Berlusconi said Saturday, refuting claims his government has ties to organized crime.

Gianni Nicchi, 28, allegedly the No. 2 leader in the Sicilian mob, was found in an apartment in Palermo, the Italian news agency ANSA reported. Nicchi had been in hiding for three years.

Gaetano Fidanzati, 74, was arrested in Milan, the BBC said.

Berlusconi announced the arrests in Rome.

"This is the best response to all the slander made by irresponsible people who, by doing this, are only slinging mud," he said.

This week, a mob informant, testifying at the appeal of a Berlusconi associate in Turin, said a Mafia boss told him in 1994 that Berlusconi had helped the Mafia. Marcello Dell'Utri, a senator with a long relationship with the prime minister, is appealing his conviction and seven-year prison sentence.