Mysterious Moving Boulders of Ireland
For years, geologists have puzzled over mysterious boulders that litter the desolate coastline of Ireland's Aran Islands. When nobody is looking, the massive rocks somehow move on their own.

What unseen hand is capable of ripping a multitude of heavy boulders from the craggy cliffs below and tossing them so far inland?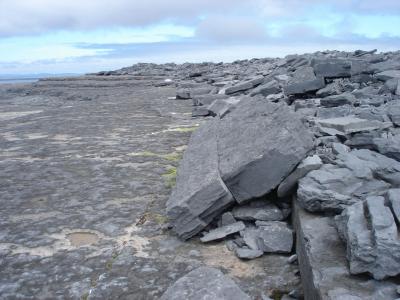 A boulder ridge along the coastline of the Aran Islands. Some of the biggest rocks make mysterious movements.
CREDIT: Ronadh Cox.



While some researchers contend that only a tsunami could push these stones, new research in The Journal of Geology finds that plain old ocean waves, with the help of some strong storms, did the job. And the waves are still at it.

The sizes of the boulders in the formations range "from merely impressive to mind-bogglingly stupendous," writes geoscientist Rónadh Cox, who led the research with her students from Massachusetts' Williams College

One block the team studied weighs an estimated 78 tons, yet was still cut free from its position 36 feet (10 meters) above sea level and shoved farther inland.

[...]

Read the full article at: ouramazingplanet.com





---



Moving Rocks of Death Valley's Racetrack Playa


From: IKnow1Thing.com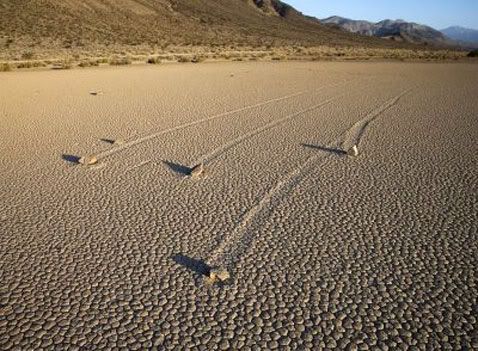 The mysterious "moving rocks" or "sailing stones" of Racetrack Playa in Death Valley, California are a popular topic for blogs, online communities, and various other websites. Photographs of the moving rocks also circulate via email along with numerous explanations for the phenomenon.

The rocks have generated a great deal of debate. Some commentators claim that photographs of the rocks and their tracks are digital fakes. Some observers put forward super-natural or other-worldly explanations. And others suggest that the moving rocks are part of an elaborate hoax with prankster-power being the real rock mover rather than any natural or supernatural influence.

However, the phenomenon is certainly real and has been well documented over many years. And the circulating photographs of the moving stones are perfectly genuine.

To date, no one has been present when the rocks have actually moved. However, scientists have studied the sailing stones for decades and clear and compelling evidence indicates that the rocks do indeed move without human or animal interference.

Examination of the tracks left by the moving rocks shows that they are created when the playa's surface is covered with soft mud. Thus it seems highly improbable that human pranksters or animals could shift the rocks without leaving clear signs of their interference along with the rock "trails". Cases of moving rocks have been recorded many times since the 1940′s and the phenomenon occurs in other playas in the region as well as the Racetrack, so the "hoax" theory also seems highly improbable.

That said, scientists still are not certain exactly how the rocks move. The general consensus is that wind is the primary factor. This theory is supported by the fact that most of the rock tracks run in the same general direction as the prevailing winds that blow across the playa.

One popular theory is that during wet conditions, strong wind gusts on the playa get the rocks sliding across the soft slippery mud. Experts speculate that, once a rock starts sliding, even more gentle winds may then be enough to keep the rocks moving for considerable distances. An alternative theory is that the rocks become embedded in a thin layer of ice and are subsequently dragged along as the wind propels the enclosing ice sheet across the playa surface.

Read the full article at: iknow1thing.com
Image from: iknow1thing.com





---

Also tune into:

Scott Wolter - The Kensington Rune Stone

Joseph Davidovits - The Construction of the Pyramids & Reconstituted Limestone

Alex Putney - Human Resonance, Sacred Sites, Pyramids & Standing Waves

Sam Osmanagich - The Bosnian Pyramids Update: Pyramid Energy

Klaus Dona - Unsolved Mysteries, Giants & Out of Place Artifacts

Michael Cremo - Forbidden Archeology