NASA gets cold feet on Moon base plan

NASA will probably not build an outpost on the moon as originally planned, the agency's acting administrator, Chris Scolese, told lawmakers on Wednesday. His comments also hinted that the agency is open to putting more emphasis on human missions to destinations like Mars or a near-Earth asteroid.

NASA has been working towards returning astronauts to the moon by 2020 and building a permanent base there. But some space analysts and advocacy groups like the Planetary Society have urged the agency to cancel plans for a permanent moon base, carry out shorter moon missions instead, and focus on getting astronauts to Mars.

Under Scolese's predecessor, Mike Griffin, the agency held firm to its moon base plans. But the comments by Scolese, who will lead NASA until President Barack Obama nominates the next administrator, suggest a shift in the agency's direction. He spoke to the Subcommittee on Commerce, Justice, Science, and Related Agencies of the House Committee on Appropriations.

Scolese was asked repeatedly whether NASA could still make it to the moon by 2020 under the proposed 2010 budget, but failed to give a clear yes or no, and his answers suggested the agency's plans were in flux.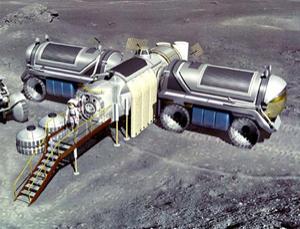 Instead of building a permanent lunar base, NASA may send astronauts on short 'sorties' or excursions (Illustration: NASA)



Short trips

"We were looking at an outpost on the moon, as the basis for that [2020] estimate and that one is being revisited," he said. "It will probably be less than an outpost on the moon, but where it fits between sorties, single trips, to the moon to various parts and an outpost is really going to be dependent on the studies that we're going to be doing."

"Recall [that] the Vision [for Space Exploration] was not just to go to the moon as it was in Apollo, it was to utilise space to go on to Mars and to go to other places," he added. "We've demonstrated over the last several years that with multiple flights we can build a very complex system reliably – the space station – involving multiple nations…and we'll need something like that if we're going to go to Mars."

Scolese's further comments hinted that the agency's plans might shift to include a greater emphasis on destinations beyond the moon. "So what I would like to see from NASA over time is an architecture that…will give us flexibility for taking humans beyond low-Earth orbit and allowing us to have options for what we can do at the moon as well as other destinations…[like] Mars or an asteroid…so that there are options on what we do in 2020," he said.

Vague answers

Scolese's vague answers on whether NASA believed it could meet its 2020 moon deadline, as well as similarly unclear answers from Doug Cooke, NASA's associate administrator for exploration systems, left the subcommittee's chair, congressman Alan Mollohan, wondering whether the agency had been given new directions.

"Does the 2010 budget request impact in any way our target – is this so complicated – our target of getting to the moon by 2020?" he asked. "Is there any consideration being given within the organisation to not attempting to meet the 2020 moon [return]…is there any reconsideration of going there? What is going on here?"

Cooke replied: "The direction that we have is to continue to pursue the 2020 date," but added that the agency was still assessing how the 2010 budget might affect that.

Some clarification about any shift in NASA's goals and priorities could come in early May, when the Obama administration's detailed 2010 budget proposal for NASA is set to be released.