NASA's UARS: Keep Your Eye on the Sky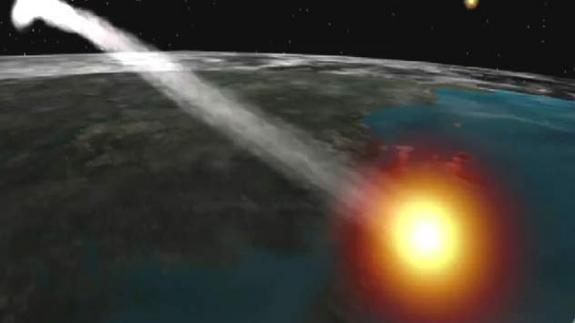 NASA's Upper Atmosphere Research Satellite (UARS) is expected to plunge toward Earth on Friday (Sept. 23).
CREDIT: AGI




Video from: YouTube.com


---


"The latest update on UARS put out by NASA is that as of 1:30 p.m. EDT Sept. 21, 2011, (17:30 GMT) the orbit of UARS was 120 mi by 130 mi (190 km by 205 km). Re-entry is expected sometime during the afternoon of Sept. 23, Eastern Daylight Time. NASA says the satellite will not be passing over North America during that time period, but that it is still too early to predict the time and location of re-entry with any more certainty. They will be able to further refine more details in the next 24 to 48 hours." Source


Video from: YouTube.com


---


"It's partly a matter of not knowing enough," said Ray Williamson, executive director of the Secure World Foundation, an organization dedicated to the peaceful use of outer space. "The shape of the structure is not perfectly spherical, so when it heats up and starts to break up, it will break into odd pieces. Once it begins to break up, then they can get a better sense of where this is roughly going to hit."

Scientists at NASA's Orbital Debris Program Office estimate that at least 26 large pieces of the bus-size satellite will endure the scorching heat of re-entry. Approximately 1,170 pounds (532 kilograms) of material are expected to reach the ground, NASA officials said.

These pieces of debris will likely be scattered over a 500-mile (804-kilometer) long path. But agency officials have been quick to stress that there is very little chance that satellite chunks will smash intotowns or cities.

Instead, it's much more likely that the debris will fall over water or remote, uninhabited areas, NASA officials said.

[...]

NASA has calculated the odds of anyone anywhere in the world being hit by a piece of the UARS satellite at 1in3,200. But, the chance that you personally will get hit is much more remote, on the order of 1inseveral trillion, Williamson said.
Source: Space.com


---



Doomed NASA Satellite Spotted by Amateur Astronomers


By Leonard David | Space.com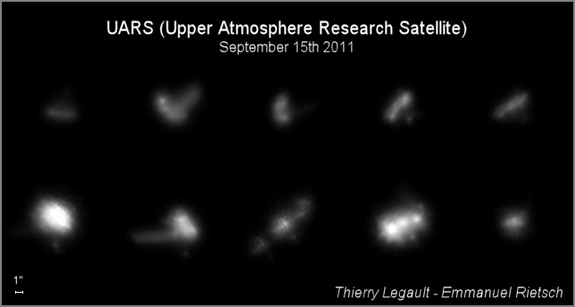 Thierry Legault is part of a network of skywatchers armed with sophisticated astronomical gear to monitor the whereabouts of spacecraft.
CREDIT: Thierry Legault



SPACE.com skywatching columnist Joe Rao, a seasoned night sky observer and meteorologist, spotted the UARS spacecraft fly over his New York home before dawn on Monday (Sept. 19). (Note: Rao uses the astronomer's magnitude scale to describe the satellite's brightness. On that scale, the lower the magnitude number, the brighter an object appears.)

"During the three or so minutes I had it in view, the satellite slowly rose in brightness from about magnitude 3 to 0, then suddenly flared/flashed in brightness to about -2 or -3, then quickly dropped off to near-invisibility. Then the whole sequence began anew," Rao explained. "It did this a total of three times before it vanished behind the treetops in my southeast. The thing must be tumbling."