New atomic clock may 'redefine the second'
A new clock has been developed by Parisian scientists that could redefine the second.

Current technology relies on atomic clocks to keep track of the seconds and provide a measure of time. However, researchers have now developed 'optical lattice clocks', which lose just one second every 300 million years, making it potentially a more accurate measurement of time.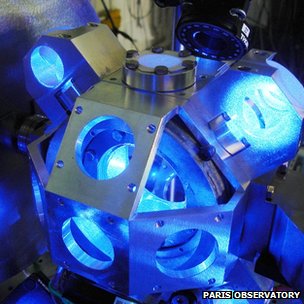 The optical lattice clock shines lasers on atoms to measure time


Atomic clocks are accurate to one second every 100 million years, making them three times as accurate when measuring time.

The traditional grandfather clock uses a pendulum swing to measure intervals of time and the atomic clock uses very regular vibrations of atoms. This new system uses light to excite strontium atoms.

Speaking to the BBC, Dr Jerome Lodewyck, from the Paris Observatory, said: "In our clocks we use laser beams. Laser beams oscillate much faster than microwave radiation, and in a sense we divide time in much shorter intervals so we can measure time more precisely."

[...]

Read the full article at: independent.co.uk




---