New JFK documentary alleges a second shooter ... a Secret Service agent who shot the president by ACCIDENT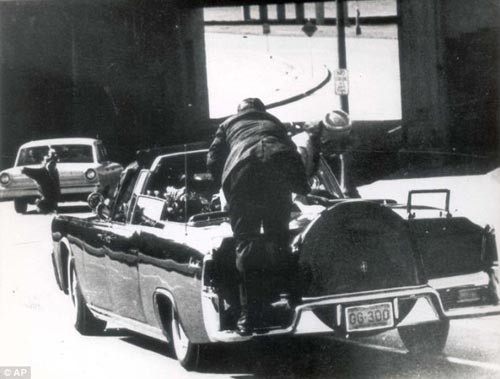 Many conspiracy theorists unhappy with the official account of the assassination of John F. Kennedy have pointed to evidence they believe shows that the president was shot twice, from different directions.

Now a new documentary has come up with a new twist on the conspiracy theory, claiming that a Secret Service agent was the man who fired that shot... by accident.

JFK: The Smoking Gun claims that George Hickey, a Secret Service man riding in the car behind Kennedy, accidentally fired his weapon on November 22, 1963.

It alleges that a cover-up was then carried out to save the blushes of the agency whose main role is to protect serving and former U.S. leaders - leaving the many loose ends that have long raised suspicions.

It is said that as much as 75 per cent of the American public do not believe the official account of the Kennedy assassination.

The new documentary is based on the work of Colin McLaren, a veteran Australian police detective who has undertaken a four-year investigation into the killing.

His theories are based on the work of Howard Donahue, who spent two decades probing the assassination and whose work was presented in the book Mortal Error: The Shot That Killed JFK, by Bonar Menninger.

Both Mr Menninger and Mr McLared spoke yesterday about the film at the Television Critics Association press tour in Los Angeles, California.

Central to their case is the claim that Agent Hickey and his Secret Service colleagues had been out partying the night before Kennedy's motorcade drove through Dallas.

To compound the problems the hungover agent faced, McLaren says he has found evidence that Hickey had not been properly trained to use the AR-15 gun he was carrying that morning. 'It was his first time in the follow car, his first time holding the assault weapon he was using,' the Huffington Post reported McLaren as saying.

The theory is that as the assassin opened fire, Hickey grabbed his own gun. But when the whole motorcade shunted to a halt, the agent was jolted by the sudden stop and accidentally pulled the trigger - firing a bullet straight at the back of Kennedy's head.

Mr McLaren said he believes Agent Hickey's AR-15 was loaded with different from the ammunition used by Lee Harvey Oswald, who the Warren Commission declared in 1964 to be the lone gunman in the assassination. That, he claims, explains what they believe are the different ballistic profiles of the two bullets that struck Kennedy.

Oswald was himself assassinated before he could stand trial over the killing.

Mr Menninger insisted that they do not believe that Agent Hickey intentionally fired at Kennedy. Rather, the Huffington Post reported him as saying, 'this was a tragic accident in the heat of the moment.'

But the pair do allege that the government moved swiftly, with the help of Kennedy's brother Robert, to cover up the Secret Service's involvement and save the agency from embarrassment.

Agent Hickey, who died two years ago, said in his witness statement given the day after Kennedy's assassination that after he heard the gunfire he did indeed rise to his feet and load and cock the AR-15, but did not fire it.

[...]

Read the full article at: dailymail.co.uk




---

Red Ice Creations Note: "Mistakes were made" - How many times have we heard that explanation when the official story falls apart, and people can see full well there's something going on, but no real answers are being provided by officials? Mistakes were made, but nobody is responsible.

It's the eventual determination when the real facts are too dangerous to reveal. Simply chalk everything up to incompetence/stupidity/naivety/lack of communication!

These types of 'woops!' explanations to what many accredited researchers demonstrate was a purposeful assassination and coverup by powerful individuals only serve to wave away any responsibility of the real killers and their motives. It also allows them to get away with it again in future.

In this case, the secret service agent in question is now DEAD, and not likely to defend himself against the claims. Certainly, the report he made at the time doesn't involve his admitting he accidentally assassinated Kennedy! Nor does vast public witness testimony support the theory. And it doesn't explain the apparent secret service 'standdown' that day, just moments before the assassination: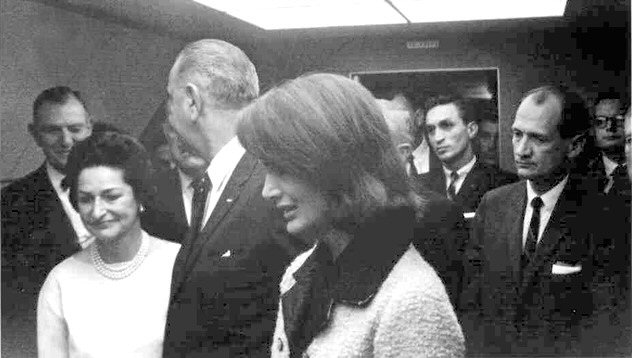 Standing next to a shocked Jackie (who is still covered in JFK's blood), LBJ gets a wink and a smile from Congressman Albert Thomas as Johnson is sworn in as President.
Tune into Red Ice Radio to hear more on assassinations:
Russ Baker - Family of Secrets: Poppy Bush
Kenn Thomas - The Octopus
Kent Daniel Bentkowski - Freemasonic Symbolism in the Death of JFK
H.P. Albarelli Jr. - Germ Warfare, CIA, LSD and the Murder of Dr. Frank Olson
Kenn Thomas - JFK & The Maury Island UFO Incident
Peter Dale Scott - Hour 1 - Norway's Massacre, Breivik & Deep Events
Ole Dammegård - Hour 1 - Coup d'etat in Slow Motion: The Assassination of Olof Palme
Ole Dammegård - Hour 1 - The Assassination of Olof Palme - Part 2
Ole Dammegård - Hour 1 - The Assassination of Olof Palme & The Sinking of Estonia - Part 3
Ole Dammegård - Hour 1 - The Assassination of Olof Palme - Part 4