Nicolas Sarkozy and De Villepin at core of Clearstream Trial


Two men who reached the pinnacle of French politics after a career-long battle stand at the heart of a slander trial opening in Paris on Monday.

Nicolas Sarkozy says Dominique de Villepin was involved in a smear campaign known as the Clearstream affair designed to keep Sarkozy from winning France's top job in 2007 elections.

It's a faceoff between a French president who calls himself America's friend, and an ex-prime minister who helped rally world opinion against the U.S.-led invasion of Iraq.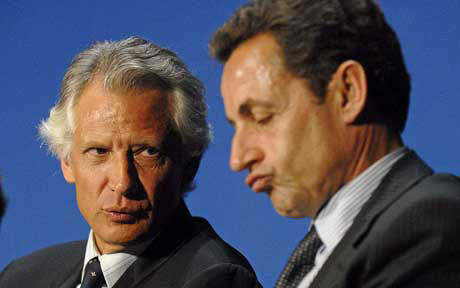 Sarkozy is a plaintiff in the case, but he won't be anywhere near the court because his presidential position means he doesn't have to testify. Former Prime Minister Villepin will be on the defendants' bench along with four others, accused of perpetuating bogus claims that Sarkozy hid bribe money in a Luxembourg bank.

The unusual, complicated saga dates back to 2004, when both men - the kinetic, dark-haired Sarkozy and the suave, silver-haired Villepin, both conservatives, both government ministers - were considered leading hopefuls to succeed then-President Jacques Chirac.

It began with a mysterious list claiming to show clients with secret accounts with Luxembourg clearing house Clearstream, including Sarkozy and other leading French political and business figures. The accounts were purportedly created to hold bribes from a 1991 sale of warships to Taiwan, among other shady income.

Villepin became aware of the list and asked an intelligence adviser for the Defense Ministry, Gen. Philippe Rondot, to investigate it. Rondot determined it was a hoax - but the list was already making the rounds among government and judicial officials.

For Villepin, the key questions in the trial are how much he knew about the list and when he learned that it was fake.

Villepin says he did nothing wrong. The prosecutor's 225-page indictment says Villepin should have alerted judicial authorities to the scam earlier.

Vitriol has boiled on both sides. Sarkozy reportedly said he wanted Villepin to "hang on a meathook" over his alleged role in the affair. Villepin says Sarkozy is "obsessed" by the case.

"No one wants the truth more than I. No one wants justice more than I," Villepin, then prime minister, told parliament in 2006, his orator's voice rising to a crescendo.

Villepin is accused of "complicity to slanderous denunciations" and "complicity in using forgeries" among other charges. If convicted, he could face up to five years in prison and a fine of euro375,000 ($551,437.50).

The key defendant is a former vice president at Airbus parent company EADS, Jean-Louis Gergorin. He is accused of cooking up the scheme to discredit leading figures and is charged with "slanderous denunciations." He has said he gave the fake list to judicial authorities but was acting on orders from Villepin and Chirac.

The other defendants are an accountant accused of stealing Clearstream documents used to make the faked list, Florian Bourges; an investigative journalist accused of giving the Clearstream documents to computer expert Imad Lahoud; and Lahoud, accused of doctoring the documents.

At its core, though, the trial is about "the rivalry between two men," Sarkozy and Villepin, said Dominique Moisi, political scientist at the French Institute for International Relations.

"Beyond the details, which are too complex for everyone to understand ... this is a battle of political will between two French politicians. The question is, who is going to win?" he asked.

Sarkozy, 54, won the 2007 presidential election, though his approval ratings have slumped recently. Meanwhile, the Clearstream affair cast a shadow over Villepin, a diplomat whose big moment of international fame came during a U.N. speech in 2003 urging the United States not to invade Iraq.

Villepin, 55, left the prime minister's job when Sarkozy took over but has left open the possibility of running in the next presidential election in 2012.

"He is hoping for an acquittal," Villepin lawyer Oliver D'Antin said. "We are awaiting the trial with sensibility, tranquility."

About 20 witnesses are expected to testify and there are more than 40 plaintiffs in the trial, which runs through Oct. 21.

Other former French prime ministers have faced legal woes. In 2004, Alain Juppe was convicted in a corruption case that predated his time as premier. In 1999, Laurent Fabius was acquitted of manslaughter in a case of people given blood transfusions tainted with the HIV virus. Both men once were considered potential presidential candidates, and the court cases dashed the career hopes of both.

Source: washingtonpost.com

Ed Comment: Read more about the Clearstream Affair. This story goes really deep. As usual the elite of banking and politics are involved.


Operation Sarkozy
How the CIA planted one of its agents as President of the French Republic






Leading author claims Sarkozy is 'Napoleon in a suit'
They are two small men in a hurry, who at the start of a new century both believe it is their destiny to drag France out of chaos and decline