"No Land for Whites in Zimbabwe" Says Mugabe — But No Condemnation for this Racism
Whites will never be allowed to own land in Zimbabwe, that country's president Robert Mugabe has announced, adding that the few remaining white farmers still there "must go."

Mugabe's latest racist anti-white outburst has of course been met with complete silence by the liberals in the west, who always lose no opportunity to crow about so-called "white racism" at every opportunity.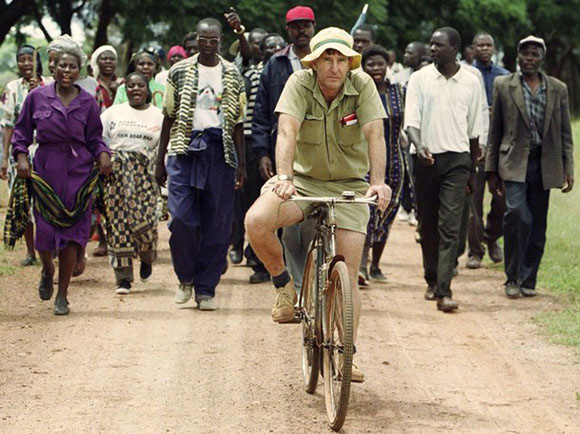 Speaking at the launch of Zimbabwe's "A1 settlement permit" scheme, which supposedly ensures that farmers have security of tenure, Mugabe said that "Zimbabwe was no country for whites as far as land was concerned."

The A1 permits allow new farmers to access agricultural funding from financial institutions—but of course, whites are excluded.

A Zimbabwe Mail report quoted Mugabe as saying whites in Zimbabwe could only be allowed to own companies, industries and apartments.

According to other local news "Mugabe's latest pronouncements are likely to send jitters across the agricultural sector and concern the remaining white commercial farmers, some of whom have argued that they never benefitted from colonialism."
Mugabe and his Zanu-PF party launched the land reforms in 2000, taking over white-owned farms to resettle landless blacks.

At the time, Mugabe said the reforms were meant to correct colonial land ownership imbalances.

At least 4,000 white commercial farmers were evicted from their farms.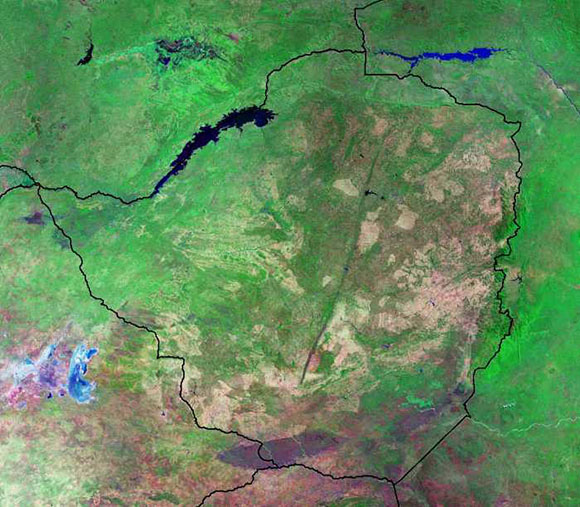 A satellite image from 2002 shows the extent of the then still ongoing "land redistribution" in Zimbabwe. The farms already seized and under black control can be clearly seen by their desolate brown borders. All of the black-run farms have collapsed and Zimbabwe has become a food importer.



The land seizures were often violent, claiming the lives of several white farmers during clashes with criminal mobs, some of whom pretended to be "veterans" from the Rhodesian bush war, but who in reality were far too young to have partaken in the 1972–1979 conflict.

The seized farms were almost instantly turned into trash heaps and food production collapsed, forcing the formerly prosperous and food-exporting white-ruled state into beggar nation status, relying completely on foreign aid just to feed itself.

At least 2.2 million Zimbabweans depend on foreign food aid just to survive, and, according to a recent report, it has "been like this for more than a decade.

"Before the turn of the century, Zimbabwe, with its fertile farmland, was the breadbasket of southern Africa, exporting wheat and corn to the rest of the continent and beyond. But the agriculture second nose-dived in the early 2000s, a development which critics attribute to President Robert Mugabe's land reform program which targeted white farmers.

"But Zimbabwe is still a net importer of food. With unemployment hovering at around 80 percent, many people can't afford to buy food."


Article from: newobserveronline.com

Meanwhile, at Mugabe's office:



"US rife with racism," Mugabe says



From: presstv.com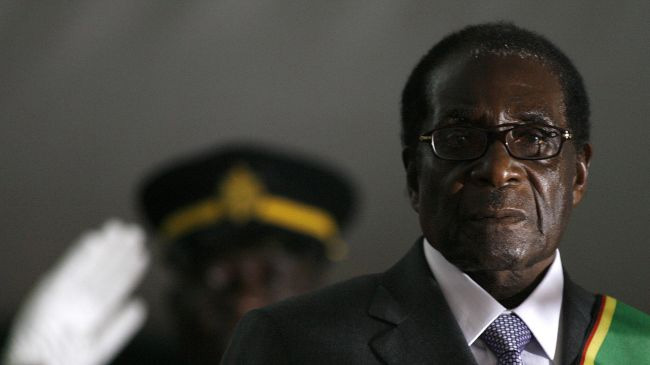 Zimbabwean President Robert Mugabe has said that the United States is rife with racism and asked Washington to keep its "pink nose" out of southern African country's affairs.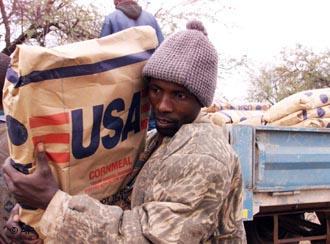 Ironically this photo from a World Food Program aid arriving in Zimbabwe in 2002 has "USA" written all over it ... literally. I guess this is how a "racist" country shows it support.

"America must be mad, absolutely insane," Mugabe said on Thursday during an election campaign rally in the northern town of Chinhoyi.

During his visit to South Africa in June, US President Barack Obama called on the Zimbabwean government to introduce reforms ahead of the country's general elections, which are scheduled to be held at the end of this month.

"For anyone to suggest that our elections must not be held even after the expiry of the term of parliament, because some party is arguing for reforms of our security forces, is a mad argument, completely," Mugabe stated.

The Constitutional Court ruled on May 31 that Mugabe should set a date as soon as possible, and that the elections must be held by the end of July.

On June 13, Mugabe declared that the elections would be held on July 31.

Later on that same day, Zimbabwean Prime Minister Morgan Tsvangirai said that Mugabe was creating a political crisis in the country, adding that the date was too soon to allow the reforms required for a free and fair election.

"Harassment of citizens and groups needs to stop and reform needs to move forward so people can cast their votes in elections that are fair and free and credible," Obama said during his South African visit.

The Zimbabwean president stated that the US has no moral ground to reprimand his government.

"Keep your pink nose out of our affairs, please," Mugabe told Washington.

"Where do you get that audacity to open your mouth and try to sermonize us," he asked.

"Your prisons are still full of blacks. Where is your democracy? There is lots of racism in your country," Mugabe noted.

Source: presstv.com