Non-Embryonic Stem Cells: The Dawning of a New Era of Hope
Ethical worries have slowed medical research into applications for stem cells. But scientists like Robert Lanza have developed less controversial ways to derive stem cells from normal body cells rather than embryos and are already launching the first clinical trials.

Stem cell researcher Robert Lanza hopes to save thousands of lives -- and for a long time this caused him to fear for his own.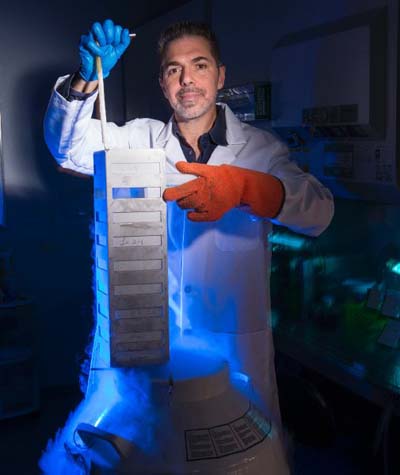 "They bused these crazy people up from Kansas, and then they picnicked right outside our front door," he says as he gazes out of his window at the gray winter landscape of Marlborough, Massachusetts. "The public thought we had these little buggy-eyed embryos here and were ripping apart their limbs to get these cells."

The physician always feared "somebody hiding in the bushes," waiting to attack him. At the time, a doctor was threatened at a nearby fertility clinic, and a pipe bomb exploded at a bio lab in Boston.

"Back then I thought that there was probably a 50-50 chance that I was going to get knocked off because I was so visible," says the doctor. Then he leans back in his chair and laughs. Lanza likes to flirt with danger: "I said, okay, try to kill me -- I'm still going to do what I think is right."

In Lanza's case, doing what is "right" involves working with therapies based on human stem cells. The blind shall see again; the paralyzed shall walk again; the hemophiliac shall not bleed anymore. That may sound like something out of the Bible, but Lanza is no faith healer. In fact, the US business magazine Fortune called him "the standard-bearer for stem cell research." The 57-year-old is the chief scientific officer at the US company Advanced Cell Technology (ACT) and one of the most flamboyant and controversial figures in this field of research.

Militant anti-abortionists tried to hunt Lanza down because embryos had to die for his research. Just last year, the scientific journal Nature wrote that ACT has "a history of public blunders" and a reputation for "overhyping results."

At the same time, however, Lanza is writing medical history. For over one year now, eye patients in the US and the UK have been treated with cells from ACT laboratories -- the first clinical stem cell trial worldwide.

And there is a world premiere in the making: Lanza's team has cultivated blood platelets that could be tested in hospitals as early as this year. The researcher and his team didn't harvest the cells from embryonic stem cells, but rather from induced pluripotent stem (iPS) cells derived from normal body cells.

"It took a decade," says Lanza, "but now we are finally ready to move into the clinic with our stem cell therapies."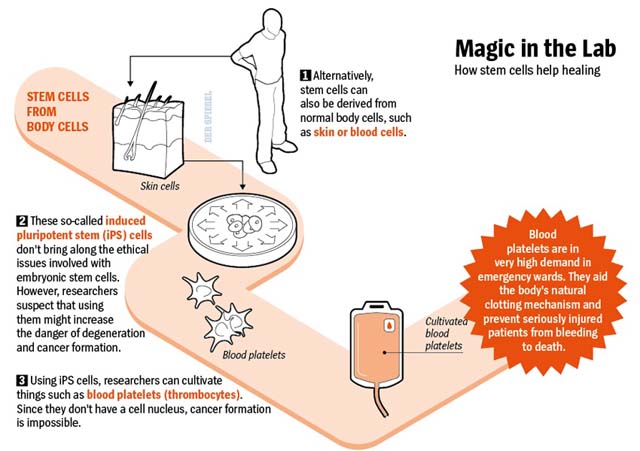 [...]

Obstacles Along the Way

When Lanza harkens back to those days, he becomes more serious. Although the ACT embryos had only grown to tiny balls consisting of six cells, for anti-abortion activists and pro-lifers the researcher was now the Antichrist incarnate.

"I remember that I went down to Tennessee, to the Bible country, and I went to one of those churches to explain what we were really doing. As I went through the door with the minister, a guy got up and shouted "Murderer! Murderer!" Lanza hired a bodyguard.

In the wake of the media coup, ACT started to founder. Investors withdrew from the company, and with George W. Bush in the White House, public funding for stem cell research dried up. "We went through multiple times where we lost the whole team," says Lanza, who notes that they even had their phone disconnected for a while. "Rather than curing diseases, we were trying to resolve theological problems," Lanza says bitterly. "And that's not what I studied medicine for."

Talking about the issue has slowly made the doctor furious and, almost imperceptibly, his tone of voice is becoming shriller. Another story has to be told, that of a policeman standing in front of the door one day. Lanza was afraid that he would be arrested. But no: "He came into my office and said that he had a child who was slowly going blind," the physician recalls. "He said that he had heard of these cells that could supposedly help, and I said: 'Yes, I have these cells in a freezer, but I don't have the $20,000 to test them on mice.'"

Lanza had to turn the man away. It pains him to this day. "I don't want to know how many people went blind because we lost our public funding," he says angrily. "Nobody gets it; they say everything is fine; no, it's not fine!"

Read the full article at: spiegel.de




---
Tune into Red Ice Radio:
Rudy Mazzocchi - Black Market of Human Organ Transplants
Lloyd Pye - The Starchild Skull & DNA Revelations
Freeman - Obama, Cloning & The Coming Space War
Radio 3Fourteen:
Dr. Nancy Banks - AIDS, Opium, Diamonds & Empire
Ken Rohla - Neutralizing Radiation, Chemtrails & Mind Control