NSA director heckled, shouted at, by hackers at Black Hat
warned away, or 'uninvited', to the world's largest annual hacking conference this year due to heightened tensions regarding NSA spying, NSA Director General Keith Alexander gave a 'contentious' keynote speech on Wednesday to BlackHat US 2013 that was met with derision, heckling, and shouts from the skeptical audience.

General Alexander: "We stand for freedom."
BlackHat: "Bullshit!"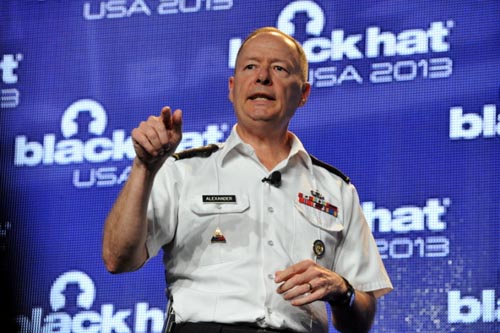 The General attended the convention last year, "to educate conference goers about the NSA", which DefCon founder Jeff Moss described as "one of "spookiest, least known" organizations in the world. He received polite applause for what amounted to a recruitment speech, and denied the accusations that his agency kept dossiers on millions of Americans.

This year, rather than dressing down in casual t-shirt and jeans as he did in 2012, the NSA Director was in uniform. Gen Alexander defended the NSA's activities, and audience members, comprised of top level hackers and security professionals, hurled accusations of lying at him.

"Our job is defending this country and saving lives."

Alexander emphasized that the NSA can and does audit the actions of its personnel. He refuted media reports that the NSA is collecting everything on everyone as simply not being true. The NSA focuses on programs that go after content that might represent a threat to the U.S., he said. Source




As reported by eSecurityPlanet:

Black Hat General Manager Trey Ford, in a controlled question and answer session, asked Alexander if the NSA could listen in to calls he makes to his mother.

"We have technical controls to limit that, then there is policy too," Alexander said. "Can I intercept my daughter's emails? No. You may be able to."

Alexander was interrupted by a heckler who yelled out, "Read the Constitution!"

Alexander responded, "I have, and you should too!"

The NSA Director's speech comes amid current and past revelations of NSA overreach, and today's allegations reported in The Guardian, citing documents from former security contractor Edward Snowden that the "the NSA tool "XKeyscore" collects nearly everything a user does on the internet - and alleges that NSA analysts require no prior authorization for searches." Source

By Elizabeth Leafloor, Red Ice Creations





---
Tune into Red Ice Radio:
James Bamford - NSA, U.S. Cyber Command & the Global Brave New World of Surveillance
Jon Rappoport - Hour 1 - The Surveillance State & War on the Individual