Obama Birth Certificate and Selective Service Card Faked, Sheriff Joe Arpaio Concludes
2012 just started looking a lot like 2008 all over again.

Controversial sheriff Joe Arpaio of Maricopa County, Ariz., declared President Barack Obama's birth certificate and Selective Service card fakes Thursday, according to the Washington Times. Arpaio says his investigators used law enforcement tools to test the authenticity of Obama's identity documents, working on their own time.

While not accusing the president directly, Arpaio said his investigators' findings constitute evidence of fraud, forgery and other criminal offenses.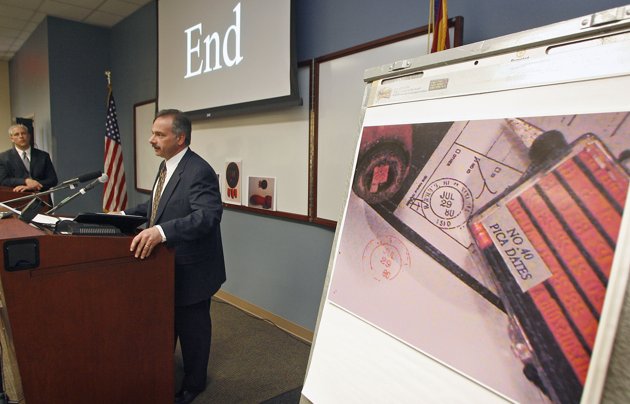 Michael Zullo, lead investigator for the Maricopa County Sheriff's Department Cold Case Posse, announces the preliminary findings of Sheriff Joe Arpaio's investigation into the authenticity of President Barack Obama's birth certificate and other issues surrounding his eligibility to be President during a news conference on Thursday, March 1, 2012, in Phoenix.
(AP Photo/Ralph Freso)



Here's why Arpaio says the president's documentation doesn't pass muster:

* The president's long-form birth certificate never existed in paper form, lead investigator Mike Zullo said, according to CBS News. He says Hawaii officials may have deliberately kept original 1961 birth records from being examined.

* According to ABC News, Arpaio said the date stamp and registrar's stamp on the birth certificate appear to have been imported from outside sources. NPR explained the basis for that charge, saying the stamps were on different layers of the document and could be moved about in editing software. NPR said its own test did not find the document to be multi-layered.

* A look a records for twins born at the same hospital as Obama one day earlier proved that there were microfiche records from the era, Arpaio told Phoenix New Times. Microfiche copies of the president's birth record have not been acknowledged to exist.

* Arpaio said the there are inconsistencies in the text characters used in the long form birth certificate released by the White House.

* The 1980 date on Obama's Selective Service registration card was created by cutting the date 2008 to read just 08 and flipping it to make the 80 portion of 1980, according to the Arpaio investigators. Zullo says the card "isn't just forged; it's poorly forged," according to NPR.

* Arpaio's team also claims Immigration and Naturalization Service international arrival records for the month August 1961 contain a gap- there are no records for the week of Obama's birth, they say.

Arpaio is subject to a federal grand jury investigation for abuse of power, unrelated to the birther issue, and several critics contend the beleaguered sheriff is seeking to draw attention away from his own legal problems with this investigation.

Article from: news.yahoo.com