Obama "projects power" by sending military aircraft, Marines, to Oz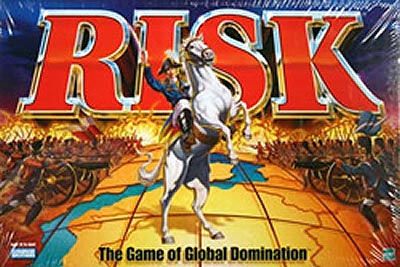 Signaling a determination to counter a rising China, President Barack Obama vowed Thursday to expand U.S. influence in the Asia-Pacific region and "project power and deter threats to peace" in that part of the world even as he reduces defense spending and winds down two wars.

"The United States is a Pacific power, and we are here to stay," he declared in a speech to the Australian Parliament, sending an unmistakable message to Beijing.

Obama's bullish speech came several hours after announcing he would send military aircraft and up to 2,500 Marines to northern Australia for a training hub to help allies and protect American interests across Asia. He declared the U.S. is not afraid of China, by far the biggest and most powerful country in the region.

China immediately questioned the U.S. move and said it deserved further scrutiny.

Emphasizing that a U.S. presence in the Asia-Pacific region is a top priority of his administration, Obama stressed that any reductions in U.S. defense spending will not come at the expense of that goal.
"Let there be no doubt: in the Asia Pacific in the 21st century, the United States of America is all in," he said.

From Canberra, Obama flew to the northern city of Darwin, where some of the U.S. Marines bound for Australia will be based. His visit marked the first time a sitting U.S. president has been to Darwin, where U.S. and Australian forces were killed in a Japanese attack during World War II. He opened his quick stop there by laying a wreath at a memorial for the USS Peary, a Navy destroyer that was sunk during that battle.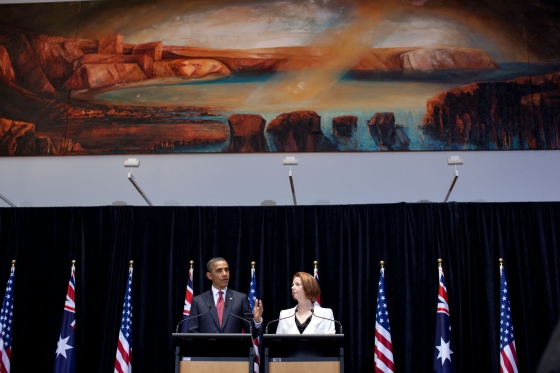 President Barack Obama holds a joint press conference with Prime Minister Julia Gillard of Australia at Parliament House in Canberra, Australia, Nov. 16, 2011.

When President Obama met with Australian Prime Minister Julia Gillard on Wednesday, they announced plans for the first sustained American military presence in Australia. (Official White House Photo by Pete Souza)


"It was here in Darwin where our alliance was born during Australia's Pearl Harbor. Against overwhelming odds, our forces fought back with honor and courage," Obama said during remarks to Australian and U.S. troops at a military base.

For Obama, Asia represents both a security challenge and an economic opportunity. Speaking in broad geopolitical terms during his speech to Parliament, the president asserted: "With most of the world's nuclear powers and some half of humanity, Asia will largely define whether the century ahead will be marked by conflict or cooperation, needless suffering or human progress."

Virtually everything Obama is doing on his nine-day trip across the Asia-Pacific region has a Chinese subtext, underscoring a relationship that is at once cooperative and marked by tensions over currency, human rights and military might.

[...]

The plan outlined by Obama will allow the United States to keep a sustained force on Australian bases and position equipment and supplies there, giving the U.S. ability to train with allies in the region and respond more quickly to humanitarian or other crises. U.S. officials said the pact was not an attempt to create a permanent American military presence in Australia.

About 250 U.S. Marines will begin a rotation in northern Australia starting next year, with a full force of 2,500 military personnel staffing up over the next several years. The United States will bear the cost of the deployment and the troops will be shifted from other deployments around the world. Having ruled out military reductions in Asia and the Pacific, the Obama administration has three main areas where it could cut troop strength: Europe, the Middle East and the U.S.

All U.S. troops are being withdrawn from Iraq by the end of this year, and a drawdown in Afghanistan is underway. But the Pentagon has said recently that the U.S. will maintain a major presence in the greater Middle East as a hedge against Iranian aggression and influence. A more likely area for troop reductions is Europe, although no decisions have been announced.

Read the full article at: news.yahoo.com


---


Ed Note: Obama obviously played Risk as a kid. He recognizes that if you can get Australia right at the beginning of the game, you can build up troops and dramatically swoop into Asia and take/hold it, devastating your opponents. ;P
Global Domination, anyone?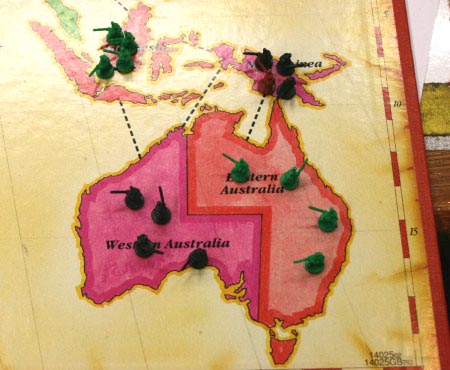 Image: Source

~E