Oh, Great: Robots Are Set to Conduct National Security Clearance Interviews
Advancing a career in the US government might soon require an interview with a computer-generated head who wants to know about that time you took ketamine.

Psychologists at the National Center for Credibility Assessment (NCCA) are developing an interview system that uses a responsive on-screen avatar for the first stage of the national security clearance process.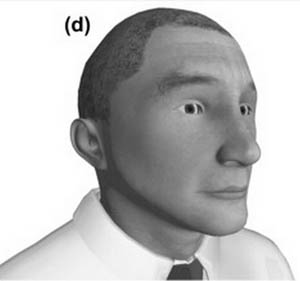 Initial screening for a variety of government jobs currently requires applicants to fill out a form disclosing past drug use, criminal activity, and mental health issues, which is then reviewed during an interview—with a human.

But a recent NCCA study published in the journal Computers and Human Behavior asserts that not only would a computer-generated interviewer be less "time consuming, labor intensive, and costly to the Federal Government," people are actually more likely to admit things to the robot.

The study used US Army basic trainees as volunteer subjects for a mock national security clearance interview. The trainees were not told that the questions would be asked by a robot. After being hooked up to electrodes for cardiographic and electrodermal (heart and skin) responses the volunteers were told that the interview would be with a computer avatar, and were left alone in a chamber with their on-screen interrogator.

The program used for the study was capable of responding to vocal cues and taking multiple conversation paths depending on the subject's answers. The researchers were hoping to leverage the power of presence: the idea that people recognize another sentient being in the environment, and are more responsive as a result.


The bot is racially ambiguous and looks like a sort of cross between Barack Obama and Vladimir Putin. Clean-shaven and all business, the bot asks you to divulge your most embarrassing personal mistakes in the name of national security and trustworthiness.

And apparently these computer-generated heads had a lot of presence. Volunteers in the study were significantly more likely to disclose alcohol use and mental health issues to the avatar than to the questionnaire. Responses for drug use and criminal charges were about the same.

[...]

Read the full article at: motherboard.vice.com




---
Humans Appear Programmed to Obey Robots, Studies Suggest