Plants 'thrive' on Moon rock diet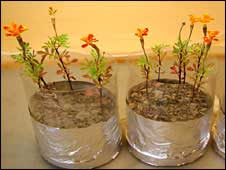 Growing plants in space will be far from easy

Scientists with the European Space Agency (Esa) say the day when flowers bloom on the Moon has come closer.

An Esa-linked team has shown that marigolds can grow in crushed rock very like the lunar surface, with no need for plant food.

Some see growing plants on the Moon as a step towards human habitation.

But the concept is not an official aim of Esa, and one of the agency's senior officials has dismissed the idea as "science fiction".

The new research was presented at the European Geosciences Union (EGU) meeting in Vienna, the largest annual European gathering of scientists studying the Earth, its climate and its neighbours in space.

Bernard Foing, a senior scientist with the European Space Research and Technology Centre (Estec) in the Netherlands, believes growing plants on the Moon would be a useful tool to learn how life adapts to lunar conditions, and as a practical aid to establishing manned bases.

"We would bring a system of water circulation and recovery, which is also the type of system that in any case you want to develop when you are going to manufacture a primitive sort of life support system," he told BBC News.

"So it is also a kind of `technological breadboard' for maintaining a simple life form in an extreme environment."

Microbe power

In principle, putting self-contained pieces of kit with seeds and nutrients on the Moon and giving them a supply of water and an artificial atmosphere would be little different from growing them on space stations, which has been done several times; although outside Earth's protective magnetic field they would be subject to higher levels of radiation.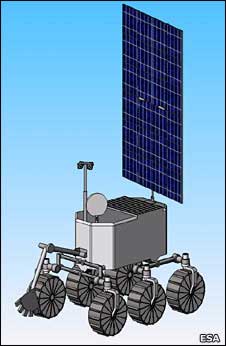 Esa has made no firm plans yet to explore the lunar surface

The new step, taken in the experiments reported at the EGU, is to remove the need for bringing nutrients and soil from Earth.

A team led by Natasha Kozyrovska and Iryna Zaetz from the National Academy of Sciences in Kiev planted marigolds in crushed anorthosite, a type of rock found on Earth which is very similar to much of the lunar surface.

In neat anorthosite, the plants fared very badly. But adding different types of bacteria made them thrive; the bacteria appeared to draw elements from the rock that the plants needed, such as potassium.

Dr Foing, who presented the study at the EGU meeting, said there was no reason in principle why the same idea could not bear fruit on the Moon itself. Tools could crush lunar rock and add bacteria and seeds.

But, he added, scientists could look to go further, by selecting plants or bacteria that are especially well adapted to lunar conditions, or even by genetically engineering new strains.

Descent of man?

The last decade has seen a revival of interest in Moon exploration after years of neglect.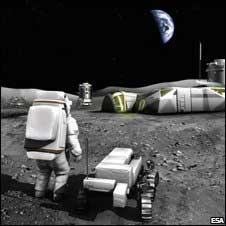 It is conceivable humans may one day live on the Moon

Europe's Smart 1 probe with its innovative ion engine ended its mission in 2006 with a deliberate crash onto the lunar surface.

China's Chang'e 1 and Japan's Kaguya (or Selene) orbiters both began operations last year, while India's Chandrayaan 1 is due for launch within months.

The US, meanwhile, is committed to putting human feet back on lunar soil by 2020.

But Esa is not yet sure about further Moon missions; a decision on whether to proceed with a concept called Moon Next, which would probably deploy a roving vehicle in about 2015, will be taken later this year.

Even if that gets the go-ahead, some Esa officials at the EGU meeting suggested that planting marigolds (or tulips or cabbages) would be unlikely to be part of the strategy: "it is science fiction," one observed.

But as director of the International Lunar Exploration Working Group (ILEWG), which looks for exciting and innovative ways to study our nearest cosmic neighbour, Bernard Foing believes that Europe or one of the other players will eventually decide to plant the seeds of Earth where previously humanity has merely planted flags.

"We are considering whether we could do this on some precursor robotic mission, even before we consider putting people on the Moon," he said.

"It is viable within the timeframe of Moon Next."

Article from: http://news.bbc.co.uk/2/hi/science/nature/7351437.stm