Protesters and Police Clash at NATO Meeting; 2 Held on Terrorism Charges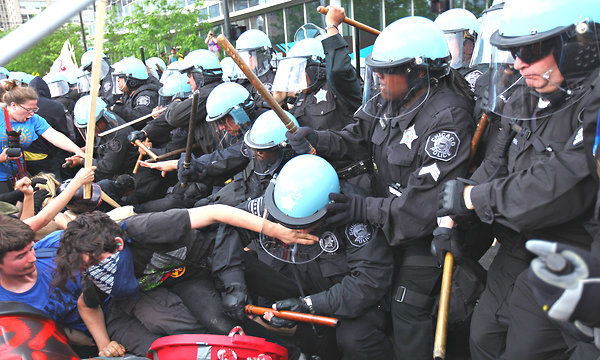 Protesters at the NATO summit meeting clashed with the Chicago police late Sunday as officers tried to disperse thousands of people who had gathered several blocks from the site of the meeting and refused demands to leave.

The standoff, which lasted several hours, grew intense as police officers, some in riot gear and gas masks, and protesters, some wearing all black, confronted one another, and shoving and scuffles broke out.

Some among the hundreds of officers repeatedly struck protesters with police batons, and some protesters threw red paint, a bucket, sticks and more at the line of officers. As the clash went on, mounted police officers could be seen equipping their horses with protective masks.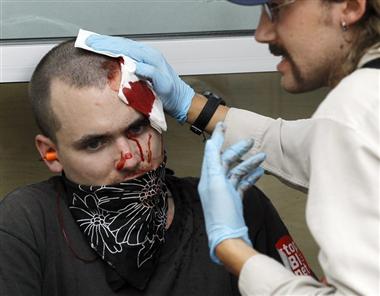 A protester is helped after sustaining an injury at a protest march and rally during this weekend's NATO summit in Chicago Sunday, May 20, 2012 in Chicago. (AP Photo/Charles Rex Arbogast) GlobalTV.com



At one point, an officer emerged from a scrum of people with his arm firmly around the neck of a protester, who appeared to be in distress. At another point, a demonstrator shoved an officer to the ground, before another officer pulled him to safety.

About 45 protesters were arrested on Sunday, and at least four officers were injured, according to the Chicago Police superintendent, Garry McCarthy. It was uncertain how many protesters were injured.

The confrontations followed a march through the streets downtown, the largest demonstration during days of protests that have led up to the NATO meeting here. Led by about 40 men and women in American military uniforms who said they wished to return their medals as symbolic gestures, thousands of protesters opposed to war and to NATO or motivated by other issues marched down Michigan Avenue, winding their way as close as they could get to McCormick Place, where world leaders were holding the summit meeting.

For weeks, tensions here have grown over what it might mean in Chicago to host the first NATO summit meeting held in a United States city outside of Washington and face the political protests that would accompany it. Even before the tense confrontations, five people had been arrested miles from the street protests, but with what prosecutors described as plans involving bombs and other devices aimed at disrupting the summit meetings. Those arrests seemed to put a nervous city still further on edge.

On Sunday, prosecutors announced that they had filed charges against Sebastian Senakiewicz, 24, of Chicago, accusing him of falsely making a terrorist threat by claiming that he had homemade explosives — hidden in a hollowed-out "Harry Potter" book at his house — that could blow up a highway overpass. No explosives were found in a search of Mr. Senakiewicz's home, the prosecutors said.

Separately, Mark Neiweem, 28, who was also believed to be from Chicago, was charged with "solicitation for possession" of explosives or incendiary devices. Prosecutors said he had discussed making a pipe bomb with an associate. He wrote a list, the prosecutors said, of all the items he thought he needed for the bomb.

Lawyers for both men denied the charges, and suggested that the authorities in Chicago were overstating the claims as a warning to the thousands of protesters, some of them linked to the Occupy movement, who have descended on the city for the summit meeting.

[..]

Read the full article at: nytimes.com





---



Video from: YouTube.com





---
Nato Summit 2012: Ballistic Missile Shield to be Put in Place
Obama, NATO leaders chart path out of Afghanistan
NATO Protesters Storm Chicago (Photos )