Replica of King Tut's Tomb for Tourists?
Red Ice Radio spoke with guest Jim Elvidge discussing the idea that we may be living in a simulated reality. Who would have thought the simulated reality could be of our own making, built up over time as a barrier between ourselves and the real world?

Egypt's supreme council of antiquities, in the name of historical preservation, has plans to seal off genuine ancient tombs and has overseen the creation of tourist-friendly replica sites.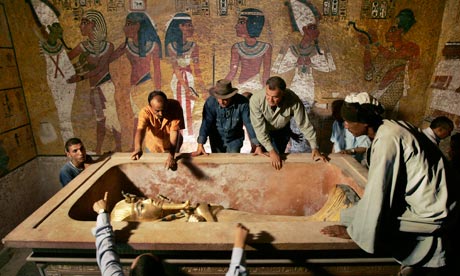 Replica creation is common throughout the world, with museums fabricating copies for display and preserving originals against theft or destruction.

"I can't tell the difference"

However, many egyptologists, archaeologists, researchers, and visitors to Egypt attest to the fact that the original constructions are still not understood - from when and why they were built to how. There are aspects of the ancient technology used, and mystery of purpose, that we cannot expect to find in any modern-built replica.

(For example, if pyramids or sacred sites were tools used to create, harness or channel energy, no modern copy is going to replicate the phenomenon.)

If, for the sake of preservation, no one but select insiders are allowed to experience the genuine sites, will humanity ever unlock the secrets preserved therein?

Can other arrangements be made to protect the tombs without redirecting everyone like so many cattle away from the shared ancient history of humanity and towards a plasticized look-alike that exits to the gift-shop?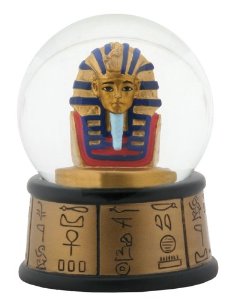 The Guardian reports on the faux-history plan...

---
Replica of Tutankhamun's tomb aims to divert tourists from threatened site
By Patrick Kingsley | TheGuardian
An exact replica of the tomb of Tutankhamun is set to be installed near the 3,000-year-old original, in what one of the world's leading Egyptologists has called a revolutionary development in Egyptian archaeological conservation.

Officials hope the £420,000 project will prolong the life of the original while promoting a new model of sustainable tourism and research in a country where many pharaonic sites are under severe threat.

Tutankhamun's tomb is one of 63 burial sites in Luxor's Valley of the Kings. After years of visitors, some have had to close due to damage while others – such as Tutankhamun's – are under threat, with restoration efforts likely to make the problem worse.

"The attempt to fix the tombs to make them visitable is itself now the largest long-term risk to the tombs," said Adam Lowe, whose Spanish-based firm Factum Arte led and funded the creation of the tomb's replica under the supervision of Egypt's supreme council of antiquities.

The project aims to divert visitors away from the threatened original while still giving them the chance to experience what it is like inside. The process could be used to give visitors the chance to experience other sites that are too fragile ever to be opened again.

"It's revolutionary," said Kent Weeks, a leading Egyptologist who has been researching pharaonic sites since the 1960s. "It's not just a way of protecting the tomb of Tutankhamun, but it's a test case, a model that could be used to protect other sites across the country."

The project's leaders acknowledge that visiting a replica will sound less appealing to many than seeing the real thing. But they hope the facsimile, which is indiscernible from the original, will give visitors a better understanding of the tomb.

The original version can only be visited for short periods at a time, making it more difficult to appreciate. But the sturdier replica will be able to accommodate more people for longer periods, allowing them to learn more about why the tomb is special.

"The challenge is to get people to visit the facsimile and say: my god, I can't tell the difference – and what's more, there are things I can experience in the facsimile that I can't in the original," said Lowe. "We want people going to both, and tweeting and blogging and saying: this is a very interesting moment in the history of conservation, we understand the problem, and the facsimile is better than the original."

[...]

Read the full article at: theguardian.com




---
Tune into Red Ice Radio:
Roundtable - Hour 1 - Man's Genesis & The Future Direction of Humanity
Robert Bauval - Black Genesis, The Ancient People of Nabta Playa & Mars Anomalies
Robert Bauval - Tutankhamun's DNA, Zahi Hawass' Chasing Mummies, The Enlightenment & Scottish Rite Freemasonry
Robert Bauval - The Master Game & Armageddon
Robert Bauval - Post-Revolution Egypt
Robert Schoch - Hour 1 - The Mystery of the Sphinx
Laird Scranton - The Science and Symbols of the Dogon & The Cosmological Plan
Laird Scranton - Hour 1 - The Velikovsky Heresies
John Anthony West & Laird Scranton - Göbekli Tepe, Egypt & The Dogon
Egypt Roundtable - Hour 1 - Ancient Technologies & Khemitology