Rockefeller, TLC-Bilderberg Boss Nye Stump For Obama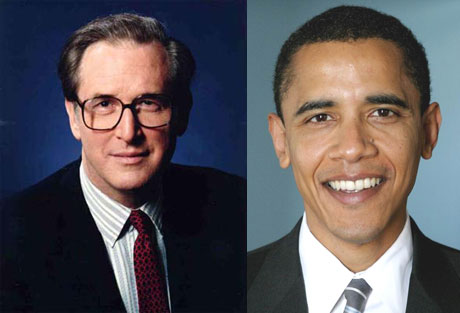 Jay Rockefeller & Barack Obama

Today, Senator Jay Rockefeller (Senate Intelligence Committee chairman who backs Bush on the FISA bill) is campaigning for Trilateral Commission puppet Obama in West Virginia. Jay Rockefeller is the son of genocidalist John D. Rockefeller III, the founder of the Population Council. Jay Rockefeller is also the nephew of the late Nelson Rockefeller, and of David Rockefeller, the founder of the Trilateral Commission with Zbigniew Brzezinski in 1973. Jay Rockefeller's desperate bid to deliver the poor and blue collar voters of impoverished West Virginia for the arrogant elitist Obama is likely to fail, but it should leave no doubt about whom the Wall Street banking establishment and the Rockefeller faction of the CIA are supporting.

At the same time, Professor Joseph Nye, the North American Vice Chairman of the Trilateral Commission and an important leader of the Bilderberger group, is blogging for Obama on the Huffington Post, a sewer of hysterical oligarchical propaganda (see below). Nye is the leading theoretician of 'soft' power, the new form of insidious imperialist subversion and deception which Obama is expected by his controllers to mobilize to stave off the collapse of US imperialism.

The Obama campaign has thus far been shown to represent: the Ford Foundation, the Trilateral Commission, the New York Council on Foreign Relations, the Chicago Council on Foreign Relations, the Bilderberger Group, Skull and Bones, the RAND Corporation, the Soros foundations, the Rockefeller family, and the Friedmanite Chicago School of economic genocide. Obama is the Manchurian candidate groomed and indoctrinated by these financier-controlled groupings. As president, Obama would impose a regime of crushing economic austerity and a new set of foreign wars far worse than what has been seen under Bush.

Soft Power Expert, Joe Nye, North American Vice President Of The Trilateral Commission And Bilderberg Leader Blogs For Obama.

Joseph S. Nye, Jr.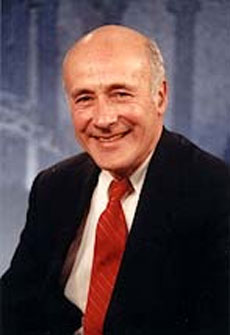 Joseph Nye

Joseph S. Nye, Jr. is Distinguished Service Professor at Harvard University , John F. Kennedy School of Government, Harvard University , Cambridge , MA . From December of 1995 through June of 2004 he was dean of the Kennedy School . Prior to assuming the deanship he served as U.S. assistant secretary of defense for international security affairs, in which position he won two Distinguished Service medals, and as chair of the National Intelligence Council. Dr. Nye originally joined the Harvard faculty in 1964, serving as director of the Center for International Affairs and associate dean of arts and sciences. From 1977 to 1979, Dr. Nye was deputy to the undersecretary of state for security assistance, science, and technology and chaired the National Security Council Group on Nonproliferation of Nuclear Weapons. Nye's most recent books are The Paradox of American Power (2002), Soft Power: The Means to Success in World Politics (2004) and The Power Game: A Washington Novel (2004). Nye received his bachelor's degree from Princeton University . He did postgraduate work at Oxford University on a Rhodes Scholarship and earned a Ph.D. in political science from Harvard. Dr. Nye is North American vice chairman of the Trilateral Commission.
October 2007 (from Trilateral Commission website)
From Wikipedia, the free encyclopedia

Joseph S. Nye, Jr. (born 1937) is the co-founder, along with Robert Keohane, of the international relations theory neoliberalism developed in their 1977 book Power and Interdependence. Together with Keohane, he developed the concepts of asymmetrical and complex interdependence. They also explored transnational relations and world politics in an edited volume in the 1970s. More recently, he pioneered the theory of soft power.
Nye is currently University Distinguished Service Professor at the Kennedy School of Government at Harvard University, and previously served as dean there. He graduated Summa Cum Laude from Princeton University and, after studying PPE as a Rhodes Scholar at Exeter College at Oxford University, obtained his Ph.D. in political science from Harvard. He attended Morristown Prep (now the Morristown-Beard School) in Morristown, NJ and graduated in 1954.

Nye originally joined the Harvard faculty in 1964, serving as Director of the Center for International Affairs and as Associate Dean of Arts and Sciences. >From 1977-1979, Nye was Deputy to the Undersecretary of State for Security Assistance, Science, and Technology and chaired the National Security Council Group on Nonproliferation of Nuclear Weapons.
Nye has published many works in recent years, the most recent of which being Understanding International Conflicts, 6th ed (2006), The Power Game: A Washington Novel (2004), Soft Power: The Means to Success in World Politics (2004), and The Paradox of American Power (2002). Nye coined the term soft power in the late 1980s and it first came into widespread usage following a piece he wrote in Foreign Policy in the early 1990s.
Nye also served as Deputy to the Undersecretary of State in the Carter Administration, Assistant Secretary of Defense for International Security Affairs in the Clinton Administration, and was considered by many to be the preferred choice for National Security Advisor in the 2004 presidential campaign of John Kerry. He is widely recognized as one of the foremost liberal thinkers on foreign policy, and is seen by some as the counter to renowned Harvard conservative Samuel P. Huntington.

In 2005, Nye was voted one of the ten most influential scholars of international relations in the USA.[1]

Dr. Nye is the North American vice chairman of highly controversial Trilateral Commission as well as an active member of the The Bilderberg Group. He is on the Advisory board of the USC Center on Public Diplomacy as well as on the International Editorial Board of the Cambridge Review of International Affairs, the editorial board of Foreign Policy, the Board of Directors of the Council on Foreign Relations, and the Board of the Center for Strategic and International Studies. He has been awarded the Woodrow Wilson Prize by Princeton University and the Humphrey Prize by the American Political Science Association. In 2005 he was awarded the Honorary Patronage of the University Philosophical Society of Trinity College Dublin and in 2007 he was awarded an honorary degree by King's College London.
Nye and his wife, Molly Harding Nye, have three adult sons.[2]WIKI

NYE'S BLOG ON HUFFINGTON POST:

Broadening Our Identities
Posted March 19, 2008 | 10:15 PM (EST)

As we choose our next president, Americans not only want someone to ably handle a crisis after a hypothetical 3 a.m. phone call. We also want someone who reinforces our identity and tells us who we are. As I argue in The Powers to Lead, we judge leaders not only on the effectiveness of their actions, but also on the meaning that they create and teach. Barack Obama's supporters have argued that his African background and his boyhood running around in rice paddies in Indonesia give him a rare experience for American presidents.
Most leaders feed upon the existing identity and solidarity of their groups. In that sense they are insular, and define their responsibilities to their group in a traditional manner. But some leaders see moral obligations beyond their immediate group and educate their followers. For example, Nelson Mandela could easily have chosen to define his group as Black South Africans and sought revenge for the injustice of decades of apartheid and his own imprisonment. Instead, he worked tirelessly to expand the identity of his followers both by words and deeds. In one important symbolic gesture, he appeared at a rugby game wearing the jersey of the South African Springboks, a team that had previously signified White South African nationalism. He seized the teaching moment at the end of apartheid.
After World War II, when Germany had invaded France for the third time in 70 years, the French leader Jean Monnet decided that revenge upon a defeated Germany would produce yet another tragedy, and instead invented a plan for the gradual development of a European Coal and Steel Community that eventually evolved into today's Europe Union. European integration has now helped to make war between France and Germany virtually unthinkable.

Faced with a campaign crisis over incendiary remarks by his former pastor Jerimiah Wright, Barack Obama did not simply distance himself from Wright, but made use of the teaching moment to deliver a speech that should serve to broaden the understanding and identities of both white and black Americans. That is leadership.

http://www.huffingtonpost.com/joseph-nye/broadening-our-identities_b_92472.html

Article from: http://www.rense.com/general81/emd.htm