Rose McGowan's Childhood Escape from Cult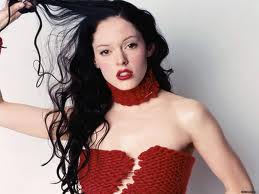 Rose McGowan is best known for her butt-kicking roles in "Scream," "Grindhouse," and, most recently, "Conan the Barbarian." But in the recent issue of People magazine, the outspoken actress went into detail about a real-life battle far scarier than any movie.

McGowan, 38, spoke with People about how she spent her childhood in the Children of God cult. The sect is a "polygamous cult that blended free-love attitudes with Christian proselytizing." At age nine she escaped the cult with her father after he became fearful that Rose might be sexually abused.

While in the cult, McGowan tells People she was often either angry or terrified. "You weren't allowed to have imperfections," she explained. "I had a little wart on my thumb, and I remember walking down this hallway -- a door opened and some adult grabbed me and just cut it off with a razor blade and stuck me back out in the hallway with it still bleeding."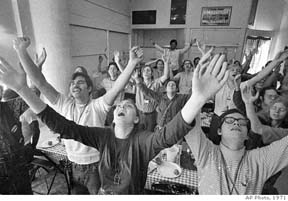 Young members of the Children of God, a group now known as the Family, sing at their Los Angeles headquarters in this file photo. Associated Press Photo, 1971.


McGowan also describes watching how the men in the cult treated the women. "At a very early age I decided I did not want to be like those women. They were basically there to serve the men sexually -- you were allowed to have more than one wife." The cult's women would sometimes travel to area bars to try to recruit, an act known as "flirty fishing."

McGowan's father realized he had to leave when he was asked to draw cartoon literature that advocated child-adult sexual relationships. Soon after, Rose, her father, and some siblings left the cult in the middle of the night. They hid in a stone house, and avoided the cult members who came looking for them. "I remember a man trying to break in with a hammer," McGowan said. The Children of God sect has since been renamed The Family International and has "renounced its advocacy of sexual sharing" and adult-minor sexual relationships.

Eventually, McGowan settled with her father in Washington, where they worked on their relationship. "We became really close when he was diagnosed with pulmonary fibrosis at age 60," she said. Her father died in 2008. Today, she is close with her siblings, who she describes as "the most together, offbeat, funny, regular-ish people." Her mom is also happily married.

But McGowan has no illusions that things could have ended very differently. "As strong as I like to think I've always been, I'm sure I could have been broken. I know I got out by the skin of my teeth."

Article from: movies.yahoo.com

The Family International Communal Mission Centers

The Family, The Great White Brotherhood - Wikipedia


---

Also tune into:

James Evan Pilato - Wikileaks, Julian Assange & the Pirates

Commentary on Wikileaks & Julian Assange

Michael Tsarion - Akhenaton, the Cult of Aton

David Icke - The Hollie Greig Case & The Scottish Elite Connections to the World Wide Satanic Pedophile Network

Anne Greig & Robert Green - Sexual Abuse of Hollie Greig, The Scottish Establishment Peadophile Ring & Case Cover Up

Kevin Annett - Hidden From History: Canada's Genocide

Sandy Frost - The Corruption of the Royal Order of Jesters