Royal Dutch Shell struggling to stop 2nd smaller oil leak at North Sea rig
Royal Dutch Shell has shut down the main leak at one of its North Sea oil rigs but said Tuesday it is struggling to stop a secondary spill in a hard-to-reach part of the ocean floor.

The company has stemmed the main leak in the flow line to the Gannet Alpha platform by closing the well and isolating the reservoir, said Glen Cayley, technical director of Shell's European exploration and production activities. The second, smaller leak has proved more elusive to control.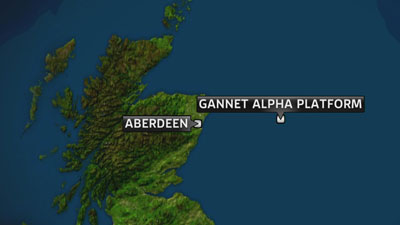 Credit: SkyNews


"The residual small leak is in an awkward position to get to," he said. "This is complex sub-sea infrastructure, and really getting into it amongst quite dense marine growth is proving a challenge.

"It's taken our diving crews some time to establish exactly and precisely where that leak is coming from."

The secondary spill is pumping about two barrels — or 84 gallons — into the cold water each day. The company estimated Monday that 54,600 gallons of oil had spilled into the North Sea from the rig off Scotland's eastern coast.

Cayley said the company "deeply regrets" the spill, Britain's worst in a decade.

In an interview with the BBC, Cayley said an investigation is under way to determine the cause of the spill, which was first noticed Wednesday.

Shell said the first leak was stopped Thursday, but said "the oil found a second pathway to the sea." Cayley said Shell informed U.K. government agencies of the spill immediately, but did not make it public until Friday. On Saturday it declared that the leak had been contained.

Shell said it believes the oil is now leaking from a relief valve close to the original leak. It said that once it is certain of the source, it will stop the spill.

Vicky Wyatt of Greenpeace said Shell had not been released information about the spill as quickly as it should have.

"The news that there's now a second leak from the Shell platform will only heighten concerns over how this episode is being handled," she said. "While oil has been flowing, timely information has not."

Read the full story at: globalnews.ca


---


A UN report says it will cost up to $1bn and take 30 years to clean up the damage done by decades of drilling by Shell.

Oil exploration in Nigeria's south for several decades has had a debilitating effect on the environment of the region.


Video from: YouTube.com

In 2008 an oil pipeline owned by Shell, failed and began spilling oil in Bodo Creek. Oil kept pouring out for more than two months before it was repaired. By then, many of the 70.000 people living in Bodo village had lost an important means of livelihood.
The pollution killed much of the marine life in the river.
Without the ability to fish the community of Bodo has become impoverished.


Video from: YouTube.com