Russia seeks to solve 'ghost plane' mystery that killed 13
Russian investigators were Monday seeking to determine the cause of a plane crash last June that killed all 13 on board, after the victims' remains were finally discovered following almost a year of fruitless searching.

Two hunters at the weekend stumbled upon the An-2 plane in a marsh eight kilometres (five miles) outside the town of Serov in the Sverdlovsk region in the Ural Mountains in central Russia.

Investigators confirmed the wreckage belonged to the An-2 plane that disappeared in June 2012 after taking off on an unsanctioned flight, leaving Russian media to dub it the "ghost plane".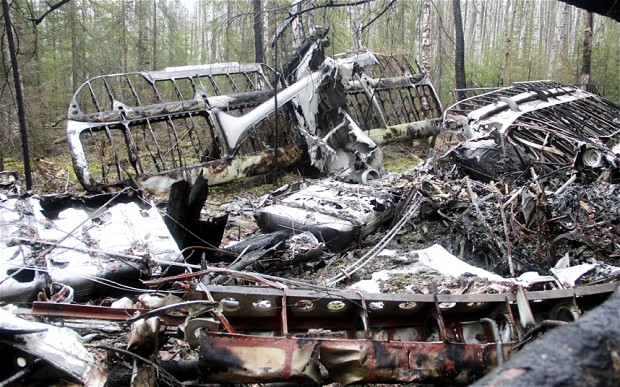 The wreckage identified as that of an An-2 similar to the one lost last year, the interior ministry said.


Months of intensive searches for the plane in the forests of Sverdlovsk and neighbouring regions yielded no results, and in the end the hunters accidentally came across the aircraft just outside Serov, the town from which it had taken off.

Thirteen corpses have been found inside the wreckage and DNA testing was now under way to formally identify them, Urals prosecutors said in a statement.

Russian media quoted local police as saying that the corpses were those of the pilot and 12 passengers, some of whom were high-ranking traffic police officials in the Serov region.

Investigators said three possible causes were being examined including "the technical condition of the plane, a mistake by the pilot and the weather conditions."

The failure of the search effort to recover the plane had fascinated Russian media, prompting sometimes fanciful theories about its fate and even speculation the passengers had survived and were fighting for their lives in the wilderness.

According to the Komsomolskaya Pravda daily, the search area included the mythical Dyatlov pass in the northern Urals where a group of students disappeared on an expedition in 1959 in a mystery that has never been solved.

The search, which focused on an area the size of western Europe, was so elaborate that it uncovered the wreckage of another An-2 that had been missing since it disappeared in the 1980s.

But it was not clear why despite the major search effort, it was passers-by who spotted the wreckage just a couple of kilometres from the town where the plane had taken off.

The head of the regional branch of the emergencies ministry, Andrei Zalensky, told Komsomolskaya Pravda that finding the plane was very hard because heavy winter snow had turned the area into an "inaccessible bog" in the summer.

He also warned not to expect any further clues from the plane's black box. "In this case the black box did not work. Or was not switched on," he said.

The Izvestia daily said the passengers included the head of traffic police for the Serov region Dmitry Ushakov, his subordinates and their relatives.

[...]

Read the full article at: globalpost.com




---
Body parts of 11 people were also found at the site, with the wreckage identified as that of an An-2 similar to the one lost last year, the interior ministry said.

Russia and other former Soviet republics have among the worst air safety records, with an accident rate almost three times the world average in 2011, according to the International Air Transport Association. IATA measures accidents and aircraft losses in relation to the number of take-offs. Source
---
Read:
Urals ghost plane: Wreckage found year after crash, 11 dead bodies