Russia sends Olympic torch to space

Russian Soyuz rocket flies Olympic torch to space station
By Alissa de Carbonnel | Reuters

A three-man crew took the Olympic torch to the International Space Station on a Russian rocket on Thursday, ready to send it on its first space walk in a showcase for the 2014 Winter Games in Sochi.

An onboard camera showed Japanese astronaut Koichi Wakata pumping the air with his fist as the Soyuz rocket, painted with snowflake patterns, lifted off from the Russian-rented Baikonur launch facility on a crisp, clear morning on the Kazakh steppe.

After a six-hour trip to the station, Russian cosmonaut Mikhail Tyurin crawled through a hatch and handed the unlit torch to his beaming countryman on board, Fyodor Yurchikhin.

"It was great ride and we're happy to be here," said U.S. astronaut Rick Mastracchio, who traveled with Tyurin and Wakata, in a videolink with relatives and space officials 250 miles below back on Earth.

Inspired by the Firebird of Russian folklore, the meter-long, red-and-silver torch weighs almost 2 kilograms (4.4 lbs) on Earth, but it floated lazily in zero gravity as Tyurin slowly twirled it in the weightlessness of the orbital outpost.

[...]

Read the full article at: reuters.com




---
---

From Wikipedia:

In Slavic folklore, the Firebird is a magical glowing bird from a faraway land, which is both a blessing and a bringer of doom to its captor.

The Firebird is described as a large bird with majestic plumage that glows brightly emitting red, orange, and yellow light, like a bonfire that is just past the turbulent flame. The feathers do not cease glowing if removed, and one feather can light a large room if not concealed. In later iconography, the form of the Firebird is usually that of a smallish fire-colored peacock, complete with a crest on its head and tail feathers with glowing "eyes".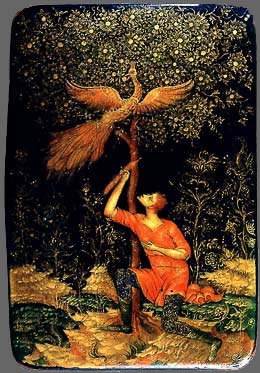 A.Glazunov "Firebird"
---
READ:
The Nazi Origins of the Olympic Torch Relay
---
The Olympic torch relay began in Moscow two days ago, and the flame has already been extinguished four times. It's a slight embarrassment for the host nation, but a fairly large one for the factory that made the torches, and also happens to make ballistic missiles.