Russia takes over Ukraine's Crimea region - Western Medias Anti Russian Blitz Continues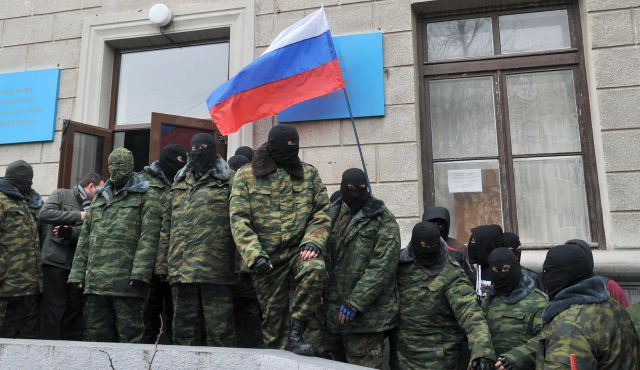 As Russia is moving in troops in Crimea be careful of the western mainstream media as the anti-Russian outlets are continuing to bash anything that Russia and Putin is doing. Don't forget that there is MUCH more behind what is going on that you see on the TV and read in reports. Russian satellite states have been a battleground ever since the collapse of the Soviet Union.

What we see now is - if not another attempt - at least a continuation on what was attempted during the "Orange revolution" in 2004/2005 when Alexander Goldfarb and Boris Berezovsky poured 40 million into balloons and media campaign in other to start an anti-Russian revolution in Ukraine. They did this for George Soros. From 1992 to 1995 Goldfarb was Director of Operations at Soros' International Science Foundation. Very fishy business. This is ALL documented in Russian Godfathers 1: The Fugitive (starting around 26 minutes, but do watch the entire thing). The old satelite states of Russia have been a battleground for a long time.

You have to ask yourself, if Ukraine wasn't to be soevereign, why is so much of the debate centered around weather Ukrain shoul dbe part of the EU or not. Allegedly with more Russian aligned politicians, this won't occur. Seems nontheless like Ukraine is trapped between a rock and a hard place and we see yet again that west is letting other countries fight their wars with Russia. Just as we saw in Georgia and Ossetia not too long ago.

If you want more of the background on this see The Rise of Putin and The Fall of The Russian-Jewish Zionist Oligarchs here is part 2.

Furthermore, what happened to president Viktor Yanukovich? He was more Pro-Russian yes, but who is the 'new guy" someone put in charge? Thursday Yanukovich said "I'm still president of Ukraine", he warned its "illegitimate" rulers that people in the southeastern and southern regions would never accept mob rule. (That's funny, see definition of democracy.)

What "really" is happening in Crimea and in other parts of Ukraine is difficult to determine at this point.

Troops have been seen moving into Crimea



Nonetheless, it's obvious that the western mainstream medias demonization blitz against Putin and Russia makes you wonder, if not lean in the opposite direction. If there has been a hostile takeover of Ukraine, illegitimately, is it not understandable that Russia would assist to seek stabilization considering the large Russian community in Ukraine? This is specifically why they are going to Crimea, where there is almost 75% Russian.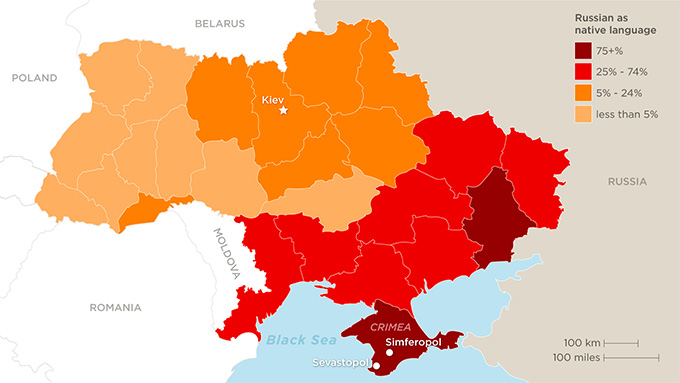 As for Crimea, there is some interesting history about the Crimean Goths in this area.

But back on track, think about it this way: if it's the US, EU or NATO intervening to "keep the peace" then it's good ... if it's Russia intervening then it is naturally bad. That's the logic you're asked to accept here.

Don't forget that the "acting" president Oleksandr Turchynov served as the head of the agitation and propaganda division of the Dnipropetrovsk Oblast Komsomol (Communist Youth League) Committee from 1987 to 1990. Who is this guy and where did he come from?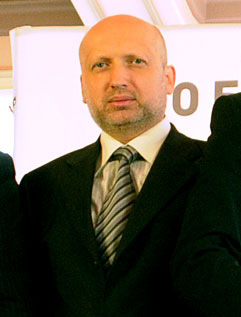 New "acting" president (who put this guy in charge?) The current president says that this guys is illegitimate.



Further reporting


The following article is from haaretz.com:

UN Security Council holds urgent meeting after Russian parliament appro0ves use of military in Ukraine.

Russian troops took over a strategic region in Ukraine as the parliament in Moscow gave President Vladimir Putin a green light Saturday to proceed to protect Russian interests. The newly installed government in Kiev was powerless to react to the swift takeover of Crimea by Russian troops already in Ukraine and more flown in, aided by pro-Russian Ukrainian groups.

A few hours after Putin was cleared by parliament to use military force on Ukrainian soil, Interfax news agency reported that two Russian anti-submarine warships have appeared off the coast of the Crimea region, violating an agreement on Moscow's lease of a naval base. The report quoted a Ukrainian military source who said that two vessels, part of Russia's Baltic Fleet, had been sighted in a bay at Sevastopol, where Russia's Black Sea Fleet has a base.

Putin's move follows U.S. President Barack Obama's warning Friday "there will be costs" if Russia intervenes militarily, sharply raising the stakes in the conflict over Ukraine's future and evoking memories of Cold War brinkmanship. The explicit reference to the use of troops escalated days of conflict between the two countries, which started when Ukraine's pro-Russian president was pushed out by a protest movement of people who wanted closer ties to the European Union.

"I'm submitting a request for using the armed forces of the Russian Federation on the territory of Ukraine pending the normalization of the socio-political situation in that country," Putin said in his request sent to parliament.

Putin's call came as pro-Russian demonstrations broke out in Ukraine's Russian-speaking east, where protesters raised Russian flags and clashed with supporters of the new Ukrainian government.

Russia's upper house also recommended that Moscow recall its ambassador from Washington over Obama's comments.

Ukraine had already accused Russia on Friday of a "military invasion and occupation" of the Crimea peninsula, where Russia's Black Sea fleet is based.

Ukrainian Prime Minister Arseny Yatsenyuk called on Moscow "to recall their forces, and to return them to their stations," according to the Interfax news agency. "Russian partners, stop provoking civil and military resistance in Ukraine."

The crisis was sparked when Ukraine's deposed president, Victor Yanukovych, ditched a deal for closer ties to the EU and instead turned toward Moscow. Months of protests followed, culminating in security forces killing dozens of protesters and Yanukovych fleeing to Russia.

Ignoring Obama's warning, Putin said the "extraordinary situation in Ukraine" was putting at risk the lives of Russian citizens and military personnel stationed at a naval base that Moscow has maintained in the Black Sea peninsula since the Soviet collapse.

Reflecting a degree of caution, Deputy Foreign Minister Grigory Karasin, who presented Putin's request to the upper house, told reporters that the motion doesn't mean that the president would immediately send additional troops to Ukraine.

"There is no talk about it yet," he said.

Putin's spokesman, Dmitry Peskov, said in remarks on Rossiya 24 television that while the president "got the entire arsenal of means necessary for settling this situation," he hadn't yet decided whether to use the Russian military in Ukraine or recall the ambassador from Washington.

"He will make these decisions depending on how the situation will develop," Peskov said. "We would like to hope that the situation will not develop along the scenario it's developing now — that is inciting tensions and making a threat for the Russians on the Crimean Peninsula."

The UN Security Council called an urgent meeting on Ukraine on Saturday, and the European Union foreign ministers will hold an emergency meeting Monday to discuss the crisis.

Putin's motion loosely refers to the "territory of Ukraine" rather than specifically to Crimea, raising the possibility that Moscow could use military force in other Russian-speaking areas in eastern and southern Ukraine, where many oppose the new authorities in Kiev. Pro-Russian protests were reported in the eastern cities of Kharkiv, Donetsk and Luhansk and the southern port of Odessa.

In Kharkiv, 97 people were injured in clashes between pro-Russia demonstrators and supporters of the new Ukrainian government, according to the Interfax news agency.

Ukraine's population is divided in loyalties between Russia and Europe, with much of western Ukraine advocating closer ties with the European Union while eastern and southern regions look to Russia for support. Crimea, a semi-autonomous region of Ukraine, is mainly Russian-speaking.

In Saturday's parliamentary session in Moscow, a deputy house speaker said Obama had insulted Russia and crossed a "red line," and the upper house recommended the Russian ambassador in Washington be recalled. It will be up to Putin to decide whether that happens.

In Crimea, the pro-Russian prime minister who took office after gunmen seized the regional Parliament claimed control of the military and police there and asked Putin for help in keeping peace, sharpening the discord between the two neighboring Slavic countries.

Ukraine's acting president, Oleksandr Turchynov, said the election of Sergei Aksyonov as prime minister of Crimea was invalid.

Ukrainian officials and some Western diplomats said that a Russian military intervention is already well underway after heavily armed gunmen in unmarked military uniforms seized control of local government buildings, airports and other strategic facilities in Crimea in recent days.

Crimea only became part of Ukraine in 1954 when Soviet leader Nikita Khrushchev transferred jurisdiction from Russia, a move that was a mere formality when both Ukraine and Russia were part of the Soviet Union. The Soviet breakup in 1991 meant Crimea landed in an independent Ukraine.

Russia put pressure on Ukraine from another direction when a spokesman for state gas company Gazprom said that Ukraine owed $1.59 billion in overdue bills for imported gas. Sergei Kuprianov was quoted by the RIA-Novosti agency as saying the gas arrears would endanger a recent discount granted by Russia. The discount lowered the price to $268.50 per thousand from other $400. The Russian payment demand and loss of the discount would accelerate Ukraine's financial crisis. The country is almost broke and seeking emergency credit from the International Monetary Fund.

Russia has taken a confrontational stance toward its southern neighbor after Yanukovych fled the country. Yanukovych was voted out of office by parliament after weeks of protests ended in violence that left more than 80 people dead.
Aksyonov, the Crimea leader, appealed to Putin "for assistance in guaranteeing peace and calmness on the territory of the autonomous republic of Crimea."

Aksyonov was voted in by the Crimean parliament on Thursday after pro-Russia gunmen seized the building and as tensions soared over Crimea's resistance to the new authorities in Kiev, who took office this week.

Obama called on Russia to respect the independence and territory of Ukraine and not try to take advantage of its neighbor, which is undergoing political upheaval.

He said such action by Russia would represent a "profound interference" in matters he said must be decided by the Ukrainian people.

"The United States will stand with the international community in affirming that there will be costs for any military intervention in Ukraine," he said. Obama did not say what those costs might be.

Swedish Foreign Minister Carl Bildt wrote on Twitter that it was "obvious that there is Russian military intervention in Ukraine. Likely immediate aim is to set up puppet pro-Russian semi-state in Crimea." (Comments: So Mr. Bildt, the current illegitimate puppet Oleksandr Turchynov (who actually was head of a communist propaganda division) who is a pro-EU (Western US and NATO) is naturally a much better choice right?)

At the United Nations, the Ukrainian ambassador, Yuriy Sergeyev, said Friday that Russian transport aircraft and 11 attack helicopters had arrived in Crimea illegally, and that Russian troops had taken control of two airports in Crimea.
He described the gunmen posted outside the two airports as Russian armed forces as well as "unspecified" units.

Russia has kept silent on claims of military intervention and has said any troop movements are within agreed rules, even as it maintained its hard-line stance on protecting ethnic Russians in Crimea.

Meanwhile, flights remained halted from Simferopol's airport. Dozens of armed men in military uniforms without markings patrolled the area. They didn't stop or search people leaving or entering the airport, and refused to talk to journalists.

haaretz.com Anti Russian Blitz Continues