Snake-Bird Gods Fascinated Both Aztecs and Pharaohs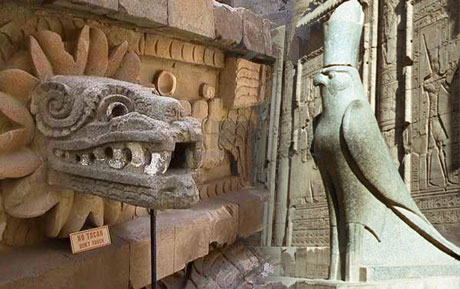 Ancient Mexicans and Egyptians who never met and lived centuries and thousands of miles apart both worshiped feathered-serpent deities, built pyramids and developed a 365-day calendar, a new exhibition shows.

Billed as the world's largest temporary archeological showcase, Mexican archeologists have brought treasures from ancient Egypt to display alongside the great indigenous civilizations of Mexico for the first time.

The exhibition, which boasts a five-tonne, 3,000-year-old sculpture of Egyptian pharaoh Ramses II and stone carvings from Mexican pyramid Chichen Itza, aims to show many of the similarities of two complex worlds both conquered by Europeans in invasions 1,500 years apart.

"There are huge cultural parallels between ancient Egypt and Mexico in religion, astronomy, architecture and the arts. They deserve to be appreciated together," said exhibition organizer Gina Ulloa, who spent almost three years preparing the 35,520 square-feet (3,300 meter-square) display.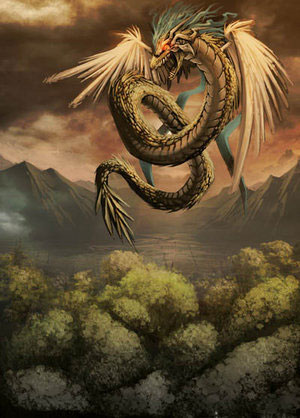 The exhibition, which opened at the weekend in the northern Mexican city of Monterrey, shows how Mexican civilizations worshiped the feathered snake god Quetzalcoatl from about 1,200 BC to 1521, when the Spanish conquered the Aztecs.

From 3,000 BC onward Egyptians often portrayed their gods, including the goddess of the pharaohs Isis, in art and sculpture as serpents with wings or feathers.

"The feathered serpent and the serpent alongside a deity signifies the duality of human existence, at once in touch with water and earth, the serpent, and the heavens, the feathers of a bird," said Ulloa.

Egyptian sculptures at the exhibition -- flown to Mexico from ancient temples along the Nile and from museums in Cairo, Luxor and Alexandria -- show how Isis' son Horus was often represented with winged arms and accompanied by serpents.

Cleopatra, the last Egyptian queen before the Roman conquest of Egypt in 30 BC, saw herself as Isis and wore a gold serpent in her headpiece, Ulloa added.

Uncanny Similarities
In the arts, Mexico's earliest civilization, the Olmecs, echo Egypt's finest sculptures. Olmec artists carved large man-jaguar warriors that are similar to the Egyptian sphinxes on display showing lions with the heads of gods or kings.

The seated statue of an Egyptian scribe carved between 2465 and 2323 BC shows stonework and attention to detail that parallels a seated stone sculpture of an Olmec lord.

There is no evidence the Olmecs and Egyptians ever met.

Shared traits run to architecture, with Egyptians building pyramids as royal tombs and the Mayans and Aztecs following suit with pyramids as places of sacrifice to the gods.

While there is no room for pyramids at the exhibition -- part of the Universal Forum of Cultures, an international cultural festival held in Barcelona in 2004 -- organizers say it is the first time many of pieces have left Egypt.

They include entire archways from Nile temples, a bracelet worn by Ramses II and sarcophagi used by the pharaohs.

Mexico has also brought together Aztec, Mayan and Olmec pieces from across the country.

"Any visitor to Egypt and Mexico might be disappointed by the gaps in the museums. The only thing Egypt declined to loan were the mummies," Ulloa said.

Article from: http://africa.reuters.com/wire/
news/usnN24278139.html