Soldier says he was ordered to delete Fort Hood video
Soldier testifies that officer ordered him to delete video shot during Fort Hood rampage

A soldier who recorded the terror of last year's deadly shooting rampage in Fort Hood using his cell phone was ordered by an officer to delete both videos, a military court heard Friday.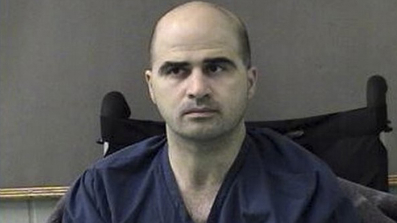 April 9, 2010, file photo released by the Bell County Sheriffs Department shows U.S. Major Nidal Hasan at the San Antonio to Bell County Jail in Belton, Texas, after his Nov. 5 shooting spree at Fort Hood. AP


Under cross examination, Pfc. Lance Aviles told an Article 32 hearing that his noncommissioned officer ordered him to destroy the two videos on Nov. 5, the same day that a gunman unleashed a volley of bullets inside a processing center at the Texas Army post.

The footage could have been vital evidence at the military hearing to decide if Maj. Nidal Hasan should stand trial in the shootings. The 40-year-old American-born Muslim has been charged with 13 counts of premeditated murder and 32 counts of attempted premeditated murder.

Prosecutors have not said whether they'll seek the death penalty if the case goes to trial.

Aviles described how he was waiting for medical tests at the center with his battle buddy, Pfc. Kham Xiong, when he heard someone shout. Then the gunshots began.

He said he saw a tanned, balding man wearing an Army combat uniform and carrying a black pistol.

"I saw smoke coming from the pistol," Aviles told the court.

He and Xiong threw themselves to the floor. Aviles turned to his left to check his friend and discovered he had been shot.

"His head was facing the left and a shard of his skull was sticking up," Aviles said.

Xiong, a 23-year-old father of three from St. Paul, Minn., was among the 13 who died in the attack. Aviles, 20th person to provide testimony at the hearing, was not hurt.

Addressing the court via video link from Afghanistan, Spc. Megan Martin said she had been waiting to take medical tests when saw a man to her left stand up and shout "Allahu Akbar!" — "God is great!" in Arabic — then start firing a weapon.

He "started shooting to the left of me in a fan motion, left to right," Martin said.

She described the weapon as "a small handgun (with) ... a green light and a red laser."

Capt. Melissa Kell, who also testified via video from Afghanistan, said the gun was black and had "a red laser and a green laser."

Witnesses have provided conflicting testimony on the number of guns the shooter was carrying. Some say they saw two weapons, but the majority say they saw only one.

Martin described how she saw Capt. John Gaffaney attempting to charge at the gunman to prevent further bloodshed. Gaffaney, a 56-year-old psychiatric nurse preparing to deploy to Iraq, was shot at close range and died.

"I could not look away. I laid as still as I could. I couldn't stop watching. It was a nightmare that reoccurs." said Martin, who belongs to the 267th Medical Detachment — the unit that Hasan was supposed to deploy with.

Hasan had been trying to get out of his pending deployment because he opposed the wars in Iraq and Afghanistan. He had been saying goodbye to friends and neighbors, and had given away his Quran and other belongings.

Lt. Col. James L. Pohl, a military judge, is the investigating officer presiding over the Article 32 hearing — a proceeding unique to military law.

Article from: rawstory.com


---



Fort Hood: Destroying Video of Shooting 'Could Be' a Crime


From: ThirdAge.com

Fort Hood survivors have been forced to recall the massacre that claimed 13 lives at the Texas military facility last November in a military hearing. Meanwhile, two former U.S. military officials said ordering a soldier to erase cellphone videos of the mass shooting could be a crime.

Pfc. Lance Aviles, who escaped the shooting at Fort Hood last year that left 13 dead and at least 32 injured, said during an evidentiary hearing Friday for the accused, Maj. Nidal Malik Hasan, that an officer and a non-commissioned officer ordered him to delete the video on the day of the shooting, reported the San Antonio Express-News.

"It could be obstruction of justice because it could be potentially destruction of important evidence," Washington attorney F. Whitten Peters told the newspaper. Peters was was the Pentagon's No. 2 lawyer from 1995 to 1997, then became the Air Force's top civilian leader.

Morris Davis, who served as the third chief prosecutor in the Guantanamo military commissions, said those involved in the video destruction could be held criminally liable, the report said.

Aviles didn't mention the videos when he met with Texas Rangers days after the Nov. 5 shooting, Hasan's lawyer, retired Army Col. John Galligan said, but did during a Dec. 9 interview with Fort Hood's Criminal Investigation Division.

Witnesses compared the scene to a horror movie. The Article 32 hearing will determine whether Hasan will be court-martialed and face a possible death penalty.

Staff Sgt. Paul Martin testified Thursday he tried to play dead after he was shot in the arm. But when he was shot again in the leg, Martin said, "I got to get out of the building. I won't survive if I stay," the Austin American-Statesman reported. Martin said he ran for the door and was shot in the back and "hit the floor like a rock." Moments later he was able to regain his footing and flee the building.

Spc. Alan Carroll, who was shot in the leg and back, testified Thursday via video link from Afghanistan, saying the shooting was "continuous" and "non-stop." He told the hearing he quit seeing a counselor before going to Afghanistan, adding, "I just want to forget about it."

U.S. Army Col. James Pohl, the investigating officer, began Wednesday's proceeding by denying a defense request for a delay, the San Antonio Express-News reported. Pohl, who will advise commanders if they should order a court-martial, didn't explain what the request was for.

During his testimony, Army Reserve Spc. James Armstrong said Hasan fired "as fast as someone can pull a trigger" and that he saw Hasan withdraw a magazine from the left cargo pocket of his camouflage uniform.

Asked to describe the scene, Armstrong said it was the "worst horror movie you could ever see. … There were bloody handprints on the walls from people trying to get up."

Witnesses testified Hasan, an Army psychiatrist scheduled to deploy to Afghanistan, targeted soldiers waiting to see physicians for their final medical clearance before deploying or returning from war, the American-Statesman reported. Several witnesses heard Hasan shout "Allahu Akbar" ("God is great") before firing dozens of rounds at the victims.

Hasan, 40, faces 13 counts of premeditated murder and 32 counts of attempted premeditated murder. Attorneys are expected to call dozens of victims, first responders and witnesses in the next five weeks.