Soros and State Dept. Funded Group Claims Most Terrorists in the U.S. Are White
Invents white terror threat from the actions of demented individuals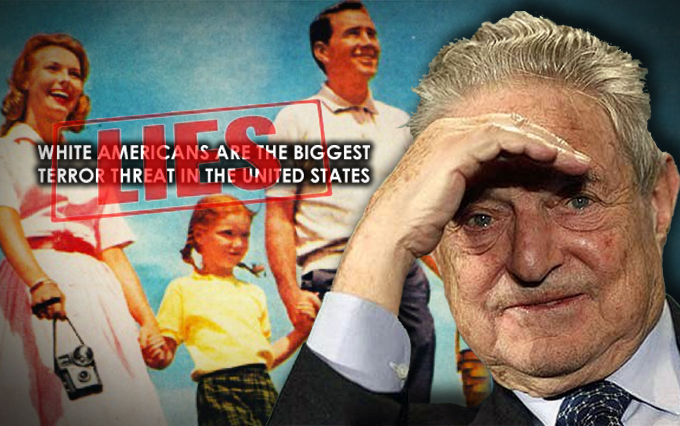 A George Soros and State Department funded organization, the New America Foundation, has released a report that states white Americans represent the largest domestic terror threat.

The organization claims the Charleston shooting, the murder of three police officers in Pittsburg by Robert Poplawski, Andrew Joseph Stack's plane crash in Austin and other attacks constitute organized "right-wing" terror incidents instead of individual actions by mentally disturbed individuals.

The establishment media routinely exploits such attacks to villainize political enemies, including Alex Jones.

NBC News has highlighted the extremely misleading report and insinuates that people the government has designated as right-wing terrorists should be sent to Guantanamo Bay and militia groups along the border attacked with Predator drones.




Almost twice as many people have died in attacks by right-wing groups in America than have died in attacks by Muslim extremists. Of the 26 attacks since 9/11 that the group defined as terror, 19 were carried out by non-Muslims. Yet there are no white Americans languishing inside the prison camp at Guantanamo Bay. And there are no drones dropping bombs on gatherings of military-age males in the country's lawless border regions.


The claim that specific groups of white Americans are engaged in terrorist attacks against the United States is simply untrue and little more than propaganda designed to force the government to act against individuals and groups opposed to the federal government and its policies.

The establishment media reported that Wade Michael Page, the man accused of the Sikh temple shootings in 2012 was connected to the white supremacist movement, although no actual linkage was established beyond an unverified connection to the Hammerskins, a group that produces and distributes white power rock music.

Left unstated is the fact Page served from April 1992 until October 1998 as a member of the U.S. Army's psychological operations unit.

NBC News also attempts to portray a couple who murdered two police officers in a Las Vegas pizza shop as members of a white supremacist group.

No link to an established white supremacy group was verified, although the liberal media attempted to portray Jerad Miller as an Alex Jones and Bundy ranch supporter. In fact, Miller was ejected from the Bundy ranch as a dangerous nuisance.

NBC is urging the government to respond to alleged right-wing terrorism.

"The shooting (in Charleston) has cast new light on the issue of right-wing terrorism in the United States. But since it can't really use Special Forces or Predator drones on US soil, it remains unclear how the government will respond," writes Peter Gelling.

The New America Foundation is supported by a number of other foundations, including the Bill and Melinda Gates Foundation, the Pew Charitable Trusts and the John D. and Catherine T. MacArthur Foundation.

Eric Schmidt, the CEO of Google, Fareed Zakaria, and hedge fund manager and the son of George Soros, Jonathan Soros, sit on the board of directors.

Source: infowars.com