SpaceX capsule docks at space station, opens new era
Astronauts aboard the International Space Station captured the SpaceX Dragon cargo ship and guided the privately owned craft into a docking berth on Friday, opening a new chapter in the U.S. space program.

The unmanned capsule was the first commercial spaceship to reach the orbital outpost.

"This really is the beginning of a new era in commercial spaceflight," said Alan Lindenmoyer, who manages NASA's commercial space transportation programs.

Using the station's 58-foot long (17.7-meter) robotic crane, NASA astronaut Don Pettit snared Dragon at 9:56 a.m. EDT as the two spacecraft zoomed 250 miles over northwest Australia at 17,500 miles per hour.

"It looks like we've got us a dragon by the tail," Pettit radioed to NASA Mission Control in Houston.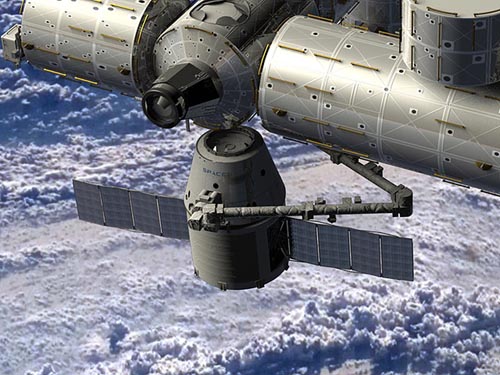 SpaceX Dragon Casule: Source



The capsule, built and operated by Space Exploration Technologies, or SpaceX, is the first of two new commercial freighters NASA will use to ferry cargo to the $100 billion space station following the retirement of its space shuttles last year. Rather than building and flying its own ships to the station, the agency is hiring private companies to do the work.

The Dragon capsule is carrying about 1,200 pounds (544 kg) of food, water, clothing and supplies for the station crew, who were scheduled to open the hatch on Saturday.

[...]

Read the full article at: ca.reuters.com





---
"Scotty" to make trip to final frontier on SpaceX rocket
---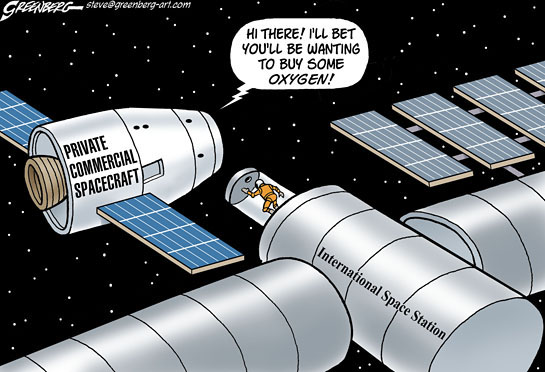 By Steve Greenberg. His LA Sketchbook archive