State dinner crashers met Obama - Dangerous Security Breach Unexplained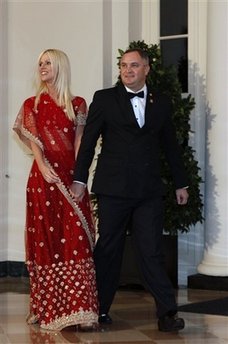 A reality TV hopeful and her husband who crashed a presidential dinner met President Barack Obama in the receiving line, the White House said Friday, as a "deeply concerned and embarrassed" Secret Service acknowledged its officers failed to check whether the couple was on the guest list.

The White House released a photo showing Michaele and Tareq Salahi in the receiving line in the Blue Room with Obama and Indian Prime Minister Manmohan Singh, in whose honor the dinner was held. Obama and Michaele Salahi, a candidate for Bravo's "The Real Housewives of D.C.," are smiling as she grasps his right hand with both of hers and her husband looks on. Singh is standing to the Obama's left.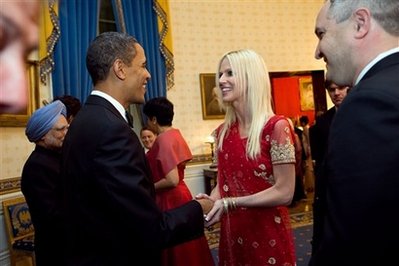 This photo released by the White House Nov. 27, 2009, shows President Barack Obama greeting Michaele and Tareq Salahi, right, at a State Dinner hosted by Obama for Indian Prime Minister Manmohan Singh at the White House in Washington Tuesday, Nov. 24, 2009. The Secret Service is looking into its own security procedures after determining that the uninvited Virginia couple managed to slip into the dinner. (AP Photo/The White House, Samantha Appleton)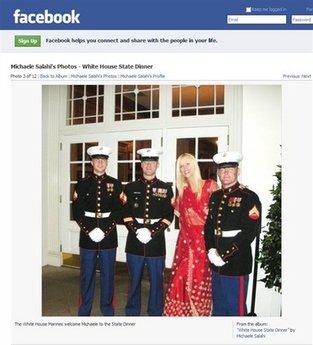 This screen image made from Michaele Salahi's Facebook page shows a photo of Michaele Salahi, second right, with three Marines during arrivals at the White House state dinner in Washington on Tuesday Nov. 24, 2009. The Secret Service is looking into its own security procedures after determining that a Virginia couple, Michaele and Tareq Salahi, managed to slip into Tuesday night's state dinner at the White House even though they were not on the guest list, agency spokesman Ed Donovan said. (AP Photo)


The Secret Service earlier this week had said the president was not in danger because the Virginia couple — like others at the dinner — had gone through magnetometers. But in light of their close proximity to the president, no such claim was made Friday.

The Salahis were not on the guest list and should have been prohibited from entering last Tuesday's dinner on the White House South Lawn for the prime minister of India, said Secret Service Director Mark Sullivan.
On Friday, Sullivan was apologetic in a written statement, saying the agency that protects the president is "deeply concerned and embarrassed" that procedures were not followed.

"As our investigation continues, appropriate measures have been taken to ensure this is not repeated," Sullivan said.

Secret Service spokesman Jim Mackin said officers at the checkpoint had a clipboard with names of the invited guests. Even though the Salahis names weren't on it, they were allowed to proceed. The officers should have called either someone on the White House staff or Secret Service personnel before allowing them past the checkpoint, Mackin said.
Earlier, Mackin said the Secret Service may pursue a criminal investigation of the Salahis.

Sullivan said, "The preliminary findings of our internal investigation have determined established protocols were not followed at an initial checkpoint, verifying that two individuals were on the guest list.
"Although these individuals went through magnetometers and other levels of screening, they should have been prohibited from entering the event entirely. That failing is ours," he said.

Sullivan said it wasn't good enough that his agency screened more than 1.2 million visitors last year to the White House complex and protected more than 10,000 sites for the president, vice president and others.
"Even with these successes, we need to be right 100 percent of the time," he said. "While we have protocols in place to address these situations, we must ensure that they are followed each and every time."

It is unclear what the couple told officers at the checkpoint that allowed them to go through the security screening. Federal law makes it a crime to knowingly and willfully falsify statements on matters within the federal government's jurisdiction.

"As this moves closer to a criminal investigation there's less that we can say," Mackin said. "I don't want to jeopardize what could be a criminal investigation. We're not leaving any option off the table at this point."
White House spokesman Nick Shapiro said the Secret Service will take appropriate action once the review is completed.

"The men and women of the Secret Service put their lives on the line everyday to protect us. They are heroes and they have the full confidence of the president of the United States," Shapiro said.

The Salahis lawyer, Paul Gardner, posted a comment on their Facebook page saying, "My clients were cleared by the White House, to be there." He said more information would be forthcoming.
Several messages left at Gardner's law firm on Friday were not immediately returned.

Bravo Media has confirmed that Michaele Salahi is being considered as a participant in the upcoming "The Real Housewives of D.C." program and on the day of the dinner was being filmed around Washington by Half Yard Productions, the producer of the program.

"Half Yard Productions was told by Michaele and Tareq Salahi that they had been invited to the State Dinner. We took them at their word and filmed their preparations for the event. Half Yard Productions had no part in planning their presence at the event," said Abby Greensfelder of Half Yard Productions.

Photos on the couple's Facebook page they previously had gotten close to Obama. One photo, apparently taken in the days before Obama took the oath of office, shows the Salahis in a group shot with Obama and some of the musicians who performed at an inaugural concert.
Other photos show the Salahis in the empty, glass-enclosed box from which the Obamas watched the concert and, according to the caption, "backstage with the Secret Service at the Lincoln Memorial during the Presidential Inauguration."

Article from: YahooNews.com

---
___________________________________

"We're all used to seeing the shots *after* JFK was shot but nothing much before. What this clip shows is the stand down order being given out by a ranking CIA guy to one or more agents attempting to get into their usual positions where they stand on the specially made foot platforms of the presidents car. Lots of ppl comment on JFK refusing to have a hard topped car for the motorcade which was needed for Texas [loadsa right wing oil magnet types] which is true but he was expecting the BASIC security protocol to take place as usual.

You'll see the agent hold up his hands in disbelief as the car is allowed to move off without anyone on the platforms... even the motorbike cops were moved back to allow the space for the impending CROSSFIRE from behind and the grassy/knoll and/or picket fence."


Video from: YouTube.com