Stroke patient who can't feel sad: Condition leaves man permanently happy
Malcolm Myatt always looked on the bright side of life. But the grandfather is now in a permanent state of happiness – after a stroke left him unable to feel sadness.

The stroke interfered with the part of Mr Myatt's brain that regulates emotional responses, leaving him liable to erupt in a fit of giggles at the most inappropriate of times.

He has sat through funerals smiling broadly or cracking jokes, and during meals out with wife his Kath, 63, he regularly attracts puzzled looks from fellow diners.

But while the condition could be devastating for some, Mr Myatt said yesterday he sees his joyous disposition as a blessing.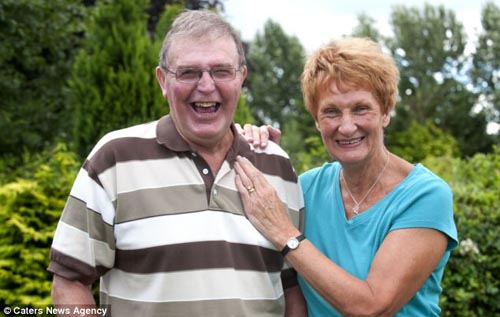 The 68-year-old said: 'I've always been a happy person and loved telling jokes, but now I don't ever feel sad.

'I remember that I used to be able to feel sad, if something bad happened – but it just doesn't happen any more.

He added: 'I would definitely rather be happy all the time than the other way round.'

Mr Myatt was healthy and working as a lorry driver when he was struck down with the stroke in January 2004 as he made breakfast.

It affected the right frontal lobe – the part of the brain that controls emotions and motor function on his left side – and doctors initially feared the grandfather-of-two would not pull through.

Mr Myatt, from Cannock, Staffordshire, spent 19 weeks in hospital and has no function in his left arm and can only walk short distances with the aid of a stick.

The pensioner is now in the early stages of vascular dementia, triggered by a reduced blood flow to the brain following the stroke.

Mrs Myatt and the couple's daughter, Beverley Lloyd, 31, yesterday said Mr Myatt's condition meant he was unable to curb his happy persona, and sometimes left them feeling like they were living with a child.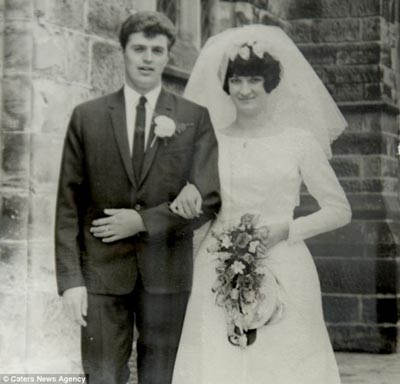 Mr Myatt's short term memory has also been affected by the stroke and he has lost his ability to judge what is, and what is not, an appropriate thing to say. (Pictured with wife Kath on their wedding day.)


But while the condition can be trying at times for the family, they said the couple's grandchildren, Aaron and Dominic, can't wait to visit their 'hilarious' granddad.

Mrs Myatt added: 'Malcolm doesn't cry, he just doesn't know how to be sad anymore.

[...]

Read the full article at: dailymail.co.uk