SWAT Team Drill Turns into Real Mass Shooting Scenario in San Bernadino, CA
An active shooter situation is currently underway in the 1300 block of South Waterman Avenue in San Bernardino, California.

The shooting apparently took place at the Inland Regional Center, which is a facility that provides services for people who have developmental disabilities. The facility had just celebrated its Christmas party.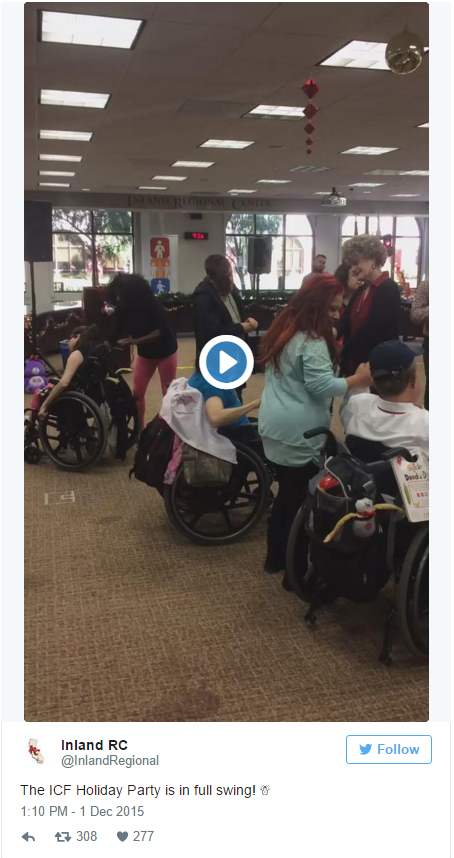 While details are scarce, what we have been told by authorities is that police are looking for 1-3 shooters and there are approximately 20 victims, with 12 being presumed dead.

Fox Los Angeles reports that the suspects are "white males" in "military gear" and armed with "rifles."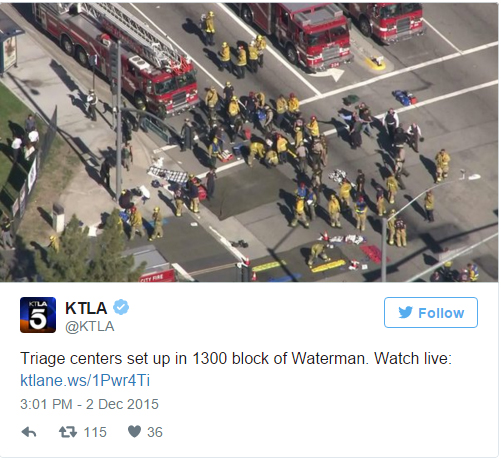 According to KTLA, police have warned people not to talk to the media. At one point during the KTLA live stream, the reporter attempted to interview a witness and multiple officers rushed up and pushed the reporters and the witnesses apart. Below is a screen grab from the live stream showing confrontation.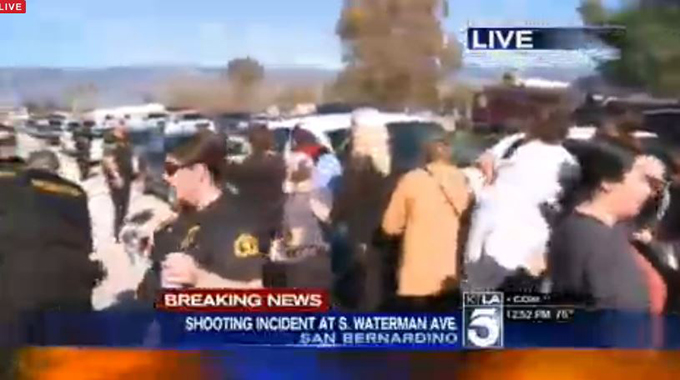 After the shooting began, San Bernardino Police Department Lt. Richard Lawhead said that their SWAT team happened to be conducting training nearby. The team was suited, "ready to roll" and responded rapidly, Lawhead said.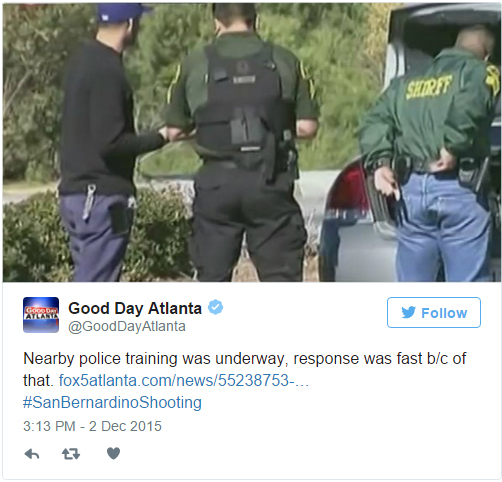 What makes this noteworthy is that this is not the first time that emergency drills for the exact scenario unfolding were taking place at virtually the same moment the actual terrorist attacks began.

Paris-area emergency personnel and ambulance crews were taking part in a simulated emergency exercise on the very same day the Paris terrorist attacks took place.

During the 9/11 attacks on the U.S., North American Aerospace Defense Command's (NORAD) was in the midst of a training exercise called Vigilant Guardian, which "coincidentally" simulated planes being hijacked by terrorists.

The Free Thought Project has heard from a source on the ground, that the target inside the Inland Regional Center was a gathering of government officials. This was confirmed by KTLA and Marybeth Feild, president and CEO of the Inland Regional Center, told the Associated Press that "the incident is in the conference area" at the center rented by an outside group, which she couldn't identify.

As of 4:15 EST on Wednesday, the reason behind these tragic shootings and the identity the shooters remains unknown. We will keep updating this article as we find new information.

Update: (4:22 EST) The Loma Linda Level 1 trauma center in the area has only taken in 4 victims and expect 3 more, 2.5 hours after the shooting.

Update: (5:42 EST) Fourteen people were killed and about 14 were hospitalized with injuries after up to three shooters opened fire with long guns inside the Inland Regional Center in San Bernardino Wednesday, according to the city's police chief.

"Up to three people had entered the building and opened fire on people inside the building," Burguan said. "Information that I think is probably the most reliable at this point is that the suspects have fled, potentially in a dark-colored SUV."

Source: thefreethoughtproject.com