Swedish youth suicides hit 25-year high
Last year 1,600 people in Sweden took their own lives - and for Swedes aged 15 to 24, the numbers haven't been so high since 1989.
Statistics for 2013 from Sweden's National Board of Health and Welfare (Socialstyrelsen) found that the number of suicides had increased for the second year in a row. In 2011 there were 1,378 suicides in Sweden.

The largest increase was found in people aged between 15 and 24 years old, with 176 people in the age group committing suicide in 2013. The numbers have not been that high since 1989, when 205 people in the 15-24 age group took their own lives.

The total number of suicides in 2013, for all age groups together, was also higher than it has been since 1996, when 1,659 people commit suicide.

"It's a significant increase, and there are methods to prevent suicide but nothing is happening," Danuta Wasserman, professor of psychiatry at Karolinska Institute, told Sveriges Television (SVT), which requested the statistics. "There are of course cities and counties that try, but there is no systematic effort."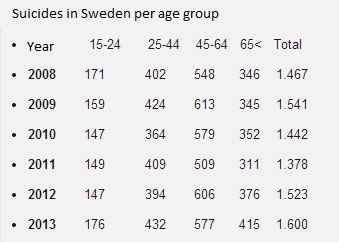 [...]

Read the full article at: thelocal.se




---
Swedish mental health groups lobby for creation of 'suicide agency'