Syria denies it was behind attack that killed 108
The Syrian government denied Sunday its troops were behind an attack on a string of villages that left more than 90 people dead, blaming the killings on "hundreds of heavily-armed gunmen" who also attacked soldiers in the area.

Friday's assault on Houla, an area northwest of the central city of Homs, was one of the bloodiest single events in Syria's 15-month-old uprising. The U.N. says 32 children under 10 were among the dead. The international body and others have issued statements appearing to hold the Syrian regime responsible.

Foreign Ministry spokesman Jihad Makdissi told reporters in Damascus at a news conference that Syria is being subjected to a "tsunami of lies" on Houla. "We categorically deny the responsibility of government forces for the massacre," Makdissi said.

[...]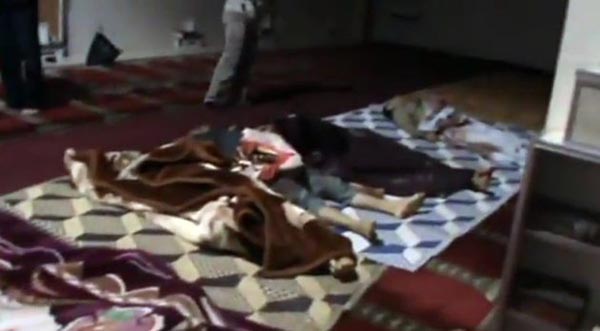 This image made from amateur video released by Shaam News Network and accessed Saturday, May 26, 2012 purports to show covered bodies after a government assault on Houla, Syria. Government troops shelled a string of villages in central Syria before pro-regime thugs swept through the area, shooting people in the streets and in their homes in attacks that killed more than 90 people, activists said Saturday. The assault on Houla, an area northwest of the central city of Homs, is one of the bloodiest single events in Syria's 15-month-old uprising.
(AP Photo/Shaam News Network via AP video) TV OUT, THE ASSOCIATED PRESS CANNOT INDEPENDENTLY VERIFY THE CONTENT, DATE, LOCATION OR AUTHENTICITY OF THIS MATERIAL Source



"Those who use violence for their own agenda will create more instability, more unpredictability and may lead the country to civil war," warned the observers' chief Maj. Gen. Robert Mood in a statement.

Makdissi however said "hundreds of heavily-armed gunmen carrying machineguns, mortars and anti-tank missiles" launched the attack, that started at about 2 p.m. and lasted nine hours, simultaneously from several locations. He added that five army positions in the area came under attack at the same time leaving three soldiers dead and 16 wounded.

"There were no Syrian tanks or artillery in the vicinity" of Houla, Makdissi said. He added that gunmen used anti-tank missiles and "Syrian troops retaliated in defense of their positions."

[...]

Read the full article at: news.yahoo.com





---


Update: Initial reports had the death toll at 80. Recent information has elevated the toll to 108.



U.N. envoy Kofi Annan called Monday on "every individual with a gun" in Syria to lay down arms, saying he was horrified by a weekend massacre that killed more than 100 people, including women and small children.

Even Syria's staunchest ally Russia joined sweeping international criticism of the mass killings on Friday in the Houla area, saying the government was at least partly to blame for one of the deadliest single events in the 15-month-old uprising against President Bashar Assad's rule.

"I am personally shocked and horrified by the tragic incident in Houla two days ago, which took so many innocent lives, children, women and men," Annan said as he arrived in the Syrian capital Damascus for talks with Assad and other senior officials.

He called on all sides of the conflict to end the bloodshed, saying "this message of peace is not only for the government, but for everyone with a gun."

[...]

Mood told the Security Council that U.N. observers at the scene now estimate 108 people were killed in Houla, U.N. peacekeeping chief Herve Ladsous told reporters outside the council chamber.

The U.N. counted 49 children and 34 women among the dead.

Source : YahooNews