Syria's Rich Archaeological Treasures Imperiled by Civil War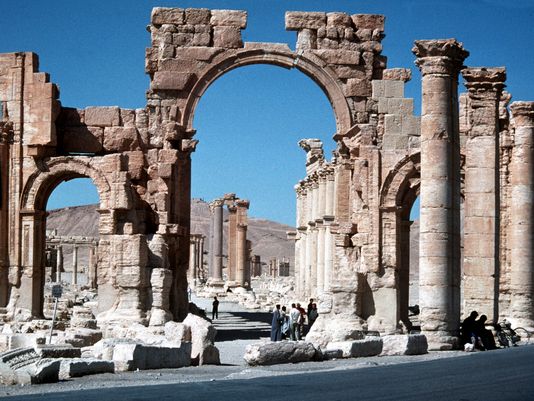 The Romans occupied modern-day Syria, and before them, the Assyrians, Persians and Akkadians built empires there.

The country is home to ancient Paleolithic fossils, some of the earliest evidence of agriculture and one of the largest troves of cuneiform tablets ever discovered.

"It's probably one of the oldest occupied areas of the Earth," said Emma Cunliffe, an archaeology researcher at Durham University in England, who has published a report documenting archeological damage in Syria. "It's been continuously occupied since before modern man even existed."

Yet hundreds of archaeological sites are imperiled by civil war in Syria; bombing and looting have ravaged some of the richest of these sites; government and rebel forces have occupied ancient castles and bulldozed archaeological mounds created over thousands of years of human occupation. All six of the UNESCO World Heritage Sites in the country have been damaged, Cunliffe said.

Still, some archaeologists are trying to preserve Syria's heritage. They are talking to government and rebel leaders to protect the most important treasures, and have compiled a list of the key archaeological "no strike" sites that should be protected.

"This is the heritage first and foremost of the Syrian people, and then of the whole world," said Andrew Moore, the first vice president of the Archaeological Institute of America. "It's therefore in everybody's interests to do all they can to protect these important monuments."

Littered with heritage

As part of the Fertile Crescent, the land that is now Syria has been occupied for tens of thousands of years.

Syria contains some of the world's most beautiful Roman cities, Apamea and Palmyra, as well as a stunning Crusader-era castle called Krak des Chevaliers. Archaeologists have unearthed tens of thousands of cuneiform tablets in the ancient city of Ebla. The country houses the tombs of several of Mohammed's relatives, and its cities of Aleppo and Damascus have been continuously occupied for thousands of years.

[...]

Read the full article at: livescience.com




---
Just as in Iraq, Lebanon and Sarajevo before it, cruel realities of war in Syria push to the back of the priority list the need for historic preservation, even if that preservation is woven into the nation's soul. Everything precious blasts apart, is violated and damaged. The things that make a civilization whole and beautiful vanish amid the bloodshed.
Source
---
READ:
UNESCO Report on Babylon: US occupation caused "major damage" to historic site in Iraq
---
Tune into Red Ice Radio:
Klaus Schmidt - Göbekli Tepe: The World's Oldest Temple?
Edmund Marriage - Kharsag, Garden of Eden & Earth, Sun, Global Cooling
Michael S. Heiser - Zecharia Sitchin is Wrong, Sumerian Writings, Nibiru & The Nephilim
Ralph Ellis - King of Edessa & The Omphalos Stone
Gary Biltcliffe - The Etruscans, The Mysterious Pelasgi, The Spirit of Portland & The Spine of Albion
Hugh Newman - Megalithomania(cs) & Megalithic Mesoamerica
Ralph Ellis - King Jesus: From Egypt (Kam) to Camelot