"Terrorists Love Gmail" and Other Digital Defamations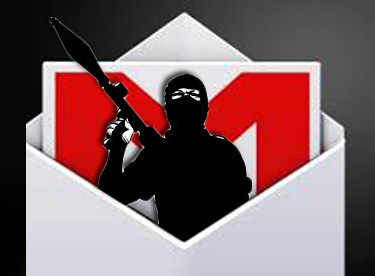 Terrorists Love Gmail!

Not the best marketing slogan for Google, but one that former NSA and CIA director Michael Hayden doesn't mind using.

Hadyen was reported to have made the provocative comments in a speech in Washington:

"Gmail is the preferred Internet service provider of terrorists worldwide," he said, presumably meaning Google's Web-based email service.

He added: "I don't think you're going to see that in a Google commercial, but it's free, it's ubiquitous, so of course it is."

But is it really 'terrorists' in Gmail that the average user should be worried about?

Facebook and Yahoo CEO's recently let the cat out of the bag regarding consequences should they have spoken out about intelligence involvement in their business - "Yahoo , Facebook CEOs: We faced jail if we revealed NSA surveillance secrets "

In June, Motherboard's Brian Merchant penned the piece: "Sorry, NSA, Terrorists Don't Use Verizon. Or Skype. Or Gmail." and punched holes in the scaremongering by government and intelligence agencies:

Even though the still-growing surveillance state that sprung up in the wake of 9/11 was enacted almost entirely to "fight terrorism," reports show that the modes of communication that agencies like the NSA are targeting are scarcely used by terrorists at all.

A recent Bloomberg piece points to a 2012 report on terrorism which found that most serious terrorists steer clear of the most obvious platforms—major cell networks, Google, Skype, Facebook, etc.

Or, as Bloomberg more bluntly puts it, the "infrastructure set up by the National Security Agency ... may only be good for gathering information on the stupidest, lowest-ranking of terrorists. The Prism surveillance program focuses on access to the servers of America's largest Internet companies, which support such popular services as Skype, Gmail and iCloud. These are not the services that truly dangerous elements typically use."

And why would they? Post-911 warrantless wiretapping practices are well known, NSA-style data collection was well-rumored, and we all knew the Department of Homeland Security was already scanning emails for red-flag keywords. Of course terrorists would take precautions. Bloomberg elaborates:

In a January 2012 report titled "Jihadism on the Web: A Breeding Ground for Jihad in the Modern Age," the Dutch General Intelligence and Security Service drew a convincing picture of an Islamist Web underground centered around "core forums." These websites are part of the Deep Web, or Undernet, the multitude of online resources not indexed by commonly used search engines.

In 2010, Google estimated that it had indexed just 0.004% of the internet—meaning the vast majority of the web is open for surreptitious message-sending business. Terrorists simply aren't dumb enough to discuss their secret plans over Skype or to email each other confidential information on Gmail.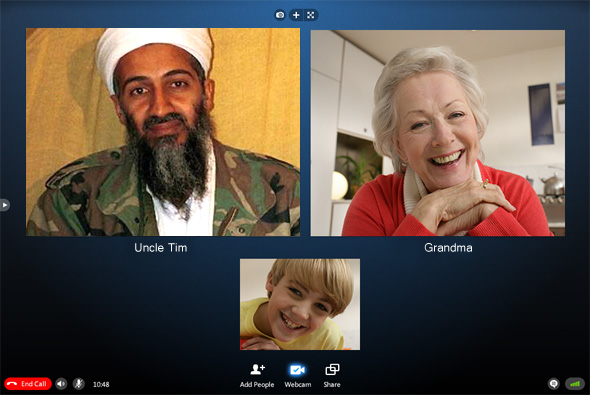 Even if terrorists DID haunt services like Gmail or Skype - why wouldn't the NSA simply continue to gather intel through the system like they've already been doing, rather than tip off these dangerous people and chase them underground where they cannot as easily be tracked?
I guess we'll figure that out when we figure out why Osama bin Laden was shot in the head* and not taken alive so as to be interrogated. (*allegedly)

We can presume that intelligence agencies have had their eyes and ears inside Gmail for some time now:

In a stunning admission contained in a brief filed recently in federal court, lawyers for Google said people should not expect privacy when they send messages to a Gmail account.

Consumer Watchdog said that people who care about their email correspondents' privacy should not use the Internet giant's service.

Google's brief said: "Just as a sender of a letter to a business colleague cannot be surprised that the recipient's assistant opens the letter, people who use web-based email today cannot be surprised if their emails are processed by the recipient's [email provider] in the course of delivery. Indeed, 'a person has no legitimate expectation of privacy in information he voluntarily turns over to third parties."
Source

But now that the supposed 'terrorists' have been tipped off by Hayden, the NSA and CIA are now just watching the rest of us - which was the case all along.

This surveillance has become so ubiquitous that governments (here, and here) are starting to ban the use of Gmail and Facebook by civil servants and politicians for any official business. It's not 'terrorists' they're worried about, either.

In the end, the NSA and CIA get more out of Gmail and it's users than less, so why is Hayden lighting fires under the world's largest web-based email provider and associating its users with terror plots?

It seems like the ones who are consistently making use of Gmail and Skype - and 'hate our freedom' - are the intelligence agencies!

By Elizabeth Leafloor , Red Ice Creations