The Ata 'Alien' Humanoid May Have An Earthling Cousin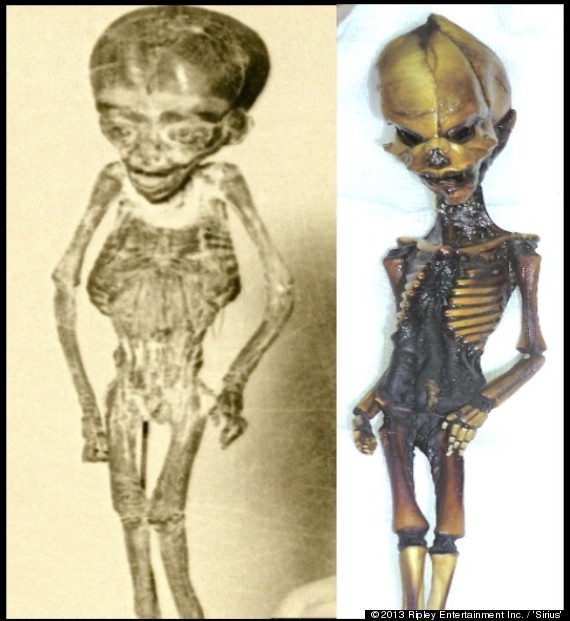 When a new documentary promised to unveil DNA tests on a 6-inch-tall humanoid found 10 years ago in Chile, everyone weighed in with an opinion.

UFO researchers hoped this might finally be proof of alien visitations. Skeptics were sure it was nothing more than shameless movie promotion.

The latest ripple in this controversy might be the most bizarre turn yet.

And by "ripple," I mean Ripley -- as in "Believe It or Not!"

The tiny mummified figure -- better known as Ata (pictured at right in the above image) -- was found in Chile's Atacama Desert in 2003. It is featured in the recent documentary "Sirius." Even after detailed X-rays, CAT scans and DNA analysis, questions are still being asked about Ata's origin.

Genetic testing -- while not totally conclusive yet -- strongly suggests Ata is 91 percent human. But it's the other 9 percent of unknown properties that still have experts scratching their heads. Further DNA analysis might help unravel the mystery.

Part of the controversy involves some scientists claiming Ata was a human who lived six to eight years, while others insist Ata was a mummified aborted human fetus. You can't have it both ways.

And now, meet Atta Boy (pictured at left in above image). Yes, Atta Boy, also around 6-inches tall, also from the Atacama Desert area as Ata, but reportedly from Bolivia or Peru.

A new book, "A Curious Man: The Strange and Brilliant Life of Robert 'Believe It or Not!' Ripley," has emerged about the life of the globehopping millionaire of the 1930s. His passion for weird and strange things resulted in an international empire of books, cartoons, radio shows and museums dedicated to the strangest oddities of the world.

The book includes a little image from 1933 showing a 6-and-a-half-inch-tall figure standing on Ripley's outstretched hand (see below). The caption refers to the diminutive human as Atta Boy, with a reference to the Peruvian Jivaro Indians (also known as the Shuar), known for their expertise in creating shrunken heads.

"I came across Atta Boy a few times in my research, Neal Thompson, author of "A Curious Man," told The Huffington Post. "One thing Ripley was fascinated by was the miniaturization of the human form, for example, in the cultures where they practiced the shrinking of heads.

"As far as I know, regarding Atta Boy, Ripley didn't leave behind any specific notes about where he obtained it or the background of the body of the boy -- it's a bit of a mystery. I know that Ripley portrayed Atta Boy as a real human as opposed to an alien. He believed that it was an actual miniature mummified human."

Part of the mystery of Atta Boy is whether or not he was a shrunken human or a mummified fetus. The origins of this artifact are not known and after the 1930s, he vanished into obscurity -- or into someone's private collection.

"It appears to me to be a mummified fetus as opposed to a shrunken body," said Edward Meyer, Ripley's vice president of exhibits and archives. "Having seen actual shrunken bodies, it looks very, very different."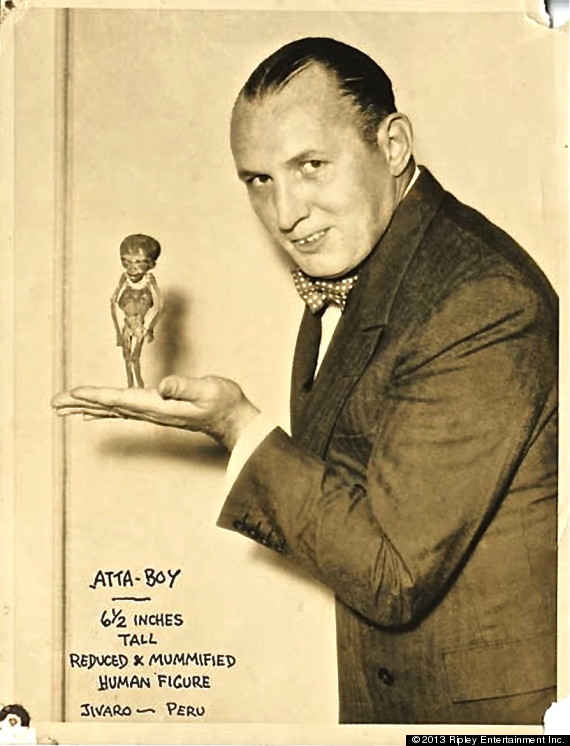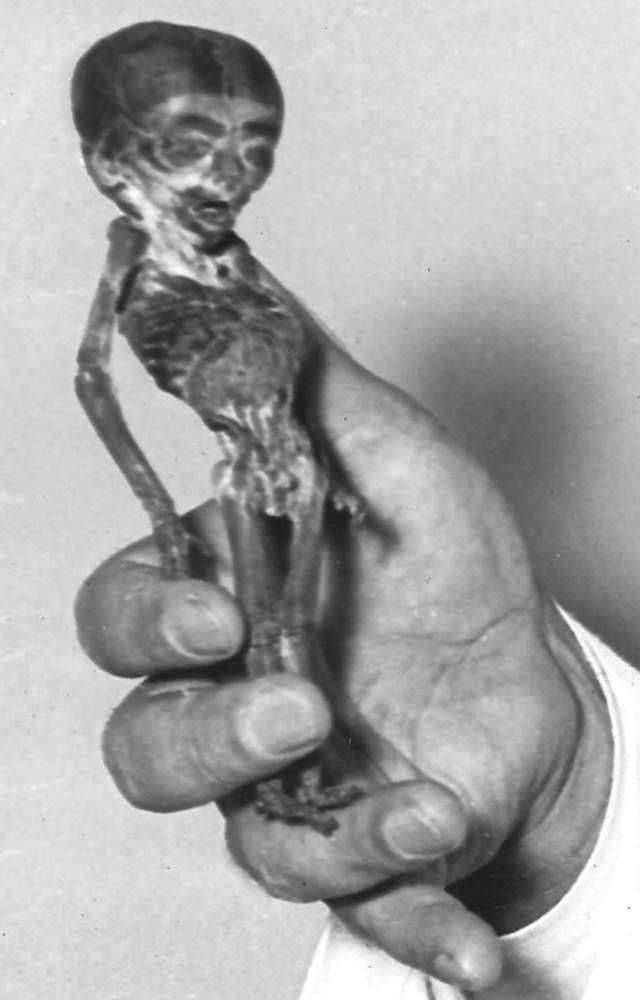 But what about the coincidences piling up between Ata and Atta Boy? Both are about 6 inches tall, both from reportedly neighboring South American countries, both from the Atacama Desert area, and both with their own mysteries as to their origins. Are there other coincidences that have yet to emerge?

"I wouldn't even call it coincidence. I just think it's the same story 70 or 80 years later," Meyer told HuffPost. "I don't think that there's just one. I personally believe [Atta Boy] is more likely a Bolivian mummy than a Jivaro shrunken body."

Meyer adds that there were only three known cases where an entire body was shrunk.

"The key thing with the three full bodies is that they're all believed to have been done by a German doctor in Peru. Someone showed him how to do a shrunken head, and he may have wanted to go one step further by trying the whole body.

"To shrink the body, you've got to get all of the bones out. Your skin is like leather, it'll boil, but your bones will not shrink. That's one of the things with shrunken heads that people don't understand," Meyer explained.

"The Jivaro Indians were keeping the head because that is where the soul is supposed to be -- the whole purpose of the shrunken head is to capture your enemy's soul."

Could Ata and Atta Boy be somehow related? It would certainly help if we knew where Atta Boy currently resides -- if anywhere.

[...]

Read the full article at: huffingtonpost.com
Gallery of photos