The Hangman's Tale: Archaeologists Dig into History of Execution
For years, few were interested in unearthing what lay beneath old gallows and scaffolds. But, in Germany, growing interest in "execution site archaeology" is throwing much light on how the executed died and the executors lived.

Her interests initially focused on fashion, but then they migrated to murder and decay. Marita Genesis, 42, worked as a runway model for Escada after graduating from secondary school. Later, she studied ancient and early history, and learned about criminal law.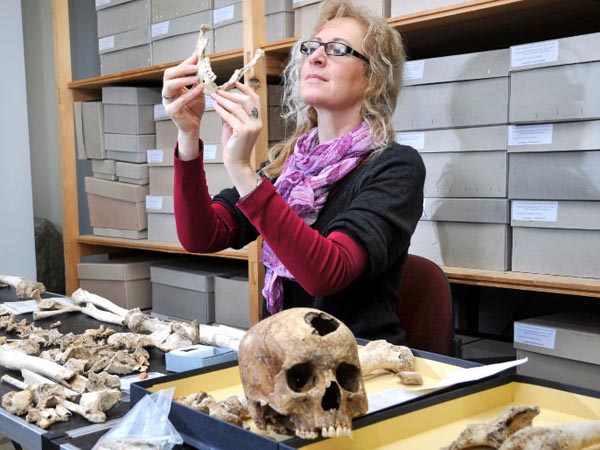 Marita Genesis is one of the many hard-nosed researchers hunting for secrets under old gallows and scaffolds.


Now, the archaeologist is surrounded by criminals. She is standing in a storeroom belonging to the Thuringia State Office for the Preservation of Monuments and pointing at a number of bones. These are the remains of thieves, sodomites and child murderers.

The skeletons were found near Alkersleben, not far from the eastern German city of Erfurt, where the counts of Kevernburg punished criminals over 700 years ago.

On a hill directly overlooking the trade route to Nuremberg, visible far and wide, the executioner went about his grim business. He kept his head covered with a hood -- not out of repugnance, but to protect himself from the "evil eye" of the condemned.

Researchers have unearthed the remains of some 70 people, which are now undergoing an anthropological evaluation. One of the dead was tied up, another lay next to an iron strangulation chain. A third had been buried along with a sharp blade. "It could be the murder weapon," says Genesis.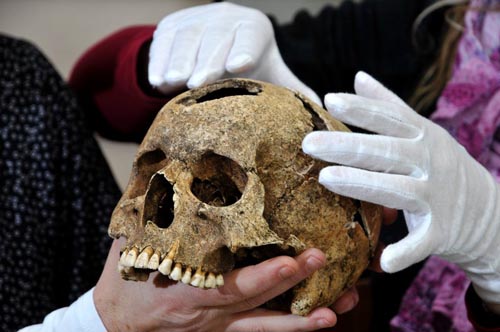 The native of Potsdam, outside Berlin, has just completed her dissertation on this execution site. She is one of many hard-nosed researchers hunting for secrets under old gallows and scaffolds.

The latest astonishing findings show that a chaotic jumble of bones lies inside the mounds. "Some outlaws were hung so long by their necks that they decayed and fell down. Then they were contemptuously disposed of in unhallowed ground," explains Jost Auler, a historian from the western German town of Dormagen. "There is no mention of this in any of the old documents."

Auler, celebrated as Germany's "gallows king," is widely viewed as the pioneer of the movement. He has published three volumes on "execution site archaeology." In his most recent book, released last November, nearly 40 fellow colleagues report on "beheading sites," "tumbrels" (the vehicles used to carry the condemned to the execution site) and the trade in corpses destined for physicians' dissecting tables.

A Messy Job

Epileptics reportedly collected and drank the blood of Schinderhannes, the famous German outlaw sometimes compared to Robin Hood, in the belief that it would heal them. It's said that the head of German pirate Klaus Störtebeker was impaled on a spike along the banks of the Elbe River.

But is this true? How did our forefathers actually dispense with justice? The old "eyesores" were largely ignored for many years, Auler says in reference to execution sites, "and yet they were just as much a part of the scenery as windmills."

Now, there is renewed interest in these gruesome places. An executioner's scaffold rises seven meters (23 feet) into the air in the southeastern Austrian state of Styria, where an archaeological dig is to begin this spring. Farther north, in the Bavarian town of Pottenstein, a team is also investigating the decaying ruins of the local gallows.

[...]

Read the full article at: spiegel.de