The U.S. Capitol and the Temple in Man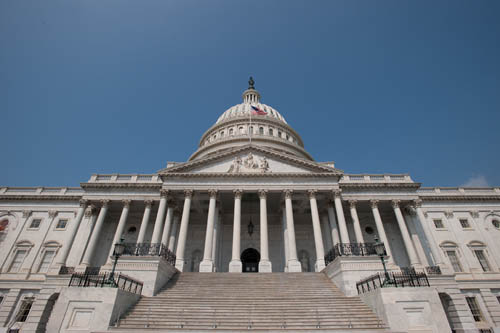 The United States Capitol, rising atop Capitol Hill in the monument city of Washington, D.C. may well be the most famous building in the world.

To Americans the cast-iron, Capitol dome, dressed in pure white sandstone, is a symbol of strength and democracy. Radiant. Luminous. Shining. Freedom rings from this beautiful bell. How many recognize the Capitol is a temple?

Thomas Jefferson called it "The first temple dedicated to the sovereignty of the people."

An anonymous essay of 1795 described the Capitol building as a 'temple erected to Liberty'.

Specifically, the founders of the Capitol Temple likened it to Solomon's Temple in Jerusalem.

"I have every hope that the grand work we have done today will be handed down…to a late posterity, as the like work of that ever memorable temple to our order erected by our ancient Grand Master Solomon." Maryland Grand Master Joseph Clark, September 18, 1793, at the laying of the cornerstone of the Capitol.

"It would be unbecoming the representatives of this Nation to assemble for the first time in this solemn Temple without looking up to the Supreme Ruler of the Universe and imploring His blessing." President Adams, November 22, 1800, opening the Second Session of the Sixth Congress in the new Capitol building.

These words are more than poetic. The U.S. Capitol has numerous architectural and other features that unquestionably identify it with ancient temples including stone construction, an underground entrance, chapels, an image of a deified being, religious imagery, symbols, and inscriptions, divine proportions, massive columns, palpable spiritual energy, acoustic trickery, terrifying guardians, mystic visitors, closed doors, private members, secret chambers, and orientation to the Sun.

It is crystal clear that the builders viewed the Capitol as America's sole temple (a solemn, Solomon's Solar Temple to be exact).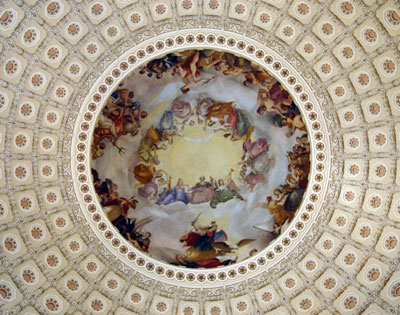 THE DOME AT THE HEART OF AMERICA

The dome of the Capitol ices this connection. Domes have been called the perfect architectural shape: the circle, symbol of the universe, executed in three dimensions.

In religious architecture domes proclaim the glory of God. The word dome comes from Latin domus, a house, via Italian duomo, a house of God, that is a church (from kirk, meaning 'circle'). The temple is a "house of the holy". Temple is also a word for the flat part on either side of the human head, called a dome in slang, above and beyond the eye.

The oculus or eye of the dome is considered the Gateway of the Sun. From this gateway at the top of the dome rises the World Axis, the link between heaven and earth. Domes, therefore, are the threshold or gateway of the spiritual world.

[...]

Read the full article at: williamhenry.net




---
Tune into Red Ice Radio:
William Henry - The Judgment Day Device
William Henry - The Secret of Sion & The Dwellers at the Center of the Galaxy
William Henry - The Apotheosis is at Hand, NWO, COP15, Norway Blue Spiral & Star Gates
William Henry - Stargates, Starwalkers & Transhumanism
Scott Onstott - Explorations in Number, Architecture & Consciousness
Robert W. Sullivan - The Royal Arch of Enoch
Randall Carlson - Cosmic Patterns & Sacred Architecture
Richard Cassaro - The Triptych Enigma, Gothic Cathedrals & Freemasonry