Third worker dies at Japan's troubled nuclear plant. Cause of death "UNKNOWN"?!


Despite the prolonged nuclear crisis, Prime Minister Naoto Kan is set to announce at a G8 summit in France that Japan will keep using nuclear power, the Yomiuri newspaper said.

The cause of the worker's death was unknown. The man, in his 60s, was employed by one of Tokyo Electric's contractors and started working at the plant on Friday. He was exposed to 0.17 millisieverts of radiation on Saturday, Tokyo Electric said.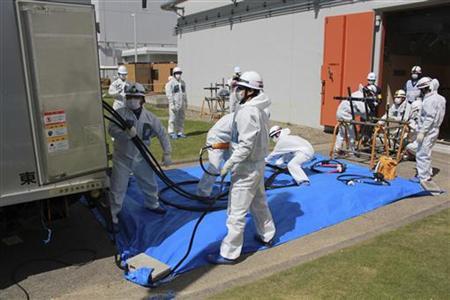 Workers in protective suits connect power cables during Emergency Response Training at Fukushima Daini Nuclear Power Station Plant, about 10km away from the tsunami-crippled Daiichi plant in Fukushima, May 13, 2011, in this handout photo released by TEPCO on May 14, 2011.
Credit: Reuters/Tokyo Electric Power Co/Handout.


The Japanese government's maximum level of exposure for male workers at the plant is 250 millisieverts for the duration of the effort to bring it under control.

The worker fell ill 50 minutes after starting work at 6:00 a.m. on Saturday (5 p.m. EDT on Friday) and brought to the plant's medical room unconscious. He was later moved to a nearby hospital and confirmed dead, a Tokyo Electric spokesman said.

Working conditions at the plant are harsh. Goshi Hosono, a special adviser to Prime Minister Naoto Kan and a ruling Democratic Party lawmaker, voiced concerns about the working environment at the Fukushima complex on Wednesday.

"I would like to spend my energy to improve working conditions. Many people told us working environment (at the plant) is way too bad," Hosono told a news conference.

The March quake and tsunami triggered cooling system malfunctions at the plant, and caused radiation to leak into the atmosphere and the sea, prompting Kan to review Japan's nuclear-leaning energy policy from scratch.

Kan plans to tell the G8 summit at the end of May in Deauville, France, that Japan will rely more on renewable energy, but it will also enhance safety of atomic power and continue nuclear power usage, making it clear the country is not withdrawing from nuclear power generation, the Yomiuri said.

Engineers are still struggling to bring the Fukushima plant under control. Two Tokyo Electric employees went missing while patrolling the plant soon after the quake and were later found dead.

[...]

Read the full article at: reuters.com


Video from: YouTube.com


---

Also tune into:

Robin Falkov - Herbs, Health and Food Freedom & Radiation Defense

Robin Falkov - Useful Health Tips & Do It Yourself Living

Ian Crane - The Deepwater Horizon Rig Explosion & The BP Oil Spill

Sabina DeVita - Electromagnetic Pollution, The Silent Invisible Pollutant

Richard C. Hoagland - The Secret Space Program & The Fukushima Nuclear Reactor Disaster