Top UK hacking-probe officer quits
Met Police Assistant Commissioner John Yates has resigned as the phone-hacking scandal fall-out continues.

He checked the credentials of Neil Wallis before the Met employed the ex-News of the World executive, arrested last week over hacking allegations.

Mr Yates indicated his intention to resign to the chairman of the Met Police Authority, which was accepted.

Mr Yates's decison to quit comes after Commissioner Sir Paul Stephenson resigned on Sunday.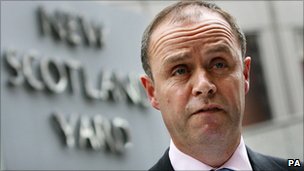 Assistant Commissioner John Yates decided not to re-open the phone-hacking investigation in 2009


The resignation of Sir Paul, the most senior policeman in Britain, came after he faced criticism for the recruitment of Mr Wallis as a PR consultant.

Mr Wallis, a former NoW deputy editor, was arrested and released on bail on Thursday on suspicion of conspiring to intercept communications.

Mr Yates's resignation came after he was informed he would be suspended pending an inquiry into his relationship with Mr Wallis.

The officer had been confronted with new information about the friendship between the two men, sources told BBC political editor Nick Robinson.

Mayor of London Boris Johnson's spokesman said Mr Yates's decision to resign was "regrettable, but the right call".

Scotland Yard said in a statement: "Assistant Commissioner John Yates has this afternoon indicated his intention to resign to the chair of the MPA.

"This has been accepted. AC Yates will make a statement later this afternoon."

In other developments on Monday:

~David Cameron said the Commons would be recalled on Wednesday to debate the latest developments in the phone-hacking scandal

~Former News International chief executive Rebekah Brooks confirmed she would appear before a committee of MPs on Tuesday, alongside Rupert and James Murdoch, despite her arrest and questioning by police on Sunday

~The Serious Fraud Office said it would give "full consideration" to a request by Labour MP Tom Watson to investigate out-of-court settlements made to hacking victims

~Shares in News Corporation dropped by 7.6% to a two-year low in trading in Australia

Article from: bbc.co.uk


---



John Yates's confession prompts calls for him to step down


By Matt Blake | Independent.co.uk

One of Scotland Yard's top officers was urged to resign yesterday after admitting he had appallingly mishandled a review of the initial bungled investigation into phone hacking.

Assistant Commissioner John Yates, who reviewed the 2007 investigation in the space of a few hours two years ago and found it to be satisfactory, issued a grovelling public apology about his choice to resist calls to reopen the original investigation. He described it as a "pretty crap" decision, which he now "deeply regretted".

Conceding that the phone-hacking scandal had left the Metropolitan Police's reputation "very damaged", Mr Yates seemed to admit he had failed to perform his duties properly. He appeared to indicate that he had not inspected the 11,000 pages of notes seized from the News of the World's (NOTW) private investigator Glenn Mulcaire, which the Yard admitted last week contains evidence that he targeted almost 4,000 people, before making his decision.


Video from: YouTube.com
"Metropolitan Police Assistant Commissioner John Yates tells the Home Affairs Select Committee he is "fairly certain" his phone was hacked."