Touchdown! US-Russian Crew Returns to Earth on Soyuz Space Capsule
A Russian Soyuz spacecraft has returned an American astronauts and two cosmonauts safely back to Earth, capping a five-month trek to the International Space Station.

The Soyuz TMA-08M space capsule carrying NASA astronaut Chris Cassidy and Russian cosmonauts Pavel Vinogradov and Alexander Misurkin touched down at 10:58 p.m. EDT Tuesday (0258 Sept. 11), though it was early Wednesday morning at their landing site on the steppes Kazakhstan in Central Asia.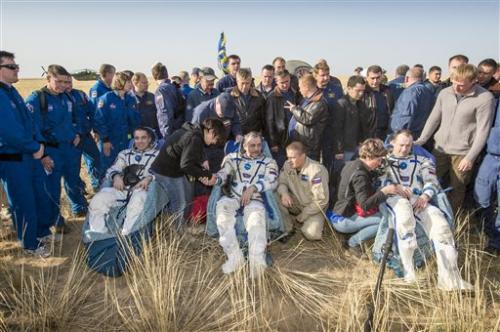 "Expedition 36 Flight Engineer Chris Cassidy of NASA, left, Commander Pavel Vinogradov of the Russian Federal Space Agency (Roscosmos), center, and, Flight Engineer Alexander Misurkin of Roscosmos, sit in chairs outside the Soyuz capsule just minutes after they landed in a remote area near the town of Zhezkazgan, Kazakhstan, on Wednesday, Sept. 11, 2013." Source: Phys.org


All three men were reportedly in good spirits after spending 166 days in space, NASA spokesman Rob Navias said from the landing site. They landed in clear, warm weather, despite predictions of rain.

But it seemed clear even before the landing that the returning space travelers were looking forward to their return home.

"Okay, I'm thinking about coffee and apples," one of the Russian crewmates said as the Soyuz streaked back to Earth.

[...]

Read the full article at: space.com





---