Towards gender obsolescence in Fashion: Lacy Shirts, Floral Prints, Silky Fabrics ...for "Men"
Editor's comment: Washingtonpost.com in their usual libtard fashion swoon over the floral femmy men's fashion released by the usual suspect out of Milan, New York, London and Paris. They begin:

The end of gender is near.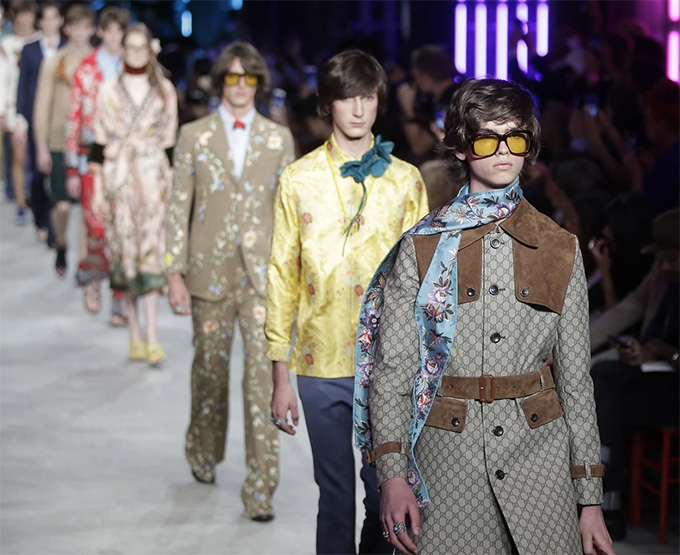 Yes, the end is near!
Menswear designers are on a mission to eradicate it. Some are going full bore, wielding lace shirts and floppy, grandma blouses like cultural grenades. Others are taking a stealth approach, quietly chiseling away the boundaries between masculinity and femininity through non-traditional retail, models and silhouettes.

Overwhelmingly, it is menswear designers, from London to New York, who are on this rampage. Spurred on by men's heightened interest in fashion and shifts in social mores, they are flexing their creative muscles, taking risks and challenging their customers to think beyond pastel suits, leggings and a pair of skinny trousers cropped to the ankle.

The spring 2016 menswear season began last month in London with men in loosely pleated trousers, floral prints and lace shirts. When the pack of retailers and editors moved on to Milan, they were greeted even more emphatically with lace and the addition of lounging robes. By the time Paris designers unveiled their wares, the catwalks were covered in oversize, flower-embroidered cardigans.

And when New York hosts its first men's fashion season in recent memory next week, one can only expect more of the same. The over-arching message: Gender is a mood, a metaphor, an anachronism.

Tim Coppens will be one of several dozen relative newcomers presenting their work in New York. Belgian born, he began his career working for Ralph Lauren and Adidas.

"It all comes from streetwear," Coppens says of his subtle gender-blurring ways. His female customers might look "cute and feminine, but there's something tough about them. I'm less inclined to do a pretty dress."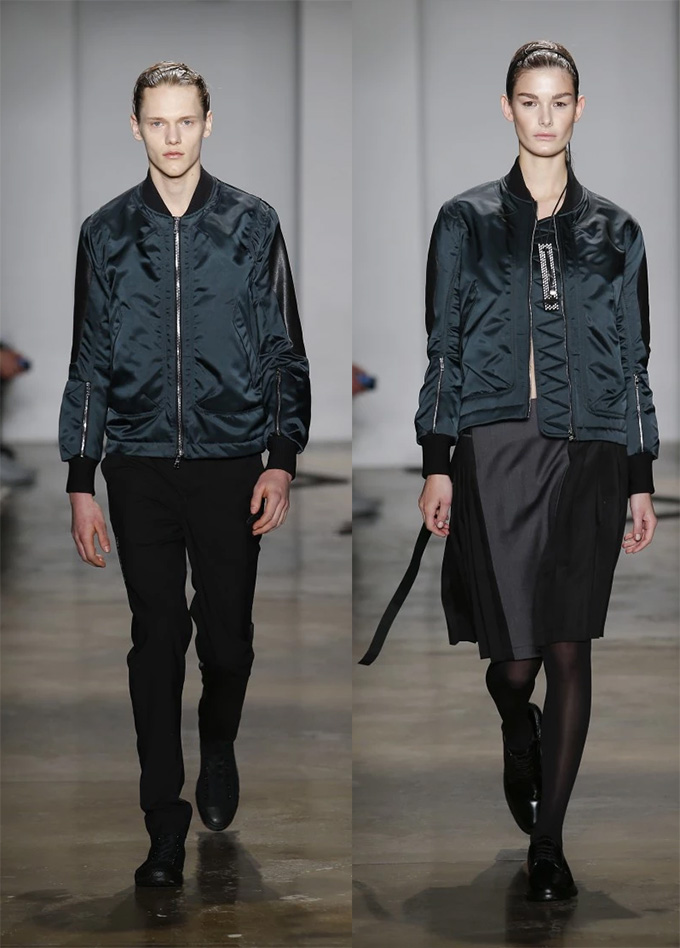 Wait, what's going on here?
No designer has spoken as bluntly — or in as exaggerated terms — as Gucci designer Alessandro Michele. It included embroidered lace shirts, floral suits, silk robes and shirts with floppy bow ties reminiscent of the dress-for-success accessories women wore in the 1970s as feminized versions of a four-in-hand knot.

Named creative director of the brand in January, he could be deploying his gender-defying sensibility to grab attention.

Dwayne Brice, an image consultant who works in Washington and Los Angeles says "I like that it's challenging the traditional structure of male clothing with dropped shoulders, the [softer] fabric. It gives you something different to wear — not just a suit and tie," Brice says. "Designers are not just trying to put womenswear on men, but they're moving menswear forward."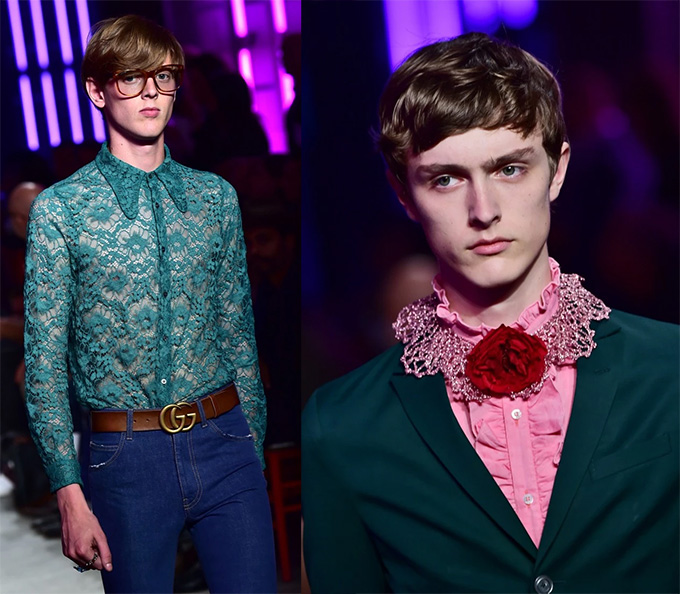 Hahaha, look at those uncomfortable steel faces! Sorry mates but you have to quit your job and start doing something more dignifying.
As with most developments in fashion, the drive toward gender obsolescence did not happen overnight. It began on one runway, on one street corner, in one neighborhood, in one daydream. And these separate sparks converged and began to sweep across the landscape.

Often, they book models with long hair, a slender build and a gentle quality.

[...]

They are clearly men. And, until our eyes adjust: They often look as if they are wearing girls' clothes.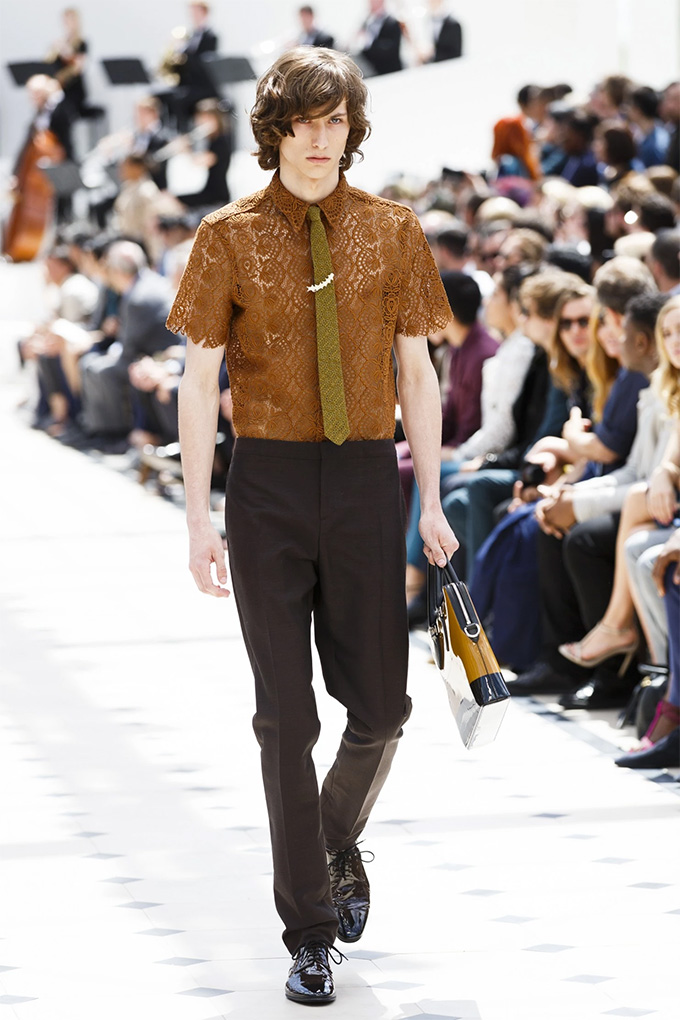 This poor guy looks like someone dressed him up as a gingerbread man.
Which leads to the fundamental question that all these designers are asking: Why are clothes assigned a gender at all?


[...]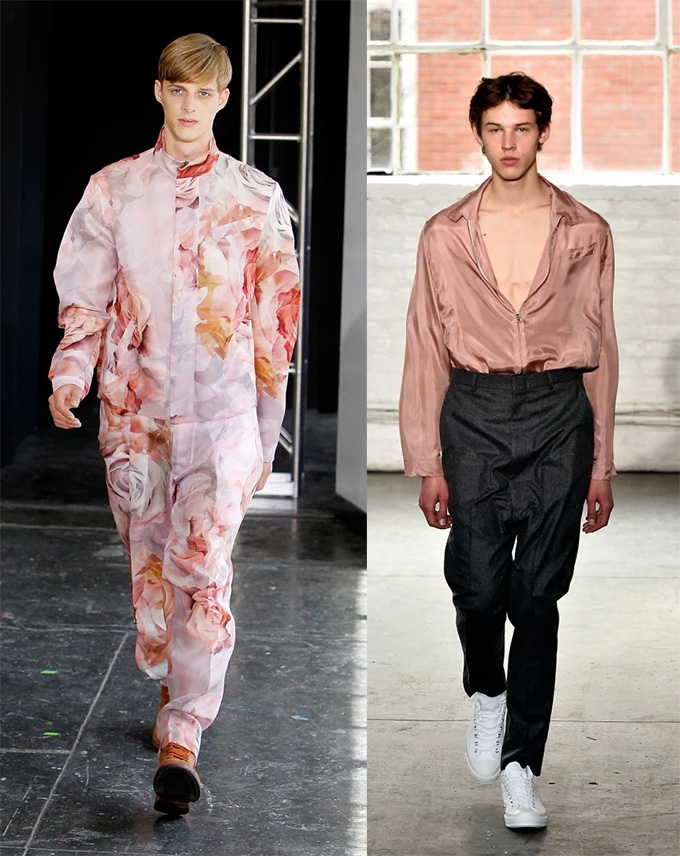 Hahahahaha! It's great that these lads are so serious about their job as theme park mascots.
Men are indulging, in part, (in women's wear) because popular culture is telling them that they can.

They will wear a woman's hair clip as a lapel pin. "What you're seeing, if you take it out of the fashion world and put it in the political world .?.?. this generation has less concern about being judged," Harriott says. "Your style is emotions. You wear what you feel."

It's impossible to look at this shift in fashion without considering the broader cultural changes that have pushed issues of gender identity and sexual stereotypes front and center. Caitlyn Jenner appeared on the July cover of Vanity Fair using classic pin-up costuming to declare her femininity. The ensuing discourse about how glorious she looked underscored clothes' defining power.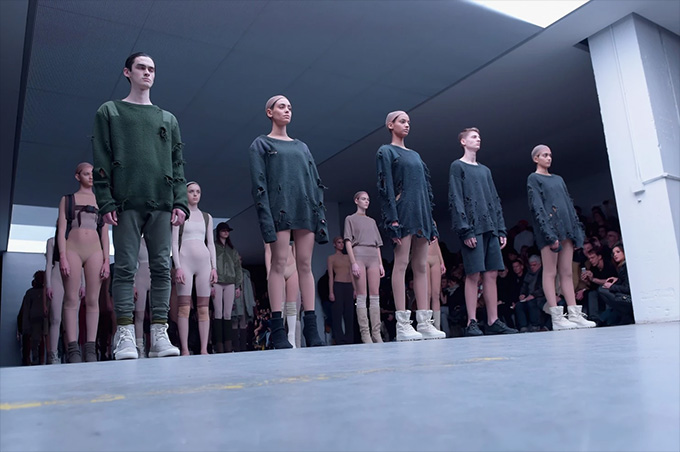 Ah, beautiful. Just like the sweaters they wore in The Matrix after waking up in "the real world!" They kind of look the same too. Like they just had a good barf. It's easy to get that same feeling looking at these corpses.



Don't they all look so lovely? Full of life, like happy individualized atoms in a rat maze. Inspiring. Truly inspiring. I feel liberated from the gender constraints already.

Read the rest of this nonsense: washingtonpost.com