UK prime minister's close friend found dead in portable toilet at Glastonbury music festival
Toxicology tests are being carried out on the body of Christopher Shale, the 56-year old constituency aide to David Cameron who was found dead at the Glastonbury festival on Sunday morning.

A spokesman for Avon and Somerset police said the initial postmortem had proved inconclusive and a toxicology report had been ordered that would take at least 10 days to deliver its conclusions.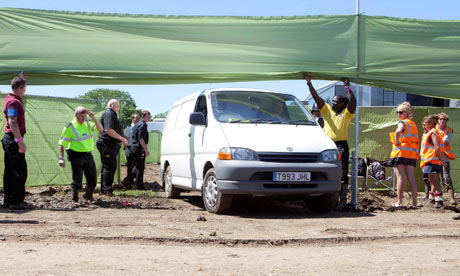 Christopher Shale's body is taken away in a private ambulance. Photograph: Joel Ryan/AP



An inquest into the death was due to be opened and adjourned by the East Somerset coroner at Wells town hall at 2.30pm on Monday. Police said the postmortem did not suggest the death was suspicious.

Shale was the chairman of the West Oxfordshire Conservative association in the prime minister's Witney constituency and had been at Glastonbury with his wife and children.

He went to the portable toilet in the VIP area where he was staying behind the main stage around lunchtime on Saturday and was found dead at about 9am on Sunday.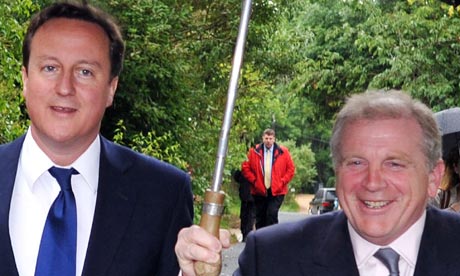 Christoper Shale, right, attends a reception with the prime minister to mark Cameron's 10th year as MP for Witney. Photograph: Andrew Parsons/Parsons Media Ltd.


He had been contacted just after 12.30pm on Saturday by a Downing Street official to tell him not to talk to the press about a memo written by him which was highly critical of the Tory party and had been leaked to a Sunday newspaper.

The memo was essentially a strategy document setting out how to recruit members. It said the local party appeared "graceless, voracious, crass, always on the take", and needed to radically change.

Shale spoke to his deputy chairman, Richard Langridge who said he was "cross" about the leak. Langridge was reported saying Shale was "disappointed but it was one of those things". In a further call, Shale discussed the leak with Cameron's Witney constituency agent, Barry Norton.

Police and sources close to the family said they believed Shale died of a massive heart attack and claimed his family had a history of heart problems.

At a press briefing on Monday morning, the prime minister's spokesman said: "It's true that there was a phone call to [Shale] on Saturday to make him aware of the fact that a story would be running in a Sunday newspaper."

Asked if Cameron was satisfied there had been no inappropriate behaviour by his officials, the spokesman replied: "Absolutely".

Early reports of the death, including one from the Glastonbury festival organiser, Michael Eavis, suggested that Shale had killed himself. These were dismissed as inaccurate.

"I am told it was a suicide situation this morning, in the early hours of this morning," Eavis told a press conference on Sunday.

Cameron said the death had left him and his wife, Samantha, devastated, and that "a big rock in my life has suddenly been rolled away."

The prime minister had been aware of the memo's existence and there is deep concern inside Downing Street that its contents, known only to a small number of people, had been disclosed.

Party officials had said earlier that there was no suggestion from Shale's behaviour that he was overly concerned about the leak.

Shale's contacts with No 10 officials were seen as routine and polite, and he is not believed to have taken up the advice to speak to the party headquarters.

One senior source said the heart attack was "just a dreadful coincidence."

Read the full article at: guardian.co.uk


---


"His body was found at 8.45am. An area between the Pyramid stage and the Other stage has been cordoned off."
Source