UK's Anti-Pornography Plan Is Scary, Pointless Grandstanding
The U.K. Prime Minister today proposed a sweeping set of internet filtering--some would say censorship--laws. They will go nowhere.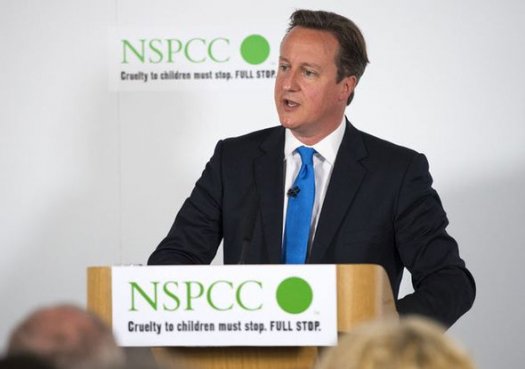 It's for the children!


U.K. Prime Minister David Cameron announced this morning that "By the end of this year, when someone sets up a new broadband account, the settings to install family friendly filters will be automatically selected." That means you'll have to adjust your settings to see things that your ISP, and indirectly the U.K. government, does not think you should see. Like porn. Or what the government thinks is porn.

In a long speech, which you can read here, Cameron laid out the argument for opt-out family settings and a call for search engines to block objectionable or illegal content. Some key points:


- "Many children are viewing online pornography and other damaging material at a very young age and that the nature of that pornography is so extreme, it is distorting their view of sex and relationships."

- Search engines should be held responsible for illegal material because they're "like the Post Office helping someone to identify and order the illegal material in the first place – and then sending it onto them in which case they absolutely would be held responsible for their actions."

- "Child abuse images" are a major focus of the speech. Cameron wants "clear and simple signs warning [people who search for these images] that what they are trying to do is illegal and where there is much more accountability on the part of the search engines to actually help find these sites and block them."

- "Put simply - there needs to be a list of terms – a black list – which offer up no direct search returns. So I have a very clear message for Google, Bing, Yahoo and the rest. You have a duty to act on this – and it is a moral duty."

- After examples of younger sexuality, including viewing pornography and sexting: "Our children are growing up too fast."

- "This has never been a debate about companies or government censoring the internet but about filters to protect children at the home network level."

- The government is "making it a criminal offence to possess internet pornography that depicts rape."

- The speech ends with "And I will do whatever it takes to keep our children safe."


So! There's an awful lot going on here, both explicitly and implicitly. Cameron is proposing a two-pronged approach: an opt-out filter, and working with search engines to block access to child pornography, simulated rape pornography, and possibly other unsavory or illegal materials.

The first is essentially is a family filter that's put in place by the internet service providers, or ISPs (the equivalent companies in the States would be Comcast, Verizon, Time Warner, etc.). The filter can be adjusted or disabled entirely by an adult--not clear how the service will make sure it's an adult and not a child messing around with these settings--but it will by default be put in place. The filters will extend to any device connected to the network, including laptops, tablets, and smartphones. Those proposed filters comprise what the government plans to do, and what the government theoretically can do.

But in that second prong, Cameron urged international corporations like Google, Microsoft, and Yahoo to adjust in accordance with his crusade.

There are significant problems with both prongs, falling into three categories: logistical, rhetorical, and, for lack of a better word, moral.

Logistical: This Is Not How The Internet Works

In his second prong, looking outside the U.K. government, Cameron chastises search engines like Google and Bing for making it easier to find, he says, child pornography.

"We need the search engines to step up to the plate on this," said Cameron. "And there's a further message I have for the search engines. If there are technical obstacles to acting on this, don't just stand by and say nothing can be done; use your great brains to help overcome them."

This is absurdly, insultingly presumptuous. A prime minister is demanding a foreign corporation kowtow to his demands and implement a childishly naive proposal based on his own showy morality. It's insane that Cameron would so condescendingly offer a foreign entity that's violating precisely zero laws itself an ultimatum. Google is under no obligation to do anything Cameron wants, and yet Google just last month pledged to spend $7 million to figure out new ways to stamp out child pornography. What makes Cameron think that his proposal--a blacklist of keywords--would be more effective than whatever Google's brilliant engineers are doing? We were indignant when China demanded Google censor itself there; how dare Cameron expect anything different, no matter how many times he hollers "it's for the children"?

[...]

Read the full article at: popsci.com