UN: 'concrete suspicions' that Syrian rebels using chemical weapons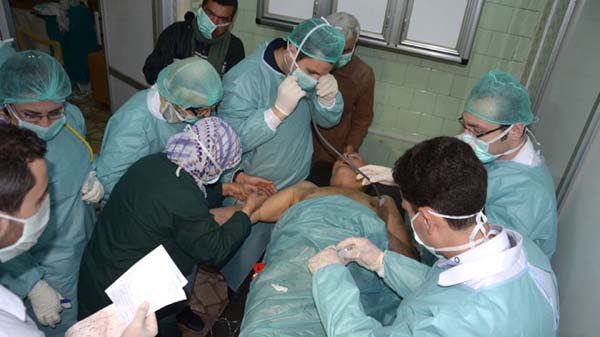 Contrary to the current western-governmental narrative, several mainstream and alternative sources have been reporting news that the "UN Human Rights Commission, has unequivocally stated that chemical weapons have not been used by the Syrian army but by fighters among the rebels". Source

Reuters reports:

U.N. human rights investigators have gathered testimony from casualties of Syria's civil war and medical staff indicating that rebel forces have used the nerve agent sarin, one of the lead investigators said on Sunday.

The United Nations independent commission of inquiry on Syria has not yet seen evidence of government forces having used chemical weapons, which are banned under international law, said commission member Carla Del Ponte.

"Our investigators have been in neighboring countries interviewing victims, doctors and field hospitals and, according to their report of last week which I have seen, there are strong, concrete suspicions but not yet incontrovertible proof of the use of sarin gas, from the way the victims were treated," Del Ponte said in an interview with Swiss-Italian television.

"This was use on the part of the opposition, the rebels, not by the government authorities," she added, speaking in Italian.

These reports undermine the reasoning behind the US-Israeli attacks , as Tony Cartalucci outlines:


Clearly, the minute amounts of sarin the West has accused the Syrian government of using, makes no tactical, political, or strategic sense. However, these small amounts of sarin gas, now suspected to be the work of Western-backed terrorists, would have been perfect for establishing a pretext for Western military intervention, and in fact, have been in part cited by the US and Israel in their latest, unprovoked aerial assault on Damascus.

The terrorists operating in Syria possess the means and motivation to carry out such an operation, as do their Western sponsors.


Though these might be shocking revelations to some, the warning signs that the so-called 'Free Syrian Army' a.k.a 'syrian rebels' might possess and use chemical weapons (WMD's) have been reported by independent news sources for many months prior to this latest incident.

Read:
Fabricating WMD "Evidence": Israeli Covert Operation inside Syria to "Track Chemical Arsenal"

Syria Government: USA May Be Trying To Frame Us Over Chemical Weapons

UN says Syrian killings video 'very likely' constitutes a war crime

Shocking Video Shows 'Syrian Rebels' Testing Chemical Weapons

The Free Syrian Army denies the use of sarin.

What is surprising is that the mainstream is readily reporting on the potential war crimes of the Free Syrian Army (or the weaker identification of "fighters among the rebels").

This all comes on the heels of a recent Israeli strike on Syria. CNN writes:

A series of massive explosions illuminated the dark sky over Damascus early Sunday, igniting renewed claims that Israel has launched attacks into the war-torn country.

Syria's government said the explosions were the second Israeli airstrike in three days. The latest target, officials said, was a military research facility outside the Syrian capital. A top Syrian official told CNN in an exclusive interview that the attack was a "declaration of war" by Israel.

Syrian authorities vowed to retaliate against Israel but did not specify what action they would take.

The Israeli military would not confirm or deny the Syrian claim that Israel fired rockets that hit the Jamraya research center in the Damascus suburbs.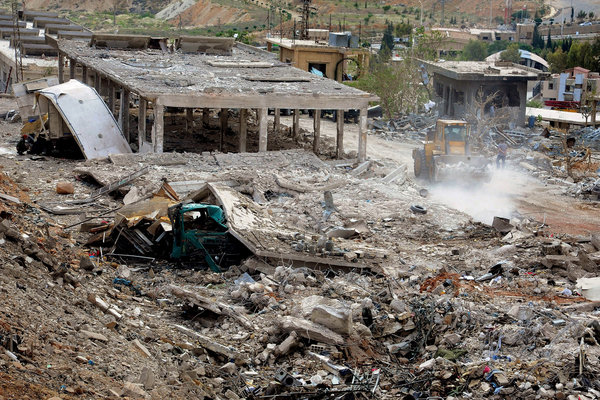 Why are western governments still supplying and arming the Syrian rebels, and conducting air strikes on the Syrian government and population, when there's ample evidence that the rebels themselves are a dangerous group who are willing to use weapons of mass destruction on civilians? Will the west continue with their own manipulative and destructive agenda even if it means openly supporting terror groups? Further, are these reports of nerve gas use a bid to allow western governments to commit ground forces for occupation in Syria, invoking a 'Right to Protect' in a pretext of saving civilians from war crimes?

In all ways the situation is escalating and Syrians are suffering for it, while western citizens pay for it.

By Elizabeth Leafloor, Red Ice Creations





---



Syria - Israel strike hits Damascus


"Syrian government forces have used chemical weapons against rebel fighters, the Israeli military's top intelligence analyst has claimed."