UN determines chemical weapons use in Syria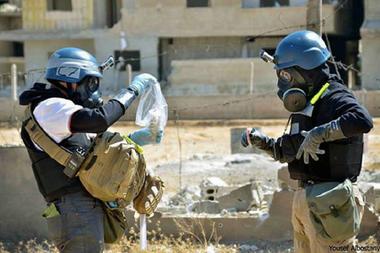 If anyone had hopes or illusions that the United Nations report on chemical weapons in Syria would help diffuse global tensions, today's revelations should shatter those ideas.

The UN has announced that the use of chemical weapons is a war crime, and there is overwhelming evidence they were used in Syria this year. However, the UN investigators were charged with determining only IF chemical weapons were used, not WHO used them. This leaves world parties to blame whomever they choose without evidence, and act accordingly.

GlobalPost writes about the UN report ...
[Emphasis RIC]

---
UN confirms Syria chemical weapons use: 'This is a war crime'
By Priyanka Boghani | GobalPost

Meanwhile, French President Francois Hollande said the 'military option must remain' on Syria, despite the US-Russia deal.

A UN investigation into an Aug. 21 attack in Syria has confirmed that chemical weapons were used on a fairly large scale.

In remarks released Monday, UN Secretary-General Ban Ki-moon said that there is no doubt chemical weapons were deployed in Ein Tarma, Moadamiyah and Zamalka, all in the Ghouta area of Damascus.

"The results are overwhelming and indisputable. The facts speak for themselves," he said.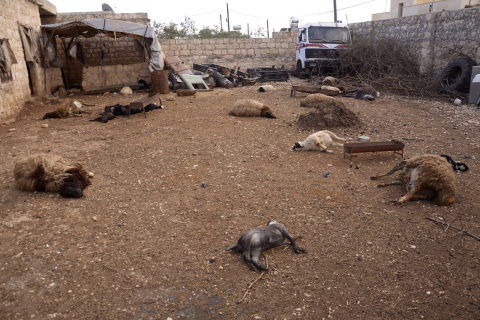 "The United Nations Mission has now confirmed, unequivocally and objectively, that chemical weapons have been used in Syria. This is a war crime and a grave violation of the 1925 Protocol and other rules of customary international law," he added.

However, the UN has declined to identify who is responsible for using the weapons.

"It is for others to decide," Ban said during a Monday press conference.

The White House didn't hesitate to assign blame.

"The information provided in that report that the sarin agent was delivered on surface to surface rockets that only the Assad regime has, makes clear the responsibility," White House spokesman Jay Carney said.

The UN review of the Aug. 21 attacks by chemical weapons experts indicated that sarin gas was used on a "relatively large scale."

The full text of the UN report is here.

[...]

Read the full article at: globalpost.com

---
U.N. confirms sarin used in Syria attack; U.S., UK, France blame Assad
By Louis Charbonneau and Michelle Nichols | Reuters

U.N. chemical investigators on Monday confirmed the use of sarin nerve agent in an August 21 poison gas attack outside the Syrian capital in a long-awaited report that the United States, Britain and France said proved government forces were responsible.

"This is the most significant confirmed use of chemical weapons against civilians since Saddam Hussein used them in Halabja (Iraq) in 1988," U.N. Secretary-General Ban Ki-moon said. "The international community has pledged to prevent any such horror from recurring, yet it has happened again."

The U.N. team was investigating only whether chemical weapons were used in a deadly assault on the rebel-held Damascus suburb of Ghouta. The report does not say who launched the attack, though U.S., British and French envoys said technical details in it pointed to government culpability.

"On the basis of the evidence obtained during the investigation of the Ghouta incident, the conclusion is that chemical weapons have been used in the ongoing conflict between the parties in the Syrian Arab Republic, also against civilians, including children, on a relatively large scale," said the report by chief U.N. investigator Ake Sellstrom of Sweden.

"In particular, the environmental, chemical and medical samples we have collected provide clear and convincing evidence that surface-to-surface rockets containing the nerve agent sarin were used," it said.

The report said the weather conditions on August 21 ensured that as many people as possible were injured or killed. Temperatures were falling between 2 a.m. and 5 a.m., it said, which meant that air was moving downwards toward the ground.

"Chemical weapons use in such meteorological conditions maximizes their potential impact as the heavy gas can stay close to the ground and penetrate into lower levels of buildings and constructions where many people were seeking shelter," it said.

[...]

RESPONSIBILITY UNCLEAR

Syria and Russia have blamed the August 21 attack on the rebels. The rebels, the United States and other Western powers blame forces loyal to Assad for the Ghouta attack.

It was not immediately clear whether any of the details in the report suggested culpability.

British, French and U.S. envoys told reporters the U.N. report left no doubt that Assad's government was responsible for the chemical attack. The opposition Syrian Coalition said the report "clearly shows that only the Syrian regime could have carried out these attacks."

Russian U.N. envoy Vitaly Churkin countered that there was no scientific proof government forces were responsible for the attack. "We need to not jump to any conclusions," Churkin said.

Syrian U.N. Ambassador Bashar Ja'afari did not respond to requests for comment on the report.

Read the full article at: reuters.com