Undetected Asteroid Explodes Over The Atlantic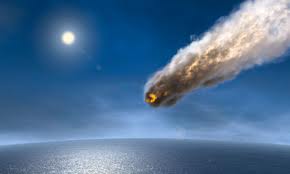 A previously undetected asteroid entered the Earth's atmosphere and exploded over the Atlantic Ocean, 2,200 miles off the coast of Venezuela yesterday.

The rock, the size of a car is estimated to have had an impact energy of around 750 tons of TNT. Small in cosmic terms but enough to have caused massive problems if it had hit a population center.

It has been named 2014AA, a number letter combination that indicates it was the first asteroid discovered this year, sadly it was discovered somewhat late…like after it exploded.

This incident serves to remind us all that the mission to map all space debris, junk and rocks that are likely to pose a threat to the planet is far from complete.

In other space news sunspot AR1944 is now twice the size of Earth and contains a dozen dark cores with the magnetic energy to throw off powerful flares. The spot is so big it can be seen at sunset with the naked eye.

Spaceweather.com said:

The effect of any flares today will be mitigated by the fact that the sunspot is not yet directly facing Earth. However, even an off-center blast from this behemoth could produce radio blackouts and geomagnetic activity.

[...]

Read the full article at: activistpost.com